Fly to Greece for a taste of idyllic island life
Cheap flights to Athens, Corfu, Crete, Kos and Santorini from the UK
Flights to Greeece from Edinburgh
{{result.subTitle}} - View as map
{{filteredResult.length}} destinations

for a budget of
{{result.subTitle}} - View as map
0 destinations

for a budget of

}
{{result.subTitle}} - View as map {{filteredResult.length}} destinations

for a budget of
No destinations are currently available. Please try with different search options.
= Some flights in this period have transit stops
No destinations are currently available. Please try with different search options.
Fly to Greece for a taste of idyllic island life
With Norwegian flights to Santorini, Rhodes, Crete and Corfu from the UK, visitors can unwind on one of Greece's many secluded beaches, indulge in the country's locally grown produce and explore its ancient historical sites and mountainous landscapes. By day, take it easy in the heat. By night, soak up the lively atmosphere in trendy bars and clubs.
Get to know Greece
Explore Greece's rich cultural history through its archaeological treasures and ancient ruins. Built in the 5th century BC, the Acropolis of Athens is one of the most complete ancient Greek monuments that stands today.
Around 60 percent of Greece's cultivated land is used for growing olives. Take a tour of an olive grove and sample the world-renowned produce.
Mountains and hills make up 80 percent of Greece's landmass – perfect for hikers and cyclists looking to enjoy the country's breathtaking views and diverse terrain.
Useful facts about Greece
Population: 11.1 million
Capital city: Athens
Currency: Euro
Official language: Greek
Time zone: EET (UTC +2 hours)/EEST (UTC +3 hours)
The best time to visit Greece
High season in Greece
Visitors flock to Greece between May and August when temperatures soar to 30°C. Visit Head to Crete and find a secluded beach to relax on, surrounded by the inviting waters of the Aegean Sea. Alternatively, fly to Corfu to wander the streets of Corfu Town and admire its charming architecture.
Low season in Greece
As temperatures drop to between 13°C and 15°C, November to March sees fewer visitors to Greece. With cooler weather and smaller crowds, it's the perfect time to visit the country's countless ancient ruins. Fly to Rhodes and walk the medieval walls of the Old Town to take in the spectacular views.
Top destinations in Greece
Looking for the best places to go in Greece? Check out these great places to go or see all our destinations in Greece.
Need more inspiration?
Top destinations to see in Greece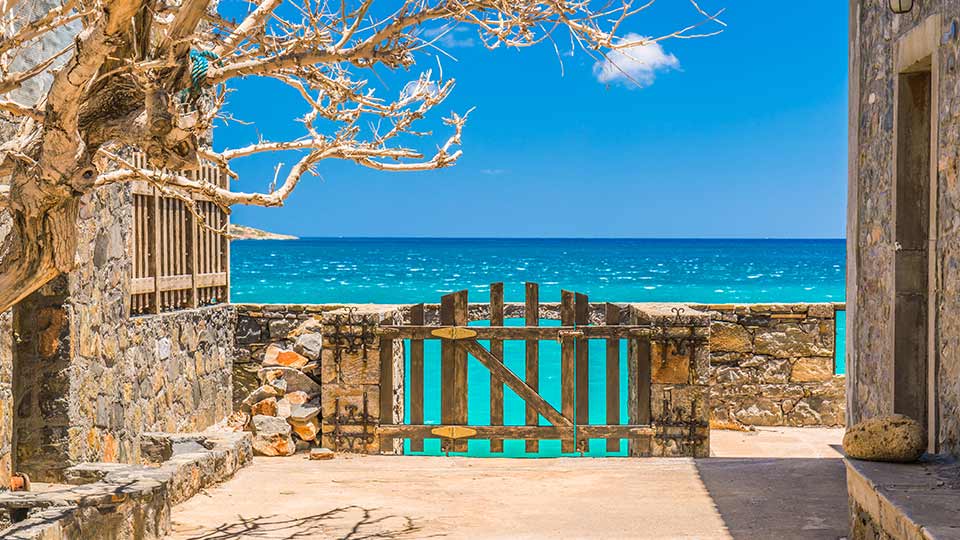 Discover Crete
Take a seat in one of Crete's many tavernas and indulge in the island's exquisite cuisine. Freshly caught seafood, olive oil and good wine are all local staples. The island's golden beaches and maze of sleepy back streets provide the perfect setting for a relaxed holiday in Greece.

Visit Santorini
Surrounded by the Aegean Sea, the island of Santorini is fringed with a coastline of volcanic beaches and quaint villages. Find stretches of multicoloured sand along the south coast, including the famed Red Beach. Get a taste of Santorini's indigenous grapes on a tour of one of the many vineyards.

Explore Rhodes
The largest of Greece's Dodecanese islands, Rhodes mixes old and new – a picturesque Old Town steeped in history and a modern New Town with trendy shops and bars to explore. The island has an abundance of ancient sites, with the Lindos Acropolis and the Temple of Athena Polias among some of its most spectacular.
Looking for a different flight?
Not the flights you were looking for? Search all our flights and find our best rates with the low fare calendar.