No destinations are currently available. Please try with different search options.
= Some flights in this period have transit stops
= Some flights in this period have transit stops
The search result shows the lowest available adult single fare in period. All fares show fare in selected currency.
Athens at a glance
Why visit Greece?
Because it's a fascinating and rewarding time to visit Greece, and its capital is certain to defy expectations and surprise.
Local hotspot
Exarchia is Athens' bohemian quarter, home to intellectuals, radicals, philosophers, poets and artists – and some of the city's best bars, cafes and restaurants.
You probably didn't know
One of Europe's best street-art scenes can be found in Athens: head to the Metaxourgio neighbourhood to discover some stunning artworks.
Suggested reading about Greece
It might be set in the Greek Islands, but Captain Corelli's Mandolin (Louis de Bernières, 1994) will immerse you in the local Greek culture.
Athens facts
Population: 3.8 million
Annual visitor numbers: 4 million (2013)
January mean temperature: 10°C
August mean temperature: 29°C
---
Things to do in Athens
I Kriti
Many Athenians insist that the best food in Greece is from the island of Crete, and many believe the best Cretan restaurant is I Kriti, a friendly, family-run eatery in an unglamorous shopping mall near Kanigos Square. The food is exceptional – don't miss the marathopita(fennel pie), the smoked pork or the garlic snails.
Oxo Nou
Oxo Nou is another brilliant Cretan eatery, offering gorgeous meze and potent rakia stone's throw from Exarchia Square.
Paradosiako
When you fly to Greece and look for high-quality traditional Greek food at the heart of Plaka, an area with its fair share of tourist traps, try Paradosiako. The menu at this taverna changes daily depending on what seafood is available.
Cafe Avissinia
In pleasant weather in Athens, the rooftop terrace at Cafe Avissinia is unbeatable, not only due to its views of the Acropolis, but for its simple, elegant Greek cooking and excellent wine list. Find it at 7 Kinetou St, off Adrianou.
O Thanasis
Souvlaki is to Greece what the döner is to Turkey or the shawarma to Lebanon, and the best place to eat this fast-food staple in Athens is O Thanasis, just off the northeast corner of Monastiraki Square. Choose grilled lamb, chicken or pork, and devour it wrapped in flatbread with onions and tomatoes.
Tailor Made
It's a bit on the pricey side, but we reckon the coffee at Tailor Made, a cafe and roastery in Monastiraki, is the best in Athens.
Galaxy Bar
Visiting Athens, nothing ever changes at the Galaxy Bar (not to be confused with the Hilton rooftop bar of the same name), where veteran bartender Yannis Alabanos has been making spot-on martinis for decades. Here you'll meet writers, journalists, artists and adventurous tourists – interesting encounters are guaranteed. Find it downtown, hidden inside an arcade at 10 Stadiou Street, between Amerikis and Omirou.
AN Club
There's a lively music scene in Athens. AN Club, the city's oldest live music venue, is fantastic for rock, punk and metal; Death Disco is the place to see up- and-coming local bands; and Fuzz Club is popular with international touring bands.
Heteroclito
If you want to sample the best wine of Greece, grab a stool at the bar of Heteroclito, which specialises in Greek grape varieties. The staff are bonafide oenophiles and are happy to guide you glass-by-glass through the best of Greek winemaking. Alternatively, nearby Barley Cargo is the city's first bar specialising in Greek microbreweries. Look out for the excellent Septem range of beers.
Varvakios Agora
For foodstuffs, the Varvakios Agora (Central Market) is an essential stop when you travel to Athens. Here you can stock up on locally produced olives, cheese, herbs, sausages and wine.
Dido
The work of some of Athens' top fashion designers can be found at Dido, a stylish boutique in Metropolis Square.
Monastiraki flea market
You can find just about anything – jewellery, antiques, old books, furniture, collectable coins, obscure miscellanea – at the quirky Monastiraki flea market of Athens. While here, don't miss Pantopolion, a wonderful shop specialising in top-quality Greek olive oils, honey, wine, beer and jams.
Acropolis
No visit to Athens is complete without walking up to the Acropolis, the ancient hilltop citadel that contains the remains of several buildings including the Parthenon. Although parts of the structure are obscured by ongoing renovation projects, it's hard not to be awed by the handiwork of the Ancient Greeks. If you'd like to see more ancient Greek monuments, the Philopappos Monument, a magnificent tomb on a hill southwest of the Acropolis, also offers panoramic views of the city.
Onassis Cultural Centre
There's always plenty going on at the Onassis Cultural Centre, a hub of theatre, dance and music on Syngrou Avenue in Athens. There's a fine view of the Acropolis from the top-floor restaurant.
Allou Fun Park
If you want the kids to burn off a bit of energy while you are staying in Athens, head for Allou Fun Park, where a day pass gives you access to the sort of rides that make your stomach summersault.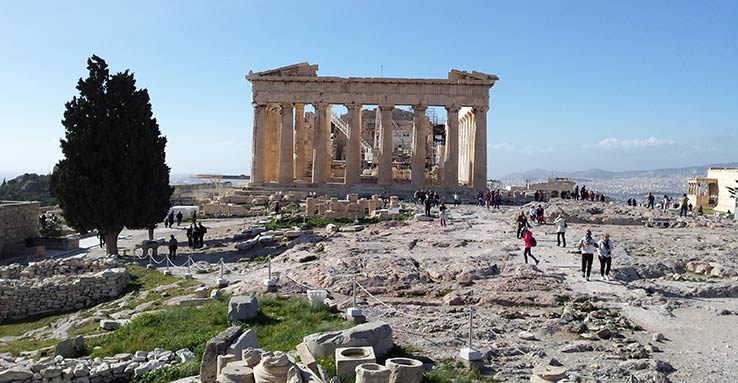 Events to look out for when you fly to Athens
Plisskën Rock Festival (June)
Athens & Epidaurus Festival of theatre, music and dance (August)
Athens International Film Festival (September)
Athens Marathon (November)
Flying with Norwegian
Flexible tickets
You can make changes to your ticket up until 30 minutes before take-off.
In-flight entertainment
Fly Norwegian, and you'll have entertainment at your fingertips. Video on Demand is available on most flights.
New aircraft - low emissions
Fly with one of the youngest fleets in the world, which means less emissions and a more comfortable flight.