Free WiFi is available on most of our flights in Europe.
Being in the sky shouldn't mean being out of touch. Or bored. Or behind. Fly with us and you can go online mid-air with our free WiFi: browse, see what's new in your social networks, check your e-mail (if you must). After all, you rely on being online when you're on the ground. Why should it be any different when you fly?
How to use our free inflight WiFi on board
When the "fasten your seatbelt" sign has been switched off, check for available wireless networks on your device. Connect to the network "Norwegian Internet Access".
Launch your internet browser for immediate access. Enjoy!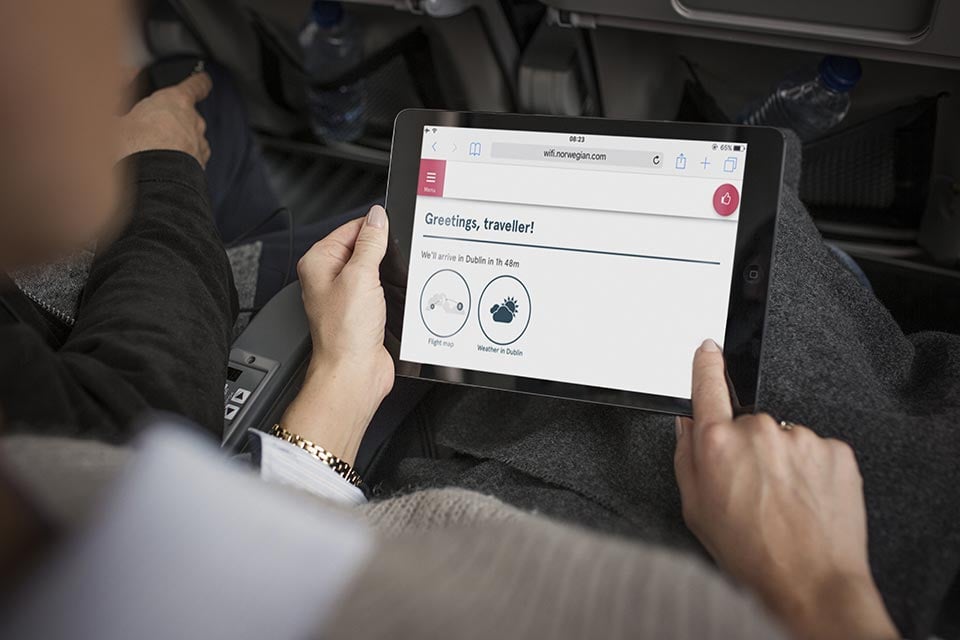 We are upgrading our WiFi technology
We know that every traveller's needs are different, so if you're after something a little speedier than our current offer, we can happily inform you that we are currently upgrading our WiFi technology. This means we are rolling out improved WiFi on more and more planes. WiFi that allows streaming your new favourite series or keeping on top of work.
Video On Demand
When you're connected to the "Norwegian Internet Access" network, you can also enjoy our Video On Demand service on your laptop, tablet or phone.