Everyone can bring one underseat bag to be stored under the seat in front. If you're travelling on a LowFare+, Flex, Premium or PremiumFlex ticket, you can also bring one overhead cabin bag.
Your ticket type determines your allowance
Be sure to measure your bags and remember that it's the combined weight of your hand baggage that counts!


LowFare
1 underseat bag
(30 x 20 x 38cm)

Max 10kg*





LowFare+
1 underseat bag
(30 x 20 x 38cm)
1 overhead cabin bag
(55 x 40 x 23cm)

Max 10kg* combined

Flex, Premium, PremiumFlex
1 underseat bag
(30 x 20 x 38cm)
1 overhead cabin bag
(55 x 40 x 23cm)

Max 15kg* combined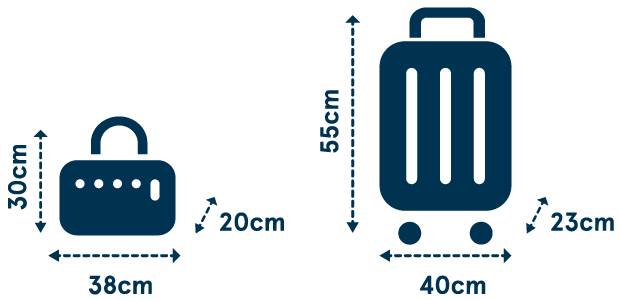 Good to know!
Everyone can also bring one airport shopping bag in addition to their ticket type allowance.
Pack important items, such as medicine, baby items and your valuables in your underseat bag.
Some items are not allowed in your hand baggage – please check our restricted items before you pack.
You can bring an item instead of a standard bag (such a gift box or mini board), but it must not exceed our hand baggage limits or be listed among our restricted items/dangerous goods.
Add checked baggage before you fly
Save up to 50% by adding checked baggage up to 4 hours before departure
Travelling LowFare and need more?
To bring more on board, add an overhead cabin bag to your booking. Prices from 5-9 GBP.
Avoid charges at the gate!
Limited cabin storage means your hand baggage may be weighed and measured at the gate. If it exceeds our limits, we'll transfer it to the aircraft hold at a charge per leg. If a flight is full, then occasionally we may have to put your cabin bag in the hold even if you've done everything right. We do apologise for this, and there's of course no charge
Additional hand baggage information
*Total weight on Dubai flights 8 kg (due to on board weight restrictions).