Why visit Faro?
There are more than 150 beaches along southern Portugal's Algarve coast and many of the best are within easy driving distance of Faro. While the climate is perfect for a lazy beach holiday, the Atlantic also offers excellent conditions for surfing and other water sports. Fifty minutes' drive west from Faro is Praia da Marinha, often ranked among the best beaches in Europe for its spectacular backdrop of artfully eroded golden rock. Slightly closer to Faro, the 3km-long Praia da Falésia is popular, but strolling its sands to find a secluded spot is a pleasure all of its own. Around half an hour east of Faro is the "Venice of the Algarve" Tavira, where you can stroll around cobbled streets taking in layers of history from Gothic churches to ruins of a Moorish castle. Hop on a ferry to the Ilha de Tavira – an island of sand in the Parque Natural Ria de Formosa and an excellent location for birdwatching. At the eastern end of the Parque Natural, take a boat across the lagoon from Sítio da Fábrica, near the village of Cacela Velha, to reach the wild, isolated beach of the same name.
Why fly to Faro with Norwegian?
We give you the freedom to choose, so you get the opportunity to fly at the lowest possible price - without compromising on quality. Find cheap flights to Faro in our low fare calendar. The earlier you book, the cheaper the tickets.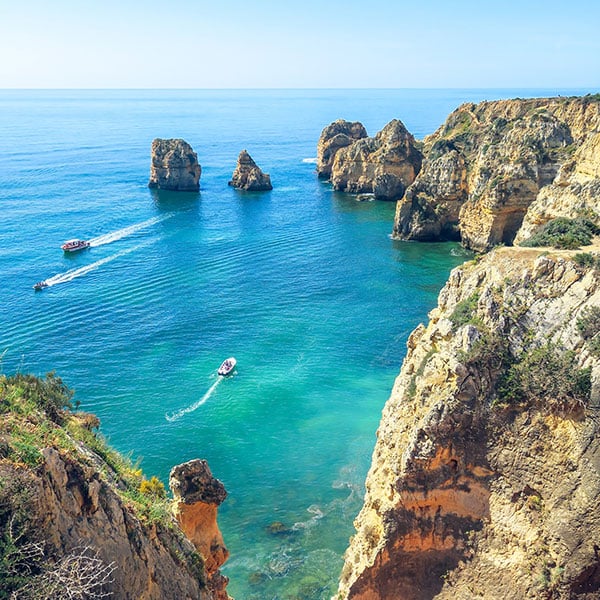 Flying with Norwegian
New aircraft - low emissions
Fly with one of the youngest fleets in the world, which means less emissions and a more comfortable flight.