Cheap flights to Copenhagen, Denmark
The home of hygge, Copenhagen is a Scandinavian coastal city with style, known for clean-living and solid eco-credentials. Built on islands and laced with waterways, it's linked to Sweden by bridge. Packed with centuries-old historical landmarks, Copenhagen is also the home of the Danish royal family, who still reside in the city's Amalienborg Palace. Recently, Copenhagen has gained a reputation for having a world-class dining scene, with a host of Michelin-starred restaurants and a cool street food culture. Indeed, foodies flock from all over the world to visit New Nordic cuisine pioneer René Redzepi's Noma, a four-time World's Best Restaurant. Copenhagen is also revered for its design scene, with a collection of cool Danish boutiques and furniture stores selling cutting-edge items you'll want to take home. Book tickets to family friendly Copenhagen now and spend your days cycling around this flat city past colorful waterfront townhouses, cozying up in traditional Danish cafés or wandering around manicured parks and gardens.
Fun facts for a Copenhagen vacation
The Little Mermaid may be a famous Disney cartoon, but it was based on Hans Christian Andersen's story of the same name. You can see the statue of the popular character in Copenhagen's harbor.
Denmark frequently tops lists of the happiest countries in the world.
The Øresund Bridge connecting Copenhagen with Malmö in Sweden is five miles long and was the inspiration for the hit Scandi TV show The Bridge.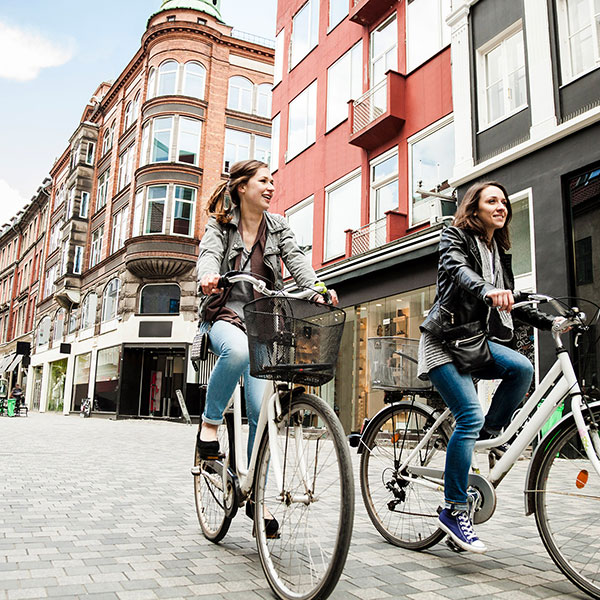 Copenhagen airport information
Getting from Copenhagen Airport T2 and T3 to the city center
TRAIN
Taking the train is the best option for getting from Copenhagen Airport to Copenhagen Central Station when you fly in from the United States. The trains run 24 hours a day, every 10 minutes during the day and between one and three trains an hour at night. The journey takes approximately 15 minutes. The metro is a better option for going to downtown stations Kongens Nytorv and Nørreport.
BUS
From the airport bus station in Arrivals, take the 5A bus, which will take you directly to Copenhagen Central Station, City Hall Square and Nørreport. The journey to Central Station takes approximately 35 minutes. The airport bus runs 24 hours and departs every 10 minutes in peak hours.
TAXIS
City taxis are available outside Terminals 1 and 3 of Copenhagen Airport. The journey into central Copenhagen takes approximately 20 minutes.
CAR OR MOTORCYCLE
Those hiring a rental car should head for the E20 highway and then take the Amagerbrogade road turning, carrying on straight into central Copenhagen. The journey time is approximately 20 minutes.
Things to do in Copenhagen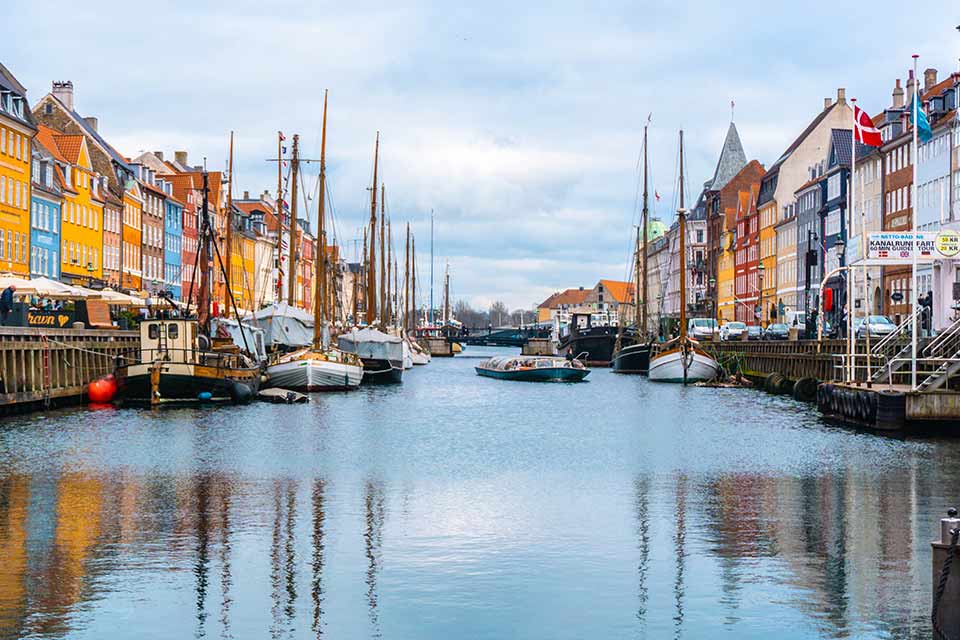 See the colorful Nyhavn harbor
One of the must-sees of Copenhagen, the Nyhavn brightens up the city center with its rows of terrace houses, in all colors of the rainbow, many of which house cafés and restaurants. Copenhagen is an important port city and Nyhavn is still a working harbor with sailing boats moored at the quays. In summer, sit at one of the bar terraces and enjoy a drink watching the sun set over Copenhagen. In winter, visit the Christmas market.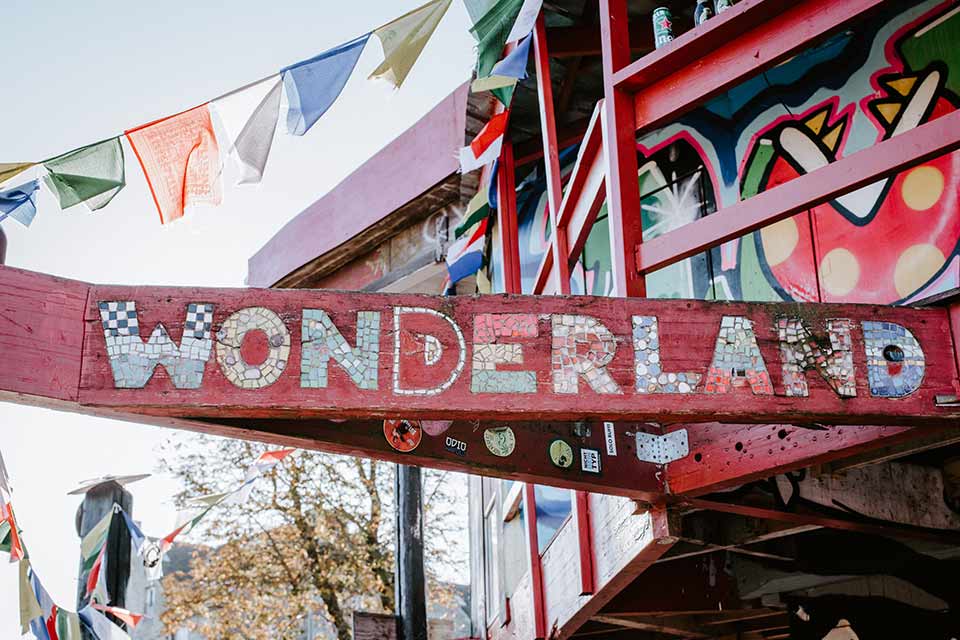 Tour the fantastic Freetown Christiania
One of the most unique neighborhoods in Copenhagen is the Christiania commune on the outskirts of the city. Created in an ex-army base by squatters in the 1970s, these days it has its own laws and flag, and a free-spirited vibe. There's a distinct hippy feel, with vibrant street art, community cafés, indie record stores and ramshackle houses. Remember, though, visitors are requested to not take photos as they wander around.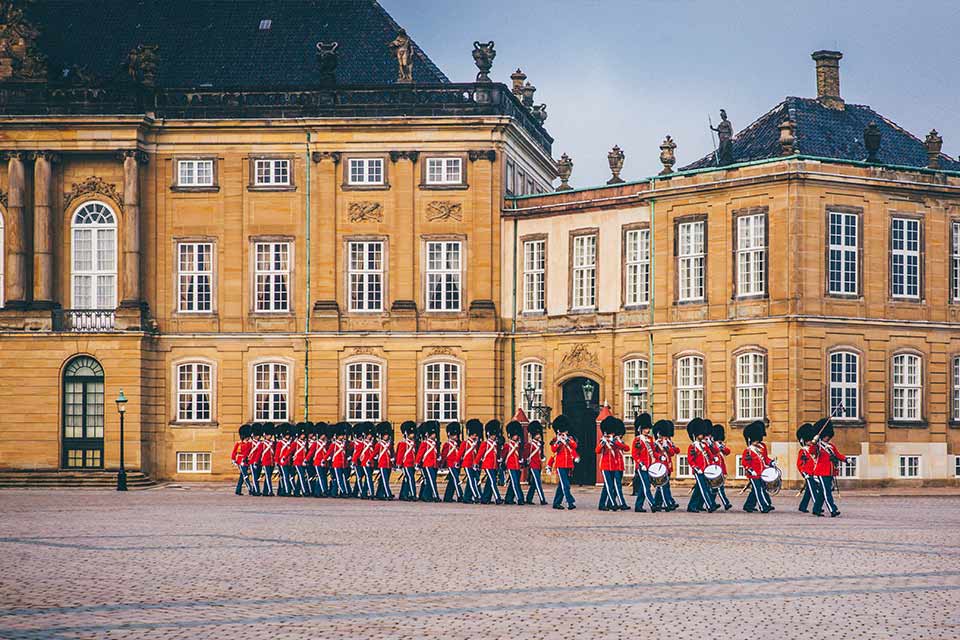 Wander the regal Amalienborg
Four grand rococo palaces around a cobbled courtyard make up the Amalienborg palace complex, home to the Danish royal family. Here you can visit a museum to learn about the long history of the royal family in Denmark and Copenhagen. Make sure you time your visit with the changing of the guard at 12pm every day – a fantastic spectacle in which Danish guards march from their barracks to the palaces. The Amalienborg Palaces also house a wonderful collection of fine art and furniture.
Visit Bakken amusement park
The whole family can enjoy a visit to Copenhagen at Bakken, the world's oldest amusement park, dating back to 1583. Families will love exploring the leafy park just outside the city, with its more than 150 attractions, including a Ferris wheel, a carousel and a creaky wooden roller coaster, which has been there since 1932. It's suitable for kids of all ages, but the emphasis is on rides for younger children.
Eat some world-class Danish cuisine
Wondering what to eat in Copenhagen? Thanks to the rise of New Nordic cuisine, people now travel out of their way to the Danish capital just for the dining scene. There are many Michelin-starred restaurants for Nordic fine dining. It won't be cheap, but you're guaranteed a dining experience you'll never forget. Some more affordable local specialties include pickled herring or røde pølser (red pork sausages) from one of the pølsevogn (sausage wagons) scattered around town.
Take a guided history tour
While Copenhagen is a forward-looking, modern, eco-conscious city, it's also brimming with centuries of history. Explore the city on foot, stopping by 17th-century Trinitatis Church and the incredible domed Frederik's Church, also known as The Marble Church for its rococo architecture. There's also the Renaissance Rosenborg Castle with its huge spire and the Christiansborg Palace, the seat of the Danish Parliament, Supreme Court and Prime Minister's office.
Stay out all night in the Meatpacking District
Copenhagen's nightlife is legendary, and a visit to the Meatpacking District is a must. Former industrial warehouses and old markets have been transformed into craft beer halls, clubs and trendy hipster bars. The area attracts plenty of partygoers on weekends. Start with a drink outside on a bar terrace, before eating at one of the neighborhood's innovative restaurants and partying until dawn at one of the many gritty clubs.
Visit the cool Nørrebro neighborhood
One of the emerging areas of Copenhagen is the northern district of Nørrebro, which is fast becoming known as the city's creative quarter. Expect a more laid-back atmosphere away from the city center and a diverse, multicultural feel. The streets are lined with bookshops and bakeries and a crowd of young artistic types sit with their laptops in the neighborhood cafés.
Immerse yourself in Scandi design
Denmark has one of the most renowned and coolest design scenes in the world and has even been called "the new Milan". Danish design rose to prominence in the 1940s and '50s and is known for its sleek, functional and simple style with clean lines. Visit the HAY House store, a Danish company that epitomizes the best in minimal design, to shop for everything from graphic prints to stationery and armchairs.
Try some local smørrebrød
No visit to the city is complete without a lunch of the Danish specialty smørrebrød. This open sandwich consists of a slice of buttered rye bread with various toppings that might include cold cuts of meat, fish (such as herring, prawns or salmon) and crunchy radishes and other salad vegetables. Order a mix of varieties at one of the many dedicated smørrebrød restaurants in town.
Shop until you drop on Strøget
Make a beeline for Strøget – one of the longest pedestrianized shopping streets in Europe and the main shopping area in the city. It's packed full of chain stores and independent boutiques and great for buying souvenirs. No trip to Copenhagen is complete without a visit to the Lego Store. The Danish toy brick company's flagship store on the street contains lots of exclusive and rare sets.
Tick off The Little Mermaid statue
Perched on a rock in the harbor, the whimsical Little Mermaid statue looks out to sea. The sculpture is based on the character in the fairy tale by Danish author Hans Christian Andersen, who lived and died in Copenhagen. The bronze statue is one of the landmarks of the city, and millions visit her every year. Danish ballerina Ellen Price was asked to model for the head of the statue, which was unveiled in 1913.
Experience thrills in the Tivoli Gardens
The magnificent, must-see Tivoli Gardens is a quaint amusement park – recognized as the second oldest in the world. It's also the most visited in Scandinavia. Dine on a pirate ship floating on a scenic lake fringed with weeping willow trees, admire the Japanese pagoda, covered in colorful lights, ride the historic wooden rollercoaster, and enjoy Viennese waltz music at the Tivoli Concert Hall. Visit at Christmas time for a magical experience, when more than a million fairy lights illuminate the park. It's a great thing to do in Copenhagen with family.
Check out local markets
Copenhagen has a surprisingly large number of markets for its size. They range from flea markets, like the weekly Den Blå Hal in Amager, where you can pick up unique antiques, to produce markets such as the covered TorvehallerneKBH. The latter is just a couple of minutes' walk from Nørreport Station and is packed with a mixture of tourists and locals. Reffen is a summertime outdoor street food market that also hosts events from quizzes to concerts.
Explore the waterways
Copenhagen is a city built on water and an important Scandinavian port, so one of the best ways to experience it is on a boat tour. See Nyhavn from the water and travel on Christiania's jagged canals, checking out the mis-matched architecture, from rococo to contemporary, that makes up the city.
Best time to travel to Copenhagen
High season
Although the summer months in Copenhagen have the highest rainfall, July and August are the high season, and are the best months to vacation in Copenhagen. At this time of year, the city's waterside restaurants are buzzing, but you can expect longer queues for attractions and higher accommodation prices.
Low season
You will find cheap flights to Copenhagen and better deals on hotels during the winter (November – February), as well as shorter queues and fewer people, but the city is also at its coldest. However, because Denmark is further south than its Scandinavian neighbors, it's slightly warmer than, say, Oslo or Stockholm, and nights are shorter. Still, you'll want to wrap up warm and order steaming mugs of hot chocolate to enjoy Christmas markets in the city center, the snowy Tivoli amusement park lit by fairy lights, and cozy, steamed-up cafés that you won't want to leave.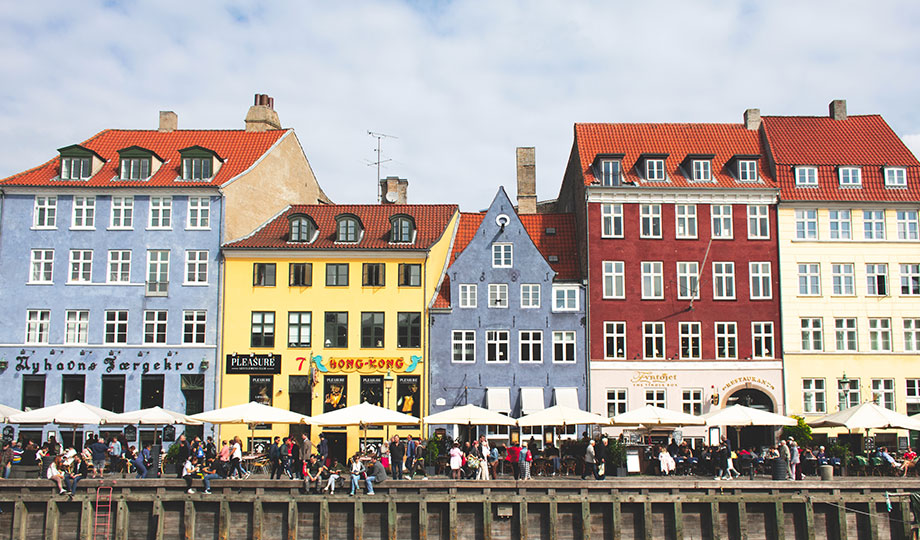 Flying with Norwegian
Get a comfortable flight with our 787 Dreamliner
Flexible tickets
You can make changes to your ticket up until 30 minutes before take-off.
Eat and drink on board
On all our long haul flights you can choose between two menus incl wine, beer or mineral water
New aircraft - low emissions
On our long-haul flights you fly with our 787 Dreamliner, one of the most environmentally friendly options there is.
Video on Demand
On flights longer than 3,5 hours, you can watch movies and tv series. Remember your headset!
Cheap flights to Copenhagen, Denmark
Check out our lowfare calendar and discover your next flight to Copenhagen or on of the more than 150 destinations we fly to. The earlier you book your flight the cheaper the prices.
Discover cheap flights in our Low fare calendar
Want more comfort on our flight?
With our Premium seats you get a recliner chair with extra legroom, a 3-course meal, Priority boarding and Fast track included and extra attentive crew to esure you'll have a plesant flight.
Read more about our Premium product and upgrade now!
Get extra benefits with Reward
While away from home, you might need somewhere to stay and a way to get around.
Through our partners you can easily find and book a hotel that suits you and rent a car that fits your needs. Book through Reward and get up to 10% and earn CashPoints.
Learn more about our Reward program and start earning CashPoints today