Burgas at a glance
Why go
Burgas combines some memorable ancient attractions with a long, uncrowded beach to provide culture and seaside relaxation in one easy break.
Local hotspot
St Anastasia, which is a volcanic island out in Burgas Bay and a former bohemian hang-out, has been developed as an exciting tourist destination.
You probably didn't know
Burgas Lake, right in the centre of town, is occasionally home to 250 species of migrating birds, a quarter of them endangered.
Suggested reading
Nine Rabbits (Virginia Zaharieva, 2012).
Bare stats
Population: 200,000
Annual visitor numbers: 145 700 (2014)
January mean temperature: 6°C
August mean temperature: 28°C
---
Things to do in Burgas
Incanto
Ignore the cheesy pizza takeaway ad on its homepage, Svetlana Spaseva's Incanto is where to go for fresh salads, seafood pastas and the creamiest creamcakes. A lot of work goes into the presentation and children are made to feel more than welcome.
Bistro Roma
Fish is the speciality at the Bistro Roma with the bounty of the Black Sea(turbot, caviar, garfish, bluefish) plated up and accompanied by fresh salads. Alternatively, you could just go for a Mediterranean or Greek-style salad with seafood or marinated fish. A neat interior overlooks an adjoining and enclosed children's playground.
Salini
With as many seats outside as indoors, Salini overlooks the pretty garden of the upscale spa hotel that houses it. Ivelin Krustev's Mediterranean cuisine is the main reason to visit Salini, however – best sampled during the long, relaxing Sunday brunch.
Vista Mare City
Opened in 2013, Vista Mare City offers a daily changing menu of good rustic home cooking from Valentin Ivanov's kitchen. The desserts are particularly fine.
Bar'Celona
A breakfast-to-way-past-bedtime operation, Bar'Celona is best enjoyed at lunchtime when its tasty soups, salads and desserts really come into their own. It's also a good place to hang out in the evening when there's a lively atmosphere at the bar.
Neptun
Easily the stand-out spot on the Burgas seafront, Neptun would win hands-down just for architecture alone: a classic 1948 building overlooking the beach and Black Sea beyond. But throw in Katya Kondieva's quality creations using fresh fish and what was best that morning at the bustling local market, and Neptun is simply unbeatable. Late at night the place transforms into a lively cocktail bar and DJ spot.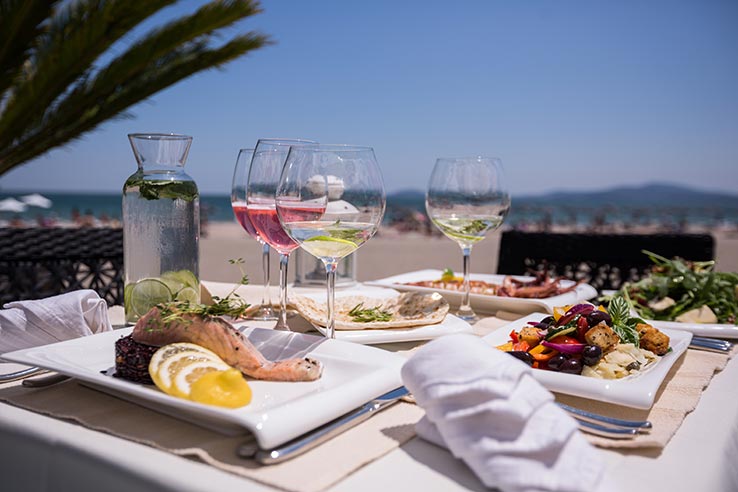 Retro Bar Dover
The late-opening Retro Bar Dover has been a party bar just behind the Sea Garden for more than a decade. Once the cocktails kick in, DJs get punters up on their feet. There's also a terrace for more intimate conversation.
Alibi Dance Club
Dance hits, house tunes, affordable cocktails and a holiday atmosphere are the features of the summer-long Alibi Dance Club, set in Primorski Park.
Sea Stars Solilug
Sea Stars Solilug makes use of local natural products, herbs, mineral salts and seaweed, to create exfoliating gels, crystal salts and sundry beauty and healing products.
Art 93
In the town's first shopping centre, Pirgos Style, Art 93 sells quality, hand-made leather goods, belts, bags, gloves, wallets and the like.
Traditzia
Now a tasteful private enterprise purveying hand-made crafts, jewellery, ceramics and art, Traditzia was originally part of an initiative set up by the British Embassy in Sofia to provide revenue for locals unable to earn a decent living elsewhere. Items are unique and original.
Aqua Calidae
Just north of town, Aqua Calidae are ancient thermal baths built around hot springs used as early at the Neolithic era. What's been unearthed today – the painstaking excavations are open to the public – dates back to Thrace, the Romans and Philip II of Macedonia, a regular guest in the fourth century BC.
The Strand
An easy option to keep the kids entertained, the Strand is half-retail mall, half-leisure centre, with interactive games, indoor sports, a cinema and scheduled daytime activities for different age groups.
Sea Garden
Containing the pre-war Sea Casino, open-air stages and monuments to famous Russian writers, the Sea Garden remains the city's loveliest tourist attraction, with a landscape of exotic plants laid put in the late 19th century.
The Archaeological Museum
The Archaeological Museum gives a good idea of what Burgas was like in the Bronze Age, under the Greeks, and as the colony of Thrace in the Roman Empire. Look out too for the stunning medieval jewellery.
Events to look out for
Yordanovden (Jan 6)
Flora flower exhibition (May)
Turn On The City (mid June)
Sand Sculpture Festival (July-Oct)
Emil Chakarov Music Festival (July)
Spirit of Burgas (late July)
Burgas Tattoo Convention (Aug)
Eat and drink on board

You can buy a variety of snacks, sandwiches, other light meals and beverages during your flight. Make sure you check our in-flight menu when you get on board.

New aircraft - low emissions

The average age of our aircraft is only 3.6 years old, which means less emissions and makes our fleet one of the youngest in the world.

Seat reservation

Starting from 10 Euros you can get the window seat, be seated in the front to save time or near the exits to have more legroom. Already booked? Add seat reservation now.
Video on Demand

On flights longer than 3,5 hours, you can watch movies and tv series from your smartphone, tablet and laptop for 7 Euros. Remember your headset!

Central airport

Bourgas Airport is centrally located, with quick and easy transport connections to the city centre and beyond. Less hassle, more time to enjoy yourself.

Earn CashPoints

Sign up for Norwegian Reward, and earn CashPoints every time you fly with us.