Antalya at a glance
Why go
Because Antalya effortlessly combines a fine and frequently picturesque history dating back to 133BC with gorgeous sandy beaches.
Local hotspot
The small, central Old Town (Kaleiçi to the locals) is a beautiful protected district dotted with ancient Roman buildings.
You probably didn't know
Old Saint Nicholas – that's Santa Claus to you and me – was born in Antalya.
Suggested viewing
The beginning of 2004 Turkish cult comedy classic G.O.R.A starts off in a carpet shop in Antalya.
---
Things to do in Antalya
Ekol Gurme
Nothing beats a Turkish breakfast, with tables typically laden with more dishes than you can count. At the weekend Antalyans go to Ekol Gurme, a family-run deli that specialises in impressive spreads. Try the menemen (Turkish scrambled eggs with peppers), the kaymak (clotted cream) and the countless homemade jams.
Galenus Farm
Galenus Farm, run by a Japanese chef passionate about ancient Roman cuisine (really), serves up dishes inspired by flavours and techniques favoured 2,000 years ago. Try unique dishes such as Galenus kofte, which are meatballs made with garum (a kind of sardine paste popular in Roman times), Turkish cheese and nuts.
7 Mehmet
Elegant 7 Mehmet, a local stalwart in business now for over 60 years, is the brainchild of current owner Mehmet Akdag's grandfather. On a beautiful warm night, sit in the expansive garden with views down to the sea and feast on meze, grilled fish and lamb.
Seraser
Seraser is Antalya's fine dining option, offering adventurous foodies unusual dishes and a romantic setting. Ask for a table on the pretty, bougainvillea-draped terrace and try the Octopus carpaccio with caviar and ginger or duck served with a lime and pear mousse.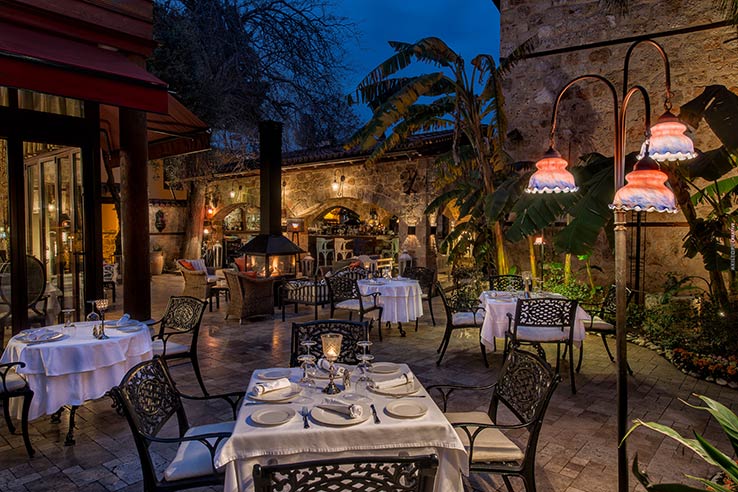 Çiçek Pasajı
Wiggle your hips and stomp your feet at Çiçek Pasajı, a small, traditional live music bar that's a huge hit with the locals and has Turkish folk bands playing most nights.
Inferno Club
For some reason, Russians have a thing for foam parties. And in the summer, when a lot of well-heeled Russians descend, they head to Inferno Club, the most famous in the area that attracts big-name Turkish DJs, like DJ Meg.
Filika café
Filika café, on a side street in the Old Town, has a laid-back retro vibe with black and white photos of Turkish rock stars dotted around the walls, occasional live Turkish rock and local hipsters propping up the bar.
Terra City
Terra City's smooth grey brick facade and shiny glass panels might be at odds with the city's magnificent Ottoman and Roman architecture, but it is much appreciated for being home to more than 150 different international stores, 30 restaurants and some seriously welcome air con.
Dokumacı Halı
It is a bit of a cliché, but is there a better travel trophy than a traditional, ornate Turkish rug? There are plenty of shops in the Old Town but our choice is Dokumacı Halı, with rugs and throws in a whole host of colours, weave and materials.
Bazaar
Antalya's bazaar isn't as organised (or nearly as big) as Istanbul's famous market, but it's still a riot of colour, textures, smells and noise. Head along Kazim Ozalp Caddesi, a pedestrian-lined street where you can pick up jewellery, textiles, unusual Turkish fruits such as alıç(yellow hawthorn) and, of course, Turkish delight.
Hadrian's Gate
Hadrian's Gate is one of the greatest pieces of architecture in Antalya. Still the gate into the Old Town, this grand structure was built in 130AD, constructed in honour of the Roman emperor's visit to the ancient Lycian city. The pillars are made from white marble and at each side of the gate are two vast towers.
The Archaeological Museum
For a peek into this region's fascinating past, visit Antalya's Archaeological Museum, one of the most significant museums in Turkey, with well organised exhibitions covering Stone, Bronze and Byzantium ages. The star collection is the Elmali Treasures: almost 2,000 glittering gold Lycian coins that were stolen in 1984 but returned about 15 years later.
Antalya Rafting
Antalya has more blue flag beaches than you can shake a hat at (like pristine Lara Beach, with its famous sand sculpture festival from June to October), but are you someone who craves a little more excitement? How about white-water rafting in nearby Köprülü Canyon? A trip with Antalya Rafting costs €25 per person, including transfers, lunch, all equipment and insurance for a six-hour trip tackling rapids and gliding underneath gorgeous Roman stone bridges.
Events to look out for
Efes Blues and Jazz Festival (March/April)
Antalya Sunsplash Festival (June)
Aspendos Opera and Ballet Festival (September)
Antalya Golden Orange Film Festival (September/October)
International Piano Festival (October)
St Nicholas Day (well, he was a local; December)
Eat and drink on board

You can buy a variety of snacks, sandwiches, other light meals and beverages during your flight. Make sure you check our in-flight menu when you get on board.

New aircraft - low emissions

The average age of our aircraft is only 3.6 years old, which means less emissions and makes our fleet one of the youngest in the world.

Seat reservation

Starting from 10 Euros you can get the window seat, be seated in the front to save time or near the exits to have more legroom. Already booked? Add seat reservation now.
Video on Demand

On flights longer than 3,5 hours, you can watch movies and tv series from your smartphone, tablet and laptop for 7 Euros. Remember your headset!

Central airport

Antalya Airport is centrally located, with quick and easy transport connections to the city centre and beyond. Less hassle, more time to enjoy yourself.

Earn CashPoints

Sign up for Norwegian Reward, and earn CashPoints every time you fly with us.