Why vacation in Amsterdam?
Grab an Amsterdam deal or vacation package and discover one of Europe's most charming cities. Often referred to as the "Venice of the North" on account of its canals, the capital of the Netherlands is a cultural hub packed with world-class restaurants and attractions. Despite having a notorious red-light district, Amsterdam is a great place for a family break, with acres of green space and more than 400km of cycle paths. Art lovers can gaze on some of the world's most famous paintings from the likes of Vincent van Gogh and Rembrandt in Amsterdam art museums, while history abounds in its narrow streets. Take a canal cruise or simply explore Amsterdam on foot or by bicycle to experience the city's relaxed and friendly vibe. Browse flight deals and book your plane ticket to Amsterdam today.
Fun facts for an Amsterdam vacation
There are more than 800,000 bicycles in Amsterdam, about one per resident.
The city is named after the river that runs through it, the Amstel, also the name of a famous beer brand.
Despite the famous song title, hardly any tulips are grown in Amsterdam, though the Netherlands produces around two billion of the flowers annually.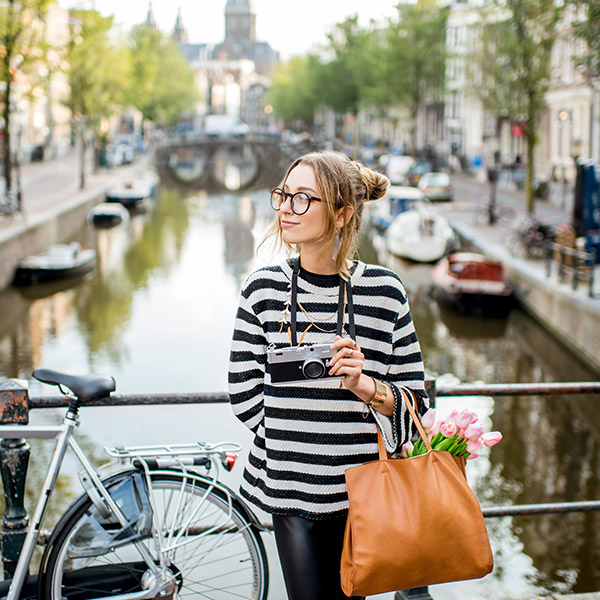 Amsterdam airport information
How to get from Amsterdam Airport Schiphol to the city center
TRAIN
The train from Amsterdam Airport Schiphol to Amsterdam Central Station takes 15 to 20 minutes and runs 24 hours. Trains run up to nine times an hour from 7am to midnight and once every hour during the night. The train station is located underneath the terminal building (Schiphol has one terminal) – just follow the Amsterdam airport map.
BUS
The Airport Express bus 397 connects Schiphol to various stops in the city center in around 30 minutes. The bus departs from stop B15 at Schiphol Plaza up to eight times an hour, from 5am to 12.30am. Note the bus does not stop at Amsterdam Central Station.
TAXIS
After stepping off your cheap flight to Amsterdam, you'll find abundant licensed taxis waiting outside arrivals at the airport. The journey to Amsterdam city center takes from 25 to 45 minutes, depending on traffic.
CAR OR MOTORCYCLE
Drivers should follow the A4 and A10 freeways to Amsterdam city center from Schiphol Airport.
Things to do in Amsterdam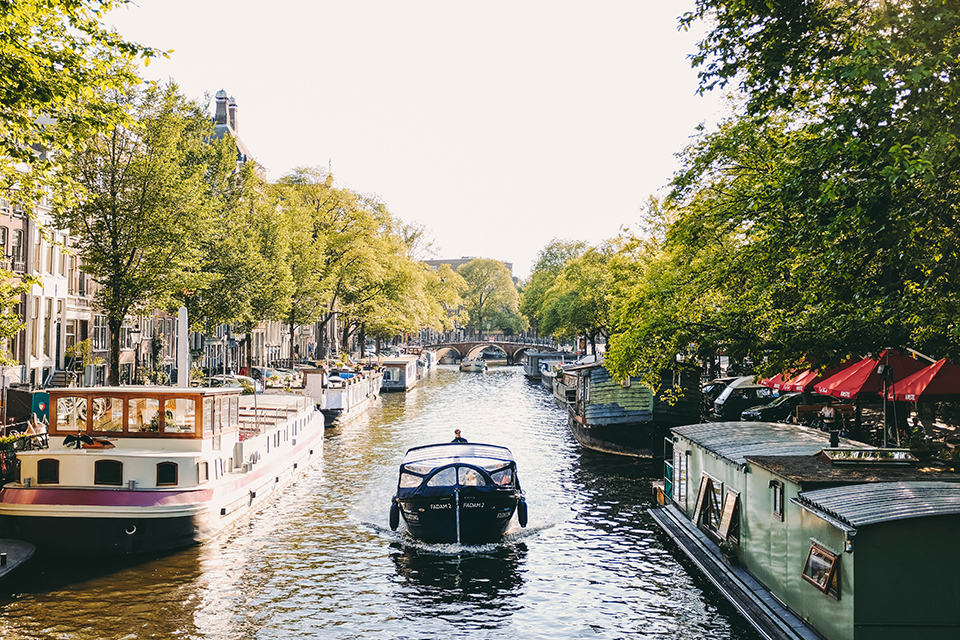 Cruise the Canal
Belt Amsterdam's 17th-century Canal Belt, which stretches out from the city center, is a Unesco World Heritage site. Many operators offer boat tours of Amsterdam's waterways and this can be a great way to see the Canal Belt and the rest of the city's canals (165 in total), while marveling at its coveted canal houses. Some combine cruises with dinner and drinks, too, for a fuller experience. You can also explore the Canal Belt in true Amsterdam style and whizz around on a bike, or set off on foot. Whichever way you choose, you'll love Amsterdam's fabled and pretty waterways.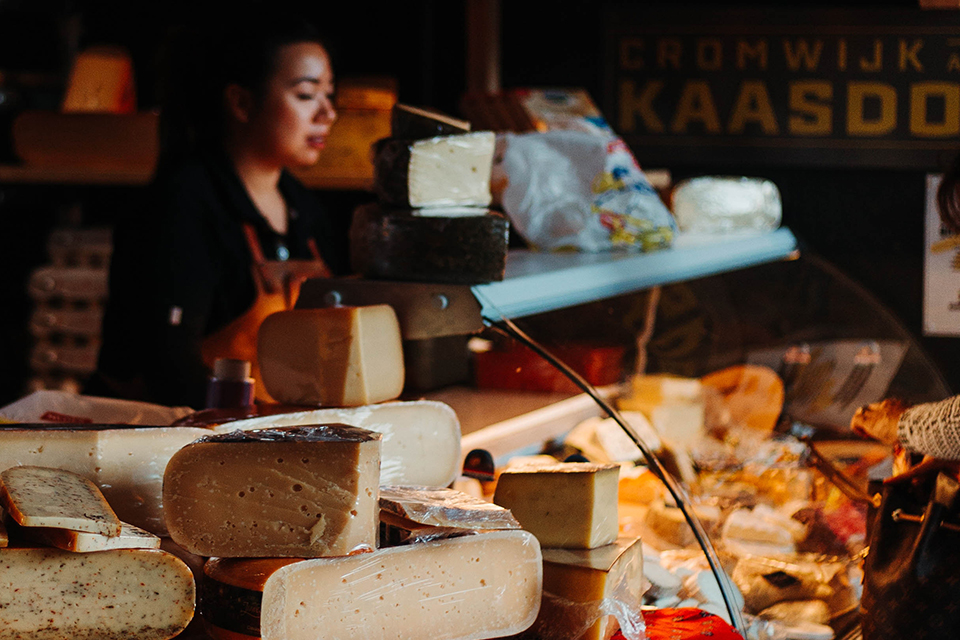 Browse the city's markets
Amsterdam has many wonderful markets, where you can pick up anything from Dutch cheeses to clothing and antiques. The Albert Cuyp market in De Pijp, which is open Monday to Saturday, is a great place to feast on deep-fried Dutch snacks while browsing the rails. The daily Bloemenmarkt on the Singel canal, meanwhile, is the world's only floating flower market and has been selling bulbs and blooms for more than 150 years. Those looking for flea-market treasure should head to the IJ-Hallen Vlooienmarkt, typically held one weekend a month.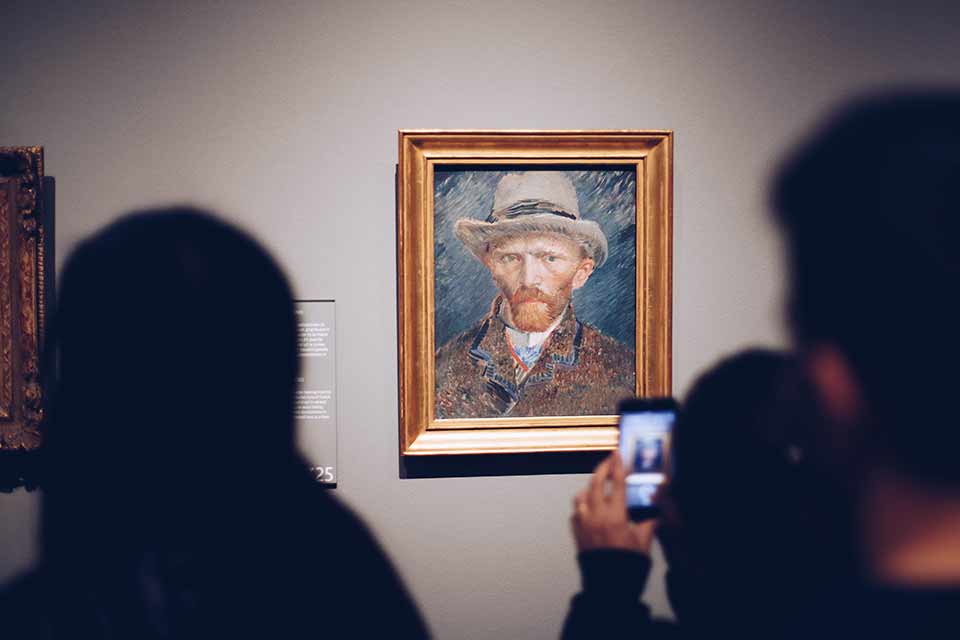 Enjoy great art at the Van Gogh Museum
The Van Gogh Museum is a must-visit attraction on a vacation in Amsterdam. The art museum is home to the largest collection of paintings and drawings by Dutch master Vincent van Gogh (1853-1890) in the world. Famous works include Sunflowers and Self-Portrait as a Painter. Visitors are advised to buy tickets online beforehand to avoid lengthy queues, but late opening on a Friday is a great opportunity to gaze on the masterpieces amid smaller crowds.
Drop in on the Rijksmuseum, stay for lunch
The Netherlands' national museum is in Amsterdam's Museum Square (Museumplein), close to the Van Gogh Museum and Vondelpark. Expect to see masterpieces by Dutch painters such as Rembrandt and Vermeer, and a broad spectrum of European and Asian art and artifacts from the Middle Ages onwards. It's also home to Michelin-starred Rijks, one of the Netherlands' best restaurants.
Explore Oud-West
Amsterdam's trendy Oud-West neighborhood borders the city center but feels a world away from the more touristic areas and the red-light district. Oud-West is packed with cool bars and restaurants, particularly those catering for vegans and vegetarians, as well as cutting-edge design stores. A great place to experience it all is at the vast De Hallen. This former tram depot is now home to a food hall, cinema, boutique hotel and a weekly craft market.
Visit the Anne Frank House
The poignant Anne Frank House where the teenager Anne Frank and her family hid from the Nazis during World WaR II is unmissable. A fascinating museum at the front of the property leads on to the cramped secret annex where Frank penned her famous journal, which visitors can explore. Tickets are only available online for this hugely popular attraction, in timed slots, but you won't want to skip this vital link to Amsterdam's troubled history.
Take a food tour
Wondering what to eat in Amsterdam? The city has so much to offer, from world-class restaurants to brilliant food markets. One of the best ways to experience it is to take a food tour. Numerous companies run food tours in the city. From deep-fried delights such as bitterballen, to the best Dutch cheeses and powdered-sugar-covered pancakes, you'll discover how, what and where the locals eat. Make sure you sample stroopwafel, a kind of caramel-filled waffle sandwich that is hugely popular in the Netherlands and worth booking a cheap flight for alone.
Hang out in Vondelpark
Amsterdam has many parks, none more famous than Vondelpark. Southwest of the city center, Amsterdam's oldest and largest public park is great for a walk, bike ride or picnic. Lounge by the beautiful ponds, visit the open-air theater, or refuel at the numerous restaurants and cafés that dot this hugely popular park. You can even hire rollerblades. On a sunny day, there is no better place to be in Amsterdam than Vondelpark.
Go on a bike ride
It may seem like a cliché, but the locals really do travel everywhere by bicycle in Amsterdam, and you can, too. There are bike rental shops all over the city where you can hire bikes for as little as three hours or for the whole day or more. Even nervous cyclists will find Amsterdam's bike lanes easy and safe to navigate. It really is the best way to explore the narrow streets of this beautiful city, including the Canal Belt.
Take a ferry to NDSM Wharf
This former shipyard on the banks of the IJ in the north of the city is now a major cultural and social hub. Larger than 10 soccer pitches, there is always something going on at NDSM, from music festivals and flea markets to open-air cinema. It also has a beach, and an industrial crane that doubles as a boutique hotel from which you can bungee jump. Take the free ferry from behind Amsterdam Central Station. It takes 15 minutes to reach NDSM Wharf.
Pet animals at the zoo
The Artis Amsterdam Royal Zoo is the oldest zoo in the Netherlands, dating back to 1838. Home to more than 900 species of animals, the zoo is in the center of Amsterdam. With excellent facilities and features, including a gorilla house, planetarium and a 19th-century aquarium, the Artis makes for a great family day out. Kids will especially love the small petting zoo.
Get lost in Jordaan
Jordaan is possibly Amsterdam's most famous neighborhood. Lying just to the west of the central station, this formerly working-class area has been gentrified in recent years. Now home to numerous art galleries, independent boutiques and trendy restaurants, it's an idyllic place to while away a few hours, drinking coffee and popping into stores on the Haarlemmerbuurt, Amsterdam's best shopping street. The Anne Frank House can also be found on the edge of Jordaan, on the Prinsengracht canal.
Visit the Royal Palace
The Royal Palace Amsterdam on Dam Square was constructed during Amsterdam's 17th-century "Golden Age", originally as the city hall. It was once even described as the "Eighth Wonder of the World". Today it's the official reception palace of the Dutch royal family and is open to visitors for most of the year. Its centerpiece is the enormous, marble-floored Citizen's Hall. A number of other rooms, including the Throne Room and the balcony overlooking Dam Square, are also accessible to the public.
Nose around the Rembrandt House
Alongside Van Gogh, Rembrandt Harmenszoon van Rijn (1606-1669) is the Netherlands' most famous artist. The restored 17th-century house on Jodenbreestraat, where he lived for 20 years, is now the Rembrandt House Museum. It's packed full of period furniture and objects, while a separate exhibition wing is home to the world's largest collection of his etchings, though none of his paintings (head to the Rijksmuseum to see those). A must-visit for any art history lover. Tickets can be bought at the museum or online.
Soak up the atmosphere at Leidseplein
Yes, it's touristy, but this central square is still worth a visit on an Amsterdam vacation. The Leidseplein is home to some of Amsterdam's most famous (or should that be infamous?) bars and clubs and gets very busy year-round. But summer is when it really comes alive. Take a seat outside one of the many bars and restaurants and enjoy people watching over a cold drink or coffee. There are plenty of hostels and hotels in the area, too, while Vondelpark is a short walk away.
Best time to travel to Amsterdam
High season
The high season in Amsterdam is in the summer months between June and August, when the weather is at its sunniest. This being Northern Europe it's rarely very hot, but there is always the chance of rain. The city is very busy during this time and you will encounter long lines at attractions, and busy hotels and restaurants.
Low season
Spring and fall are perfect times to visit Amsterdam, especially the former, when the flowers begin to bloom. The weather is mild at this time and the streets are less crowded than at the height of summer. The low season in Amsterdam is during the winter months, when it can be very damp and chilly. Christmas is a magical time to visit and experience the Christmas markets, but pack for cold weather.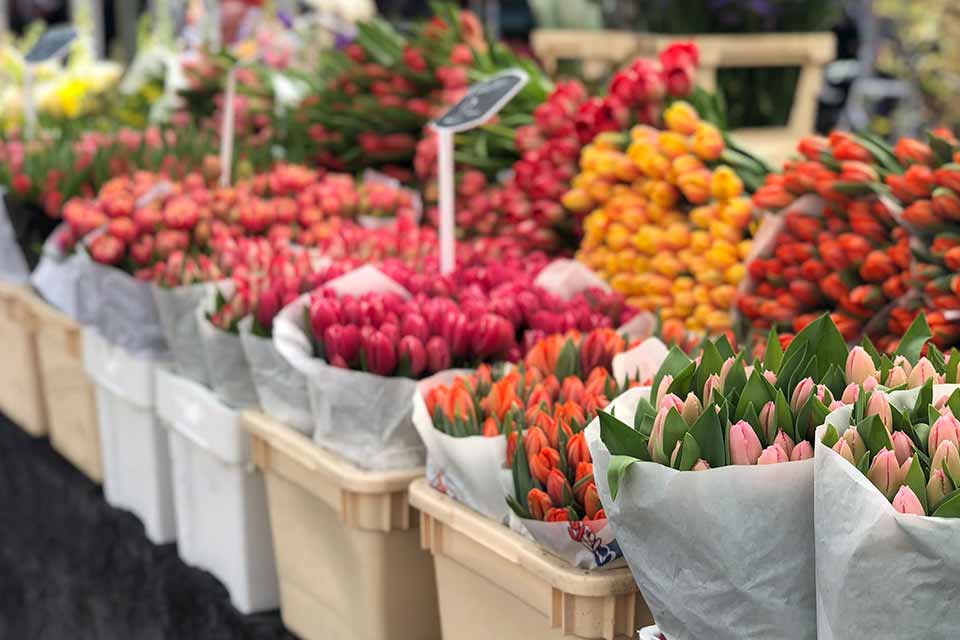 Flying with Norwegian
Get a comfortable flight with our 787 Dreamliner
Flexible tickets
You can make changes to your ticket up until 30 minutes before take-off.
Eat and drink on board
On all our long haul flights you can choose between two menus incl wine, beer or mineral water
New aircraft - low emissions
On our long-haul flights you fly with our 787 Dreamliner, one of the most environmentally friendly options there is.
Video on Demand
On flights longer than 3,5 hours, you can watch movies and tv series. Remember your headset!
Cheap flights to Amsterdam
Check out our lowfare calendar and discover your next flight to Amsterdam or on of the more than 150 destinations we fly to. The earlier you book your flight the cheaper the prices.
Discover our cheap flights in our Low fare calendar
Want more comfort on our flight?
With our Premium seats you get a recliner chair with extra legroom, a 3-course meal, Priority boarding and Fast track included and extra attentive crew to esure you'll have a plesant flight.
Read more about our Premium product and upgrade now!
Get extra benefits with Reward
While away from home, you might need somewhere to stay and a way to get around.
Through our partners you can easily find and book a hotel that suits you and rent a car that fits your needs. Book through Reward and get up to 10% and earn CashPoints.
Learn more about our Reward program and start earning CashPoints today