Back to inspirational homepage
Fancy being a tourist in Trondheim? Here are 10 tips for things to see and do
Travelling to Norway soon? Be sure to spend a few days in Trondheim. With its colourful wooden houses, small-town charm, and urban vibes, Norway's third-largest city offers several unique tourist attractions. Trondheim has a lot to offer, from vibrant urban nightlife to breathtaking natural surroundings, a rich history, and some of Norway's most beautiful landmarks. Here are our top tips for tourists visiting Trondheim.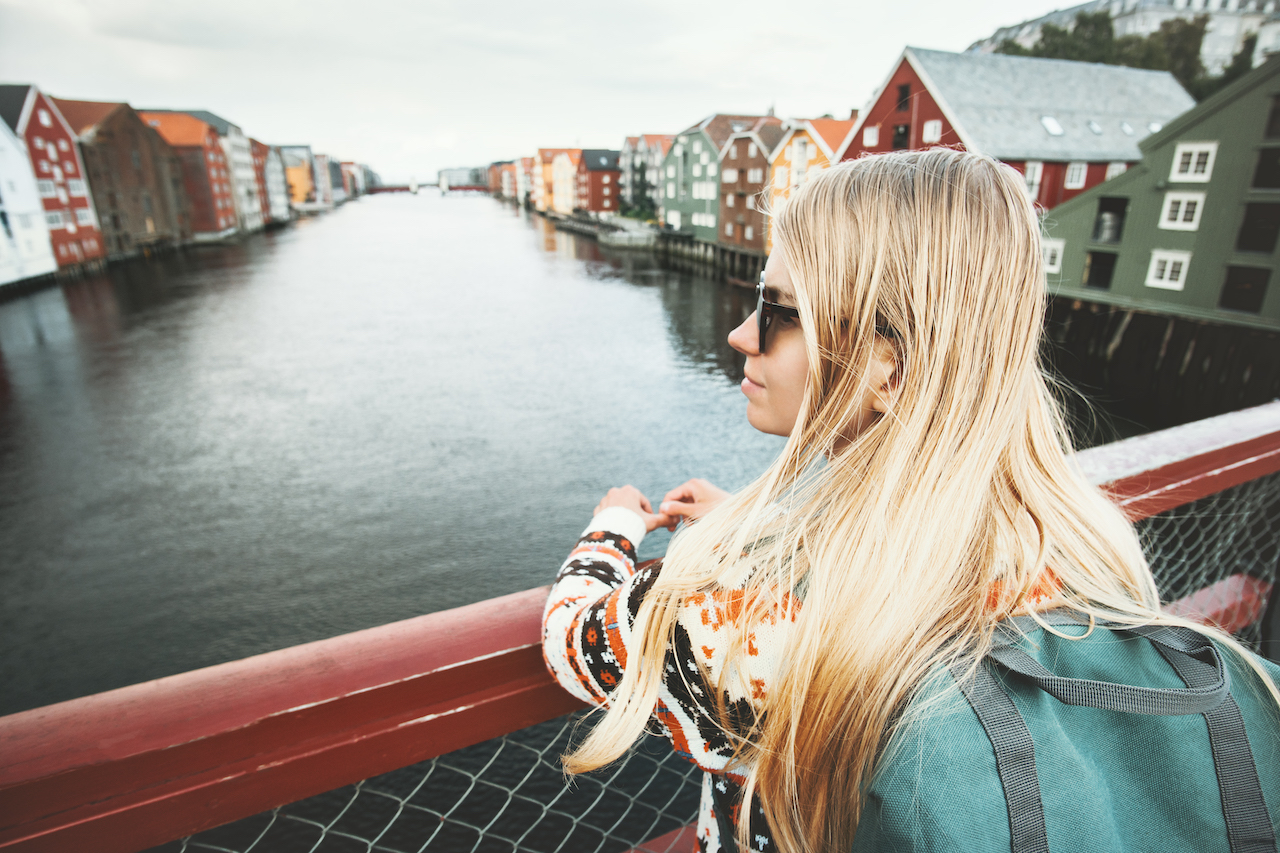 1. Visit Nidaros Cathedral

Nidaros Cathedral dates back to the 11th century. It is built over the burial site of St. Olav, who fell in the Battle of Stiklestad in 1030, and is an important pilgrimage destination.
Saints, kings, prophets, and a variety of gargoyles with contorted grimaces look down on you from the facade. After darkness falls, the building can almost seem a bit eerie, and some even claim to have seen the ghost of a monk wandering in the cloisters.

In the summer months, you can go up the tower. This is not for the claustrophobic or those with a fear of heights; the 172 steps ascend steeply to the top through dark and narrow passageways.
At the top, you will be rewarded with amazing views over the city and the fjord.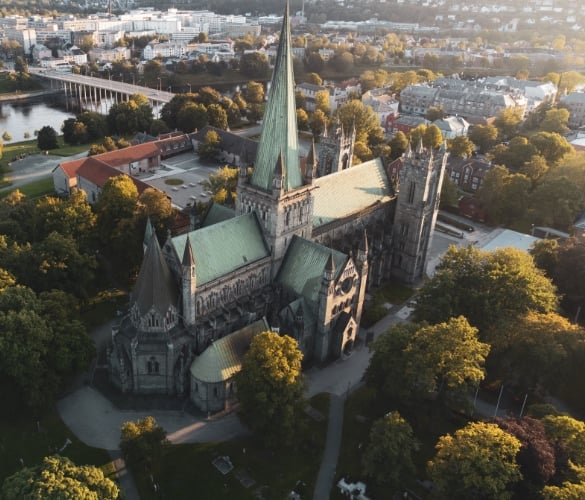 2. Capture the moment at the Portal of Happiness on the Old Town Bridge
In the centre of Trondheim, you will find the Old Town Bridge, which connects the city centre with the charming neighbourhood of Bakklandet. There has been a bridge here since 1681, but the distinctive red bridge is 150 years old. The bridge is known by the name Lykkens Portal (Portal of Happiness), after Oskar Hoddø's waltz "Nidelven stille og vakker du er" (Nidelva, how calm and beautiful you are).
Make sure you have time for photos! It is the best place in the city to take photos of Trondheim's colourful and picturesque row of wharves.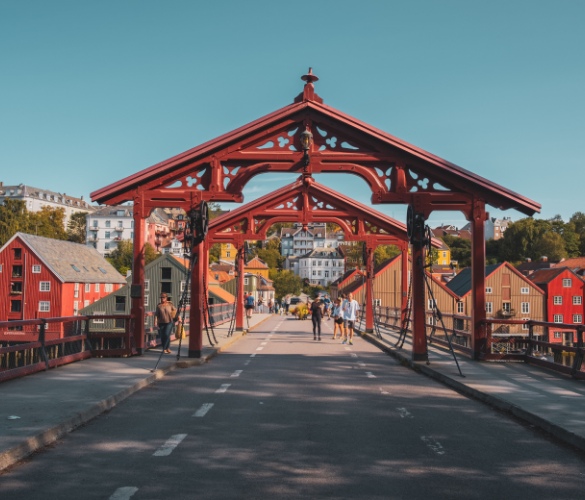 3. Enjoy life in Bakklandet
Trondheim's "old town", Bakklandet, is the most picturesque part of the city, with its cobblestone streets and clusters of colourful wooden houses. Here you will find cosy cafés, cool restaurants and designer stores.
Fancy a spot of retail therapy? Pop by Galleri Gaven which sells handmade quality goods, and the design collective Sukker, which make their own unique textiles and jewellery.
While you explore Bakklandet, remember to check out Trampe – the world's only bicycle lift.
It takes cyclists up the steep Brubakken towards Kristiansten Fortress.
Hot tip: If you are in Trondheim around Christmas time, don't miss the Christmas market in the city centre! There is no better way of getting into the Christmas mood.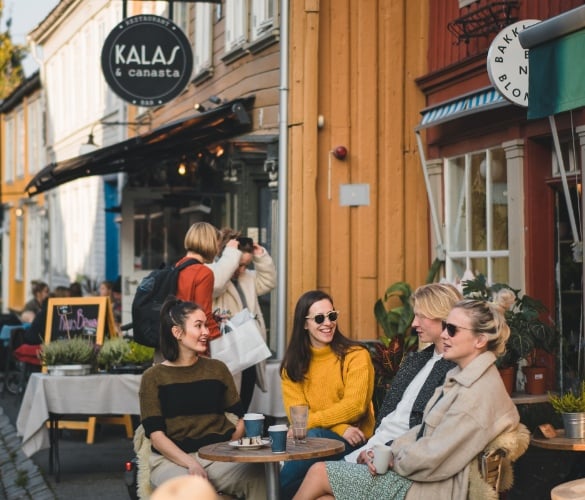 4. Enjoy a meal at Tyholttårnet (the Tyholt Tower) - Trondheim's top viewing spot
For a 360-degree panoramic view of the city, take a trip to the observation deck at Tyholttårnet, a 124-metre high radio tower. The views are stunning, and you can enjoy lunch or dinner while you're here.
Make a reservation at the Egon restaurant located 80 metres up the tower, which is Trondheim's only revolving restaurant. You are guaranteed to have seen all the sights by the time you get to your dessert! If you have kids, dining at the Egon is an absolute must-do in Trondheim.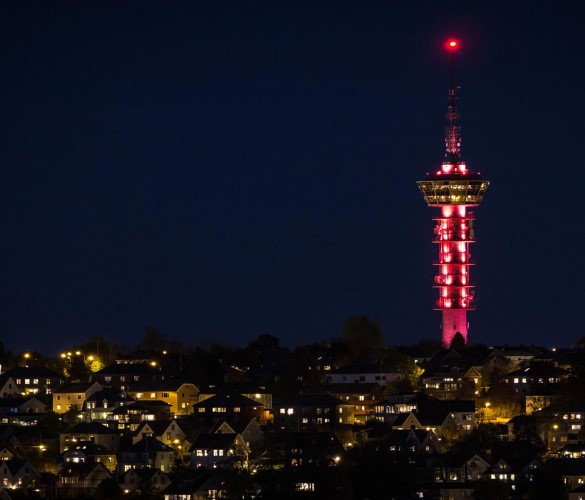 5. Visit Kristiansten Fortress
Kristiansten Fortress was built at the end of the 17th century on a hill overlooking Trondheim to protect the city against attacks. The view over the city from the fortress walls is spectacular, especially at night. The fortress is also known as a park area, where the locals gather for picnics, to work out, or simply to relax.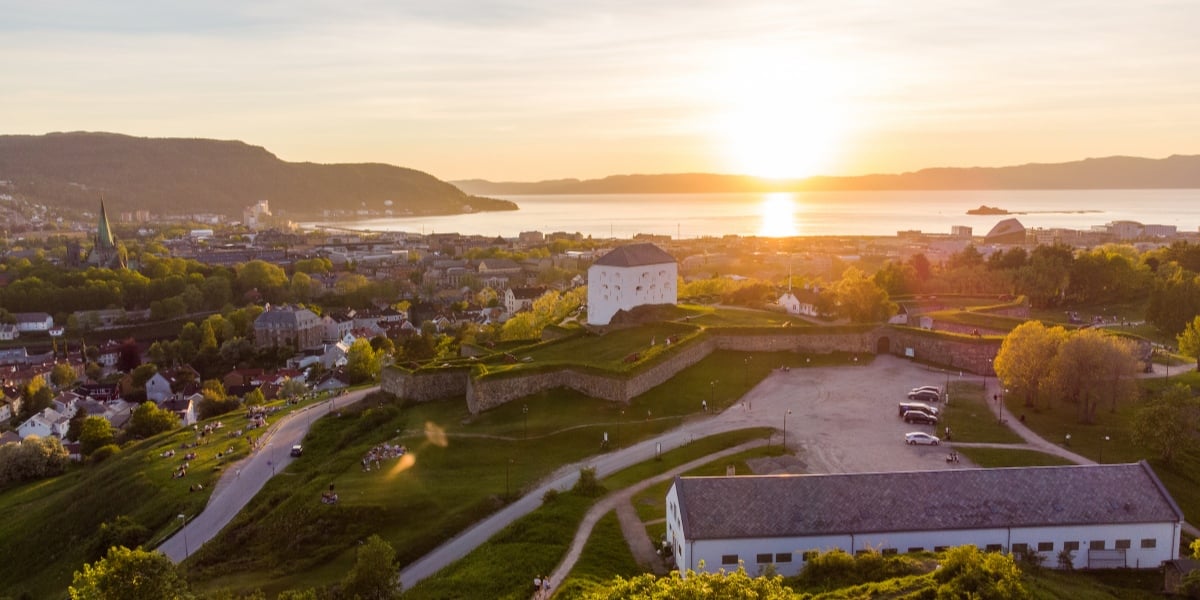 6. Take a boat trip to Munkholmen

Munkholmen, a little island steeped in history, is located just a short boat trip from the city centre. Munkholmen was a place of execution during the Viking Age, and later a monastery was built here. In the Middle Ages, Munkholmen was used as a fortress and a prison. Ferries take people from Ravnkloa in the city centre to the island from mid-May to the end of September.
Despite its gruesome past, you will find one of the best beaches in the city here, making it a top spot to visit on a sunny day.
Did you know that Trondheim's main street, Munkegata, was designed to run in a straight line from Nidaros Cathedral, through Ravnkloa, and all the way out to Munkholmen?
7. Take a walk along the Ladestien (The Lade Path)
There is so much beautiful nature in Trondheim, and the best way to experience it's by going for a hike. We recommend Ladestien, which starts at Ladehammeren and extends for five miles along the coast. The path winds its way over hilltops and through bays and coves, where you'll find several lovely bathing spots and spectacular views of the Trondheimsfjord. Take a break and treat yourself to coffee and waffles at the Sponhuset Café. Ladestien is perhaps Trondheim's most picturesque tourist trail.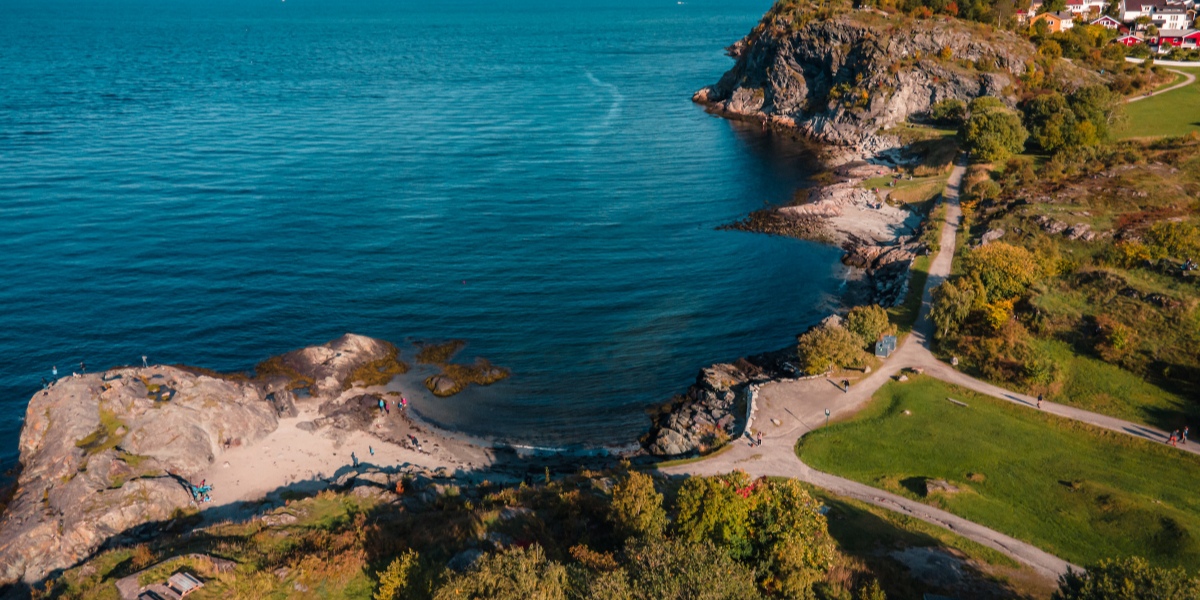 8. Unwind and let your hair down in Solsiden
If you're looking for a bite to eat and perhaps something good to drink, head to Solsiden, Trondheim's trendy nightlife area. During the day, it is a popular shopping centre. At night, it turns into a vibrant oasis, filled with restaurants, bars, and a lively atmosphere. It is a great place to sit back, watch the hustle and bustle, and sip a refreshing drink.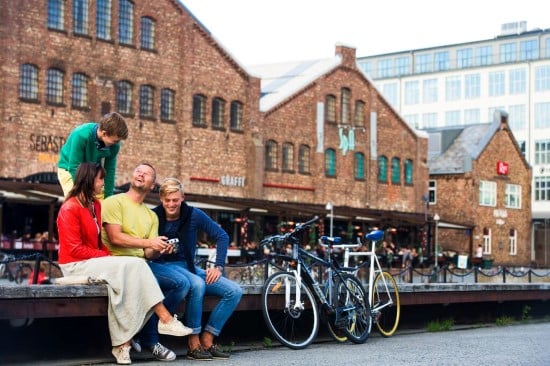 9. Dine and drink your way through Trondheim
Trondheim is dubbed the culinary capital of Norway and is considered one of the best cities in Norway for dining out. Three of the city's restaurants; Fagn, Credo, and Speilsalen, boast Michelin stars.

And that's not all. Trondheim was chosen as Europe's official region of gastronomy in 2022, making it the first Norwegian city to receive this honour. This is a tribute to local food and specialties, where local food production is taken seriously throughout the value chain.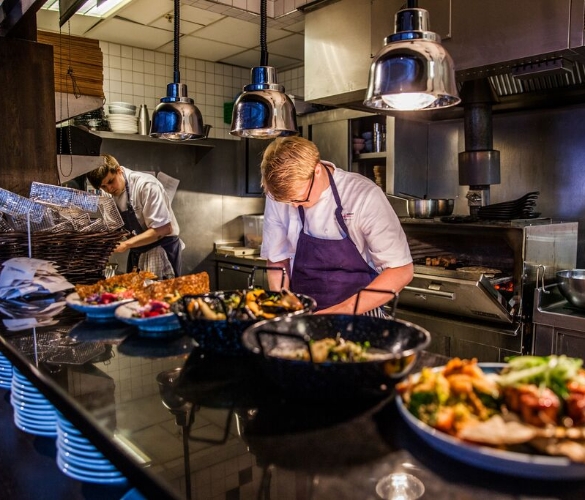 10. To Hell and back again
Hell is a little village located approximately 30 minutes from Trondheim. It's known for two things: the annual 'Blues in Hell' festival that takes place in early September, and the railway station. Tourists flock here to see the train station with its unusual name.
Those who visit the train station can even see the sign on the old freight building where, ironically, it says "Hell Gods-Expedition" (freight expedition).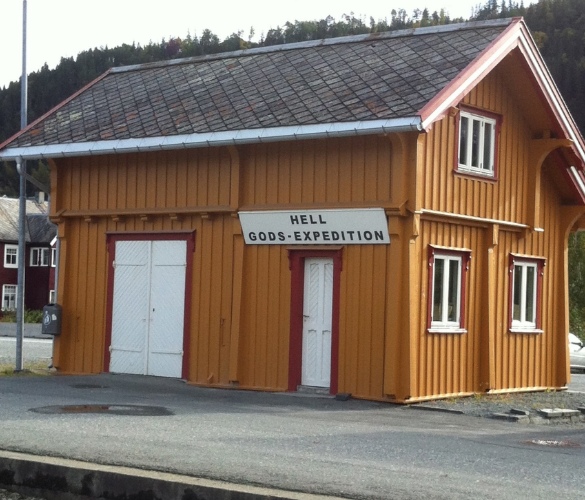 Fancy visiting Trondheim?
Why not check out the low fare calendar and book your flight to Trondheim. If you're not already a member, remember to sign up for Norwegian Reward. Members earn CashPoints on all flights, hotels, and activities. Use CashPoints to get discounts on future bookings made with us.
Tips: If you want to blend in with the locals, just add "sjø" (pronounced roughly like "shuh") at the end of your sentences. It comes from the expression "Skjønner du" which means "Do you understand?"