Why visit Split?
Because Split has 2,700 hours of sun a year, 15 kilometres of pristine beaches, Roman ruins and the liveliest nightlife on the Dalmatian coastline.
Local hotspot
The marina is a particularly lively area, busy with restaurants, bars and a plethora of superyachts belonging to the rich and famous.
You probably didn't know
There are no flies at the popular Peškarija Fish Market in the city centre because the smell of the nearby sulphur springs discourages their presence.
Suggested readings and viewings about Croatia
To read: My Mother's Side, A Journey to Dalmatia (Daniel R Friedman, 2011). To watch: Diocletian's Palace and Klis Fortress were locations used in the filming of TV series Game of Thrones.
---
Things to do in Croatia
Perivoj
For five-star dining at reasonable prices in Split, try Perivoj, which is slightly off the beaten track but well worth the ten-minute walk north of the Old Town. It has gained fame for its seafood, but also serves pastas. The signature dish is black risotto.
Pizzeria Portas
A more informal setting can be found under a canopy of grape leaves at Pizzeria Portas in the Old Town where you can tuck into big portions of Italian dishes.
Wine & Cheese Bar Paradox
For fabulous wine and cheese tasting durin your staying in Croatia, the Wine & Cheese Bar Paradox offers a large variety of Croatian wines paired with cheese, jams and marmalades.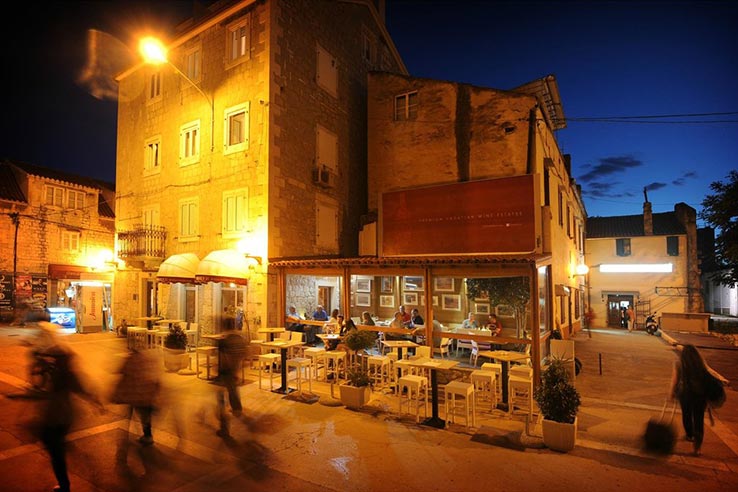 Cafe Club Bačvice and Tropic Club
There are numerous nightclub options in Split but the younger crowd tend to head to Bačvice beach and clubs like Cafe Club Bačvice with its techno beats and cave dancers and Tropic Club with excellent DJs.
Imperium Restaurant & Lounge Bar
Imperium Restaurant & Lounge Bar on the top floor of the harbour's ferry terminal is a slightly more mature and high-end alternative to Bačvice beach.
Cafe Bar St-Riva
A more relaxed option for your vacations in Split is to stick to the Old Town and Riva area for late evening drinks or coffee, such as Cafe Bar St-Riva near Diocletian's Palace. See if you can secure a seat on the first-floor balcony overlooking the Riva.
Stari Pazar
The outdoor market Stari Pazar (open from 6.30am daily) on the east side of the old city walls of Split has a large 'green' area packed with fruit, vegetable, meats and cheeses. If your intention is to buy fresh produce of Croatia, you'll be well advised to visit in the morning as supplies do run out. It's also one of the best, and cheapest, places to buy flowers, freshly baked bread, olive oil and wine.
Marmontova
The most famous shopping street in Split is the pedestrianised Marmontova, a couple of hundred metres north of the Old Town. As well as numerous international brand names, look out for Varoš, Split's oldest pharmacy, established in 1856. The interior features old Italian furniture, wooden cabinets from the Renaissance and neo Renaissance decorations. This is also where you find the fascinating Peškarija Fish Market.
Diocletian's Palace
For more informal shopping in Croatia, head for Diocletian's Palace in the old town where – in the narrow alleys – there are shops with frocks, handbags and shoes as well as local crafts, souvenirs and olive oils.
Gallery of Fine Arts
For a good historical introduction visit the Gallery of Fine Arts, where 3,500 works from the 14th century to modern times offer a historical perspective invaluable to the rest of your visit. The gallery is housed in Split's first hospital built in 1792.
Diocletian's Palace
Diocletian's Palace is a UNESCO World Heritage site. Built in AD 295 it remains one of the world's best-preserved and impressive Roman ruins in Croatia. The Cathedral of St Domnius on the eastern side has a bell tower with great views over Split, the nearby islands and the Adriatic.
Sailing
Going sailing from Split gives a fresh perspective of the Marjan peninsula and is a fun activity to enjoy with the family and friends.
Events to look out for when you fly to Split:
Gast Fair, the largest gastro event in Croatia (March)
Croatia Boat Show (March)
The Festival of Flowers (May)
Mediterranean Film Festival (June)
Split Summer Festival with open-air theatre, music and dance (July)
'Days of Diocletian' Roman Empire Festival (August)
Split Film Festival- (September)
Eat and drink on board

You can buy a variety of snacks, sandwiches, other light meals and beverages during your flight. Make sure you check our in-flight menu when you get on board.

New aircraft - low emissions

The average age of our aircraft is only 3.6 years old, which means less emissions and makes our fleet one of the youngest in the world.

Seat reservation

Starting from 10 Euros you can get the window seat, be seated in the front to save time or near the exits to have more legroom. Already booked? Add seat reservation now.
Video on Demand

On flights longer than 3,5 hours, you can watch movies and tv series from your smartphone, tablet and laptop for 7 Euros. Remember your headset!

Flexible tickets

Because your travel plans might be flexible, so are we. With Norwegian you can make changes to your ticket up until 30 minutes before take-off.

Earn CashPoints

Sign up for Norwegian Reward, and earn CashPoints every time you fly with us.