Flights to Oslo
Why visit Oslo?
Oslo has stepped out of the shadow of its Nordic neighbours. The Norwegian capital now rivals them all for music, culture and even design.
Local hotspot
The former working-class neighbourhood of Grünerløkka is home to parks, markets, boutiques and the city's main food hall.
You probably didn't know
Oslo's main pedestrian street, Karl Johans gate, is named after a French King of Sweden and Norway. He ruled from Stockholm, couldn't speak Norwegian, and had no power of veto against the Norwegian parliament.
Suggested reading about Oslo
The Redbreast (2006), the first of Jo Nesbø's crime novels featuring Inspector Harry Hole to be translated into English.
Oslo facts
Population: 647,000
January mean temperature: -0.3°C
August mean temperature: 15.8°C
---
Things to do in Oslo
Mathallen
Norwegians have been frequent travellers ever since the days of the Vikings, so it's no surprise the city's main food hall (Mathallen) is dominated by European influences. Sample treats from a Parisian bakery, "pintxos" from the Basque country and organic produce from Tuscany. When you fly to Oslo, look hard and you'll find the best Norwegian seafood too. Downstairs, Smelteverket invites you to enjoy American soul food and craft beers in its industrial atmosphere overlooking the river. Upstairs, highly inventive Hitchhiker restaurant serves street food in a laidback restaurant setting. A trip to Mathallen and its surroundings is likely to last a lot longer than lunch.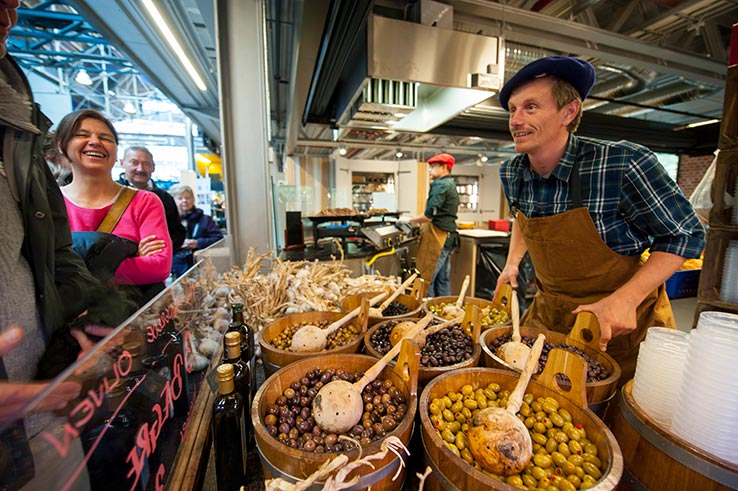 Pjoltergeist
A bit off the beaten path and more or less hidden behind an anonymous door Pjoltergeist may take a bite out of your wallet if you go with the full 8-course set-menu, but your tastebuds will probably thank you. Staying in Oslo, try a pre-dinner "pjolter" (a Norwegian Highball offshot) and tuck in on Norwegian-Japanese-Korean fusion dishes.
Munchies
Gourmet burger joints have been popping up all over Oslo lately. Munchies, along with Døgnvill, Illegal Burger and Kverneriet is one of the places you're most likely to hear when asking locals for their favourite.
Funky Fresh Foods
Despite Norway's traditional diet of meat and fish, there is a growing vegan movement with over 100 vegan-friendly eateries around the capital. Before visitng Oslo, download the free app from vegannorway.com to explore the options available. One highly-rated haunt is the Funky Fresh Foods vegan and raw food restaurant at the Norwegian Centre for Design and Architecture, just a short walk along the river from Mathallen (the city's food hall).
Cheap eats
If money is tight, some of Oslo's cheapest eats can be found in the side-streets around Torggata. The Chinese, Vietnamese and Thai restaurants all offer daily deals, which are even cheaper at lunchtime. Just watch out if you order a beer, as it may double the amount of your bill!
The Villa and Revolver
In Oslo, nightclubs don't get busy until midnight because of the "vorspiel" concept, which sees the leafy suburbs light up with pre-parties, powered by supermarket-bought beer. If you don't get invited to a vorspiel (pre-party), head to one of the clubs around Youngstorget when the clock strikes midnight. The Villa Dancing regularly welcomes some of the world's biggest names in electronica to its decks, while nearby Revolver is the place for rock music, beer and sweaty gigs in the intimate basement.
Himkok
If you are traveling to Oslo and you're on the hunt for great cocktails in stylish settings, speakeasy Himkok is the place to go. "Himkok" is Norwegian slang for moonshine, and these guys more than justify their name by distilling their own spirits and whip up some of Oslo's finest cocktails. If cider's more you're thing, Himkok also features the biggest cider bar in town.
Crowbar
It's becoming less and less of a secret that the Norwegian craft beer scene is flourishing, which is also reflected by the number of craft beer pubs popping up in Oslo the later years. Crowbar, known just as "Kråka" (the Crow) to most locals, sits among the top places to. Offering 20-something quality beers on tap ranging from their own, house-brewed Crow ales to other local and international brands, craft beer enthusiasts will most certainly feel at home here.
Blå
If you are staying in Oslo on Sunday there is only one option worth considering. Riverside club Blå hosts the Frank Znort quartet on almost every Sunday of the year. The Oslo institution starts at 4pm, but you can expect the fun to last well into the night.
Robot
Follow the skinny jeans and whipped blonde haircuts to Grünerløkka for a unique shopping experience of thrift stores combined with luxury boutiques. Markveien is where you'll find one of Oslo's most interesting shops: the vintage clothing and mod styling of Robot.
Chillout Travel Cafe
Hop next door to plan your next trip at the Chillout Travel Cafe, where in addition to shopping for a new backpack or travel gadget, you can sip a latte and enjoy a cinnamon bun while browsing the travel-book library.
The National Gallery
If you visit Oslo, there's the opportunity to see one of the world's most famous paintings with none of the crowds you find at the Louvre or Santa Maria delle Grazie. Just remember, you'll see Edvard Munch's "The Scream" at the National Gallery, and not the Munch Museum.
The Viking Museum, the Kon-Tiki Museum and the Fram Museum
Take a boat out to the Bygdøy peninsular to explore Norway's seafaring past. You'll find three real Viking ships and the remains of settlements at the Viking Ship Museum, the original raft from the Thor Heyerdahl's Easter Island expedition at the Kon-Tiki Museum, and the strongest wooden ship ever built at the Fram Museum.
The Corkscrew toboggan run
For the adventurous, Oslo's forests offer year-round opportunities and are easily reached by the city metro. Hike, fish and swim in the summer, while winter thrill-seekers can rent a sledge and try out the famous Corkscrew toboggan run. If you stay on the sledge all the way to the bottom, you simply take the city metro back up the hill and start all over again
The Vigeland Park
The 200+ stone, bronze and iron statues at Vigeland Park in Oslo will fascinate, inspire and amuse. Set in the pleasant surroundings of Frogner Park, Oslo's biggest open space, Vigeland Park is the world's largest sculpture park made by a single artist – Gustav Vigeland (1869-1943).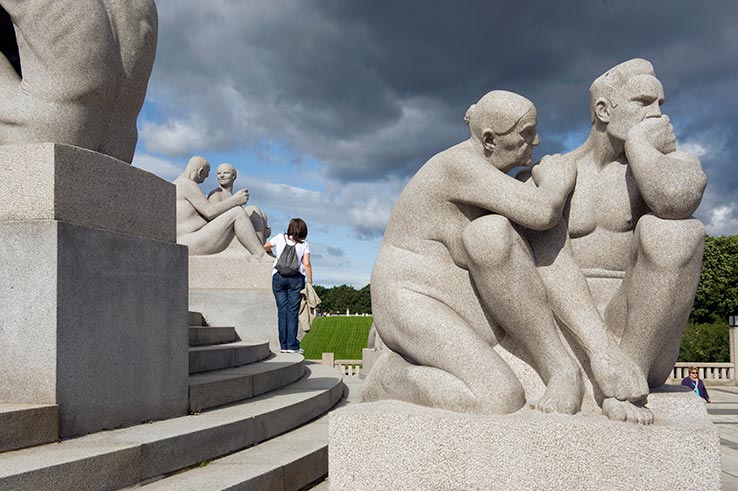 Events to look out for when you fly to Oslo:
By:Larm Festival (March)
Holmenkollen Ski Festival (March)
Melodi Grand Prix (March)
Constitution Day Parade (May)
Mini Øya – music festival for children (May)
National Music Day (June)
Norwegian Wood music festival (June)
Oslo Gay Pride (June)
Norway Cup youth football (July)
Oslo Jazz festival (August)
Øya music festival (August)
Mela festival (August)
World Music Festival (October)
Christmas markets (December)
Eat and drink on board

You can buy a variety of snacks, sandwiches, other light meals and beverages during your flight. Make sure you check our in-flight menu when you get on board.

New aircraft - low emissions

The average age of our aircraft is only 3.6 years old, which means less emissions and makes our fleet one of the youngest in the world.

Seat reservation

Starting from 10 Euros you can get the window seat, be seated in the front to save time or near the exits to have more legroom. Already booked? Add seat reservation now.
Video on Demand

On flights longer than 3,5 hours, you can watch movies and tv series from your smartphone, tablet and laptop for 7 Euros. Remember your headset!

Flexible tickets

Because your travel plans might be flexible, so are we. With Norwegian you can make changes to your ticket up until 30 minutes before take-off.

Earn CashPoints

Sign up for Norwegian Reward, and earn CashPoints every time you fly with us.