It's always your choice if you fancy a bite on board. You can buy snacks on most of our flights. If you want something a bit more substantial on board, be sure to order in advance and we'll have your meal ready for you.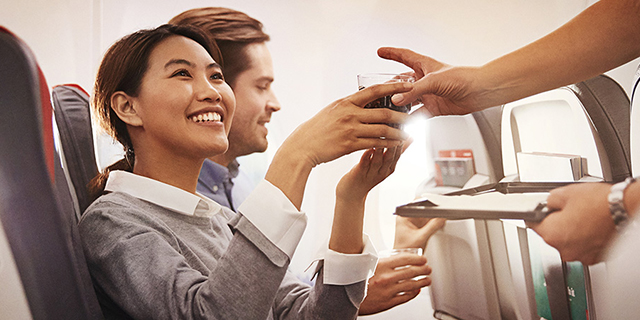 Snacks and drinks on board
Snacks and drinks are available for purchase on board most flights. Onboard purchases may be charged in a different currency than stated below. Prices may change without notice.
Non-alcoholic drinks: 2,50 - 3,50 EUR
Alcoholic drinks: 5,50 - 20 EUR
Snacks: 2,50 - 7,50 EUR
Pre-ordered meals
You can order a hot meal on selected international flights over 2.5 hours (12 EUR per person, each way).
Pre-order online up to 36 hours prior to departure
Child meals are available
A hot breakfast is served 00:00 - 08:59 (local time).
Got a special dietary requirement? Don't worry. We've got alternatives for you
Drinks and coffee or tea are not included
Want to add a meal to your trip? Check if this service is available and order online today.