{{result.subTitle}} - View as map
{{filteredResult.length}} destinations

for a budget of
{{result.subTitle}} - View as map
0 destinations

for a budget of

}
{{result.subTitle}} - View as map {{filteredResult.length}} destinations

for a budget of
No destinations are currently available. Please try with different search options.
= Some flights in this period have transit stops
No destinations are currently available. Please try with different search options.
Why go?
As well as Northern Lights, frolicking whales and astonishing natural beauty, the self-styled capital of the Arctic is a surprisingly cool and lively city too.
Local hotspot
The nearby Lyngen Alps boast some of the most dramatic fjord-side mountains (and ski touring) in Norway.
You probably didn't know
The town cinema, the Verdensteatret, is northern Europe's oldest cinema, operating since 1915.
Suggested reading
The late English crime writer Robert Barnard wrote many of his best-known works during a decade living in Tromsø and lecturing at the university. His only novel actually set in the city was Death in a Cold Climate (1980).
---
Things to do in Tromsø
Emma's Drømmekjøkken
The most famous place in town is the homely Emma's Drømmekjøkken (Emma's Dream Kitchen). Owner Anne Brit Andreassen has, in her own words, "been feeding this town since 1983. People tell me that when they see me they get hungry".
With good reason, too – the food here is quality home-style local food, with reindeer and klippfisk (dried and salted cod) regularly cropping up on the menu. But the highlight is the signature white fish gratin with bacon, potatoes and macaroni – pure, glorious comfort food.
Bardus Bistro and Bar
The elegant, modern Bardus Bistro and Bar takes the southern European bistro concept and adds smart takes on local ingredients. So you might get a simple, locally-caught cod ceviche, a shellfish ragout with Norwegian king crab or lamb shanks with parsley root and broth. The bar also has possibly the best drinks list in town.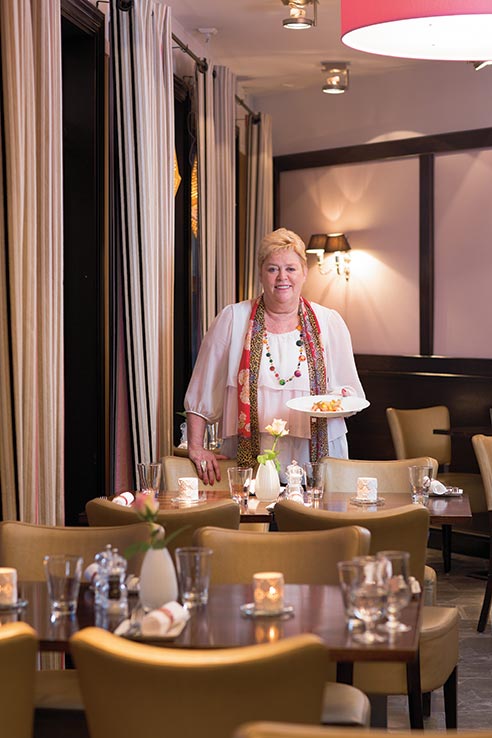 Blå Rock Café
Blå Rock Café is a bar that knows exactly what it is – if there's not a band playing (The Hives have played here), there's always grimy but good rock 'n' roll coming from the speakers, and the place – set over three floors – is covered with rock posters and signed guitars, with a Guns N' Roses pinball machine for good measure. To top it all off, they have around 50 beers and the best burgers in town. The vibe is quite student-y (in a good way), but the service is friendly and all are welcome.
Rorbua
A great location (in an old building near the Hurtigruten mooring at the harbour), friendly staff, interesting décor (look out for the fake stuffed polar bear at the doorway) and some decent grub, makes Rorbua a great place for a few pints of local tipple Mack Pilsner.
Smørtorget
Smørtorget is a retro furniture store, café and art studio space, founded in 2013 by a collective of local women – artist Hilde Eilertsen Sletvold, Ann Karina Sogge of the Church City Mission and Anne Brit Andreassen of Emma's Drømmekjøkken restaurant. Sletvold – a water colourist who has been called "an ambassador for the Arctic light" – paints in her studio off the main room, where locals gather for good coffee and tasty cakes, sandwiches and soups.
Blåst
Blåst is the world's most northernmost glass blowers and produces beautiful pieces of artwork in front of your eyes. After seeing the effort and skill that goes in, chances are you'll leave with a souvenir.
Whale-watching
Depending on the time of the year, whale-watching is a must in Tromsø. If you come in winter, head out with Sørøya Havfiskecruise – partners Cato Hanssen and Gulli Monika Pedersen take you out on their cosy 15-metre catamaran from November to January, serving up hot drinks and snacks when you're not seeing orcas and humpback whales in the beautiful seas around the city.
Mack brewery
If one business dominates Tromsø, it's the world's northernmost brewery, Mack, which has been churning out Bavarian-style beers since Ludwig Markus Mack, the son of a German immigrant, started it all in 1877. Even though most of the brewing is now done outside town at Nordkjosbotn, you can take a tour of the old premises, where they still have an innovative microbrewery and the legendary Ølhallen pub, which opened in 1928 and breathes history.
Vulkana
The Vulkana is a 1950s whaling boat, renovated by rock festival founder Erlend Mogård-Larsen, with a saltwater hot tub on deck, a seven metre diving deck and a Finnish sauna and Hammam below decks. Trips include two-hour sails and off-piste ski expeditions into the Lyngen Alps, accompanied by a mountain guide, the ship's two-man crew and a chef cooking up fish caught straight from the fjord.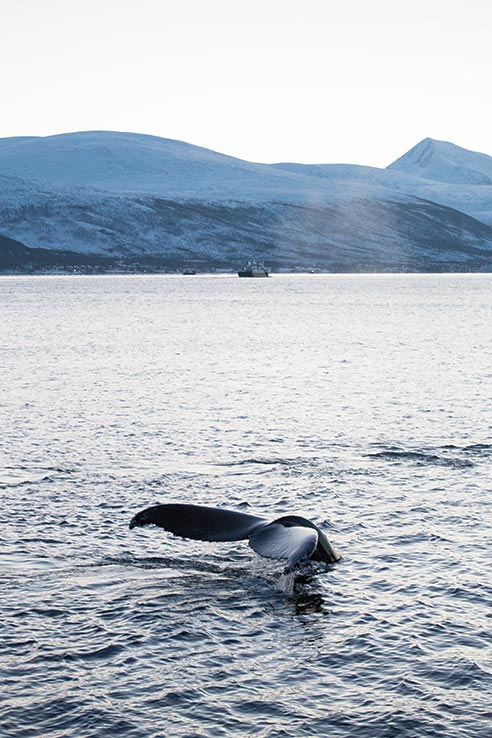 Events to look out for:
Tromsø International Film Festival (January)
Sami Week (January/February)
Northern Lights Festival (January/February)
Midnight Sun Marathon (June)
Tromsø Beer Festival (August)
SMAK food festival (September)
Tromsø International Literary Festival (September/October)
Insomnia music festival (October)
Operafestivalen (October)
Flying with Norwegian
Flexible tickets
You can make changes to your ticket up until 30 minutes before take-off.
In-flight entertainment
Fly Norwegian, and you'll have entertainment at your fingertips. Video on Demand is available on most flights.
New aircraft - low emissions
Fly with one of the youngest fleets in the world, which means less emissions and a more comfortable flight.