Menu
Using assistive devices, such as screen readers or speech recognition software? Please enable accessibility mode to get an optimal experience.
Our aircraft
Norwegian has a modern and fuel-efficient fleet of aircraft that contribute to the achievement of our long-term sustainability targets. At the same time, they give our passengers an especially comfortable journey.
Our fleet consists of Boeing 737 aircraft and these fuel-efficient planes offer a better alternative for the climate. The fleet helps to reach our long-term sustainability targets, where we aim to reduce our CO2 emissions by 45 per cent by 2030. In addition, these aircraft offer our passengers an extra comfortable flight.
+
+

Europe's Leading Low-Cost Airline 2020

=

Comfortable flights at low prices
Boeing 737-800
These short-haul aircraft offer good legroom for our passengers and feature the sleek Boeing Sky Interior and in-flight WiFi.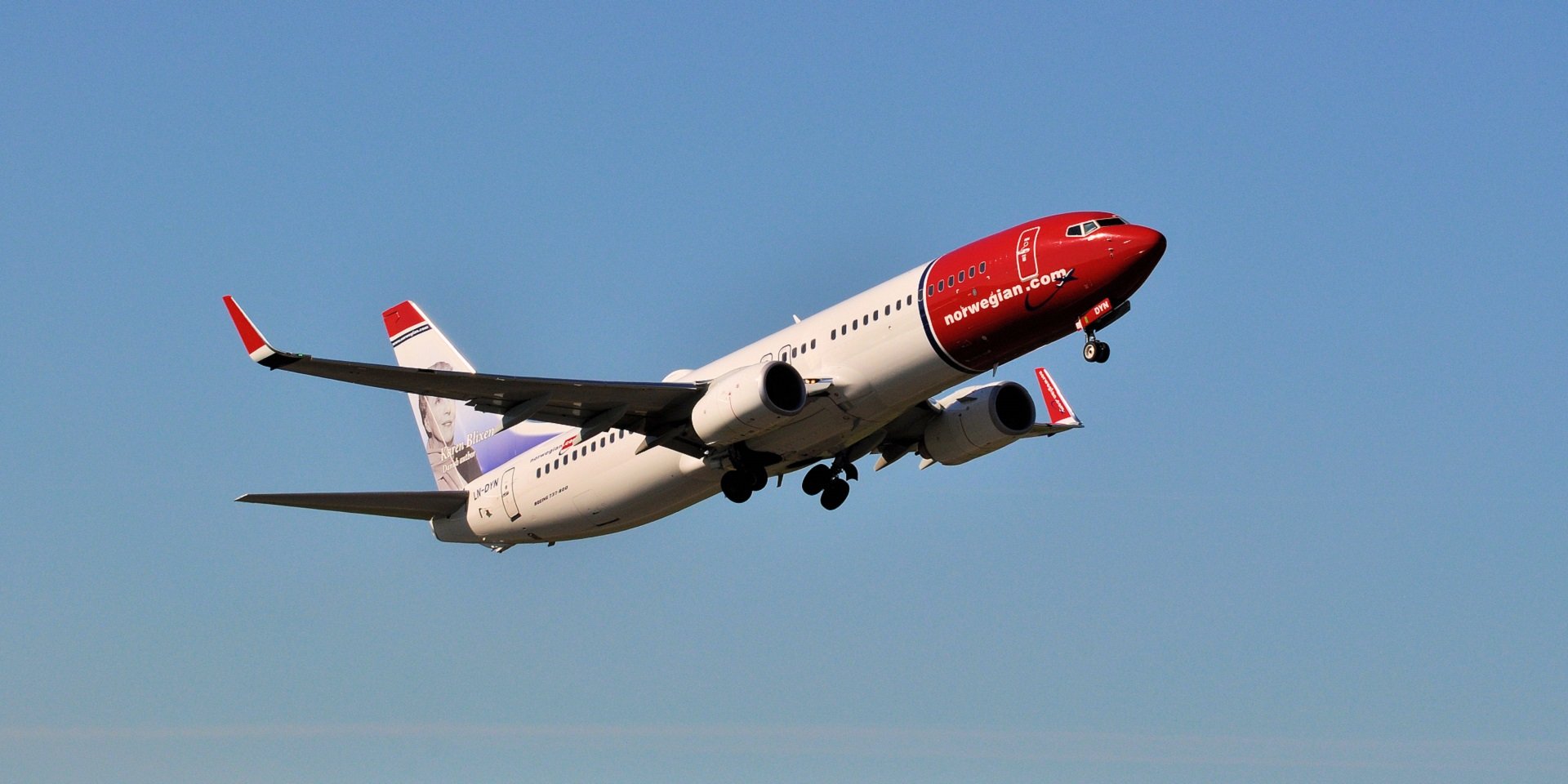 Facts about Norwegian's Boeing 737-800
186 / 189 seats
Two pilots and four cabin crew members
Two CFM 56-7B26 engines
Max start weight: 78,999kg
Length: 39.5m
Height: 12.5m
Wingspan: 35.8m
Thrust: 26,400lbs per engine
Cruise speed: 815-850 kph
Winglets
Boeing 737 MAX 8
These advanced fuel-efficient aircraft are the newest generation of the 737 aircraft providing our passengers with a comfortable and modern travelling experience.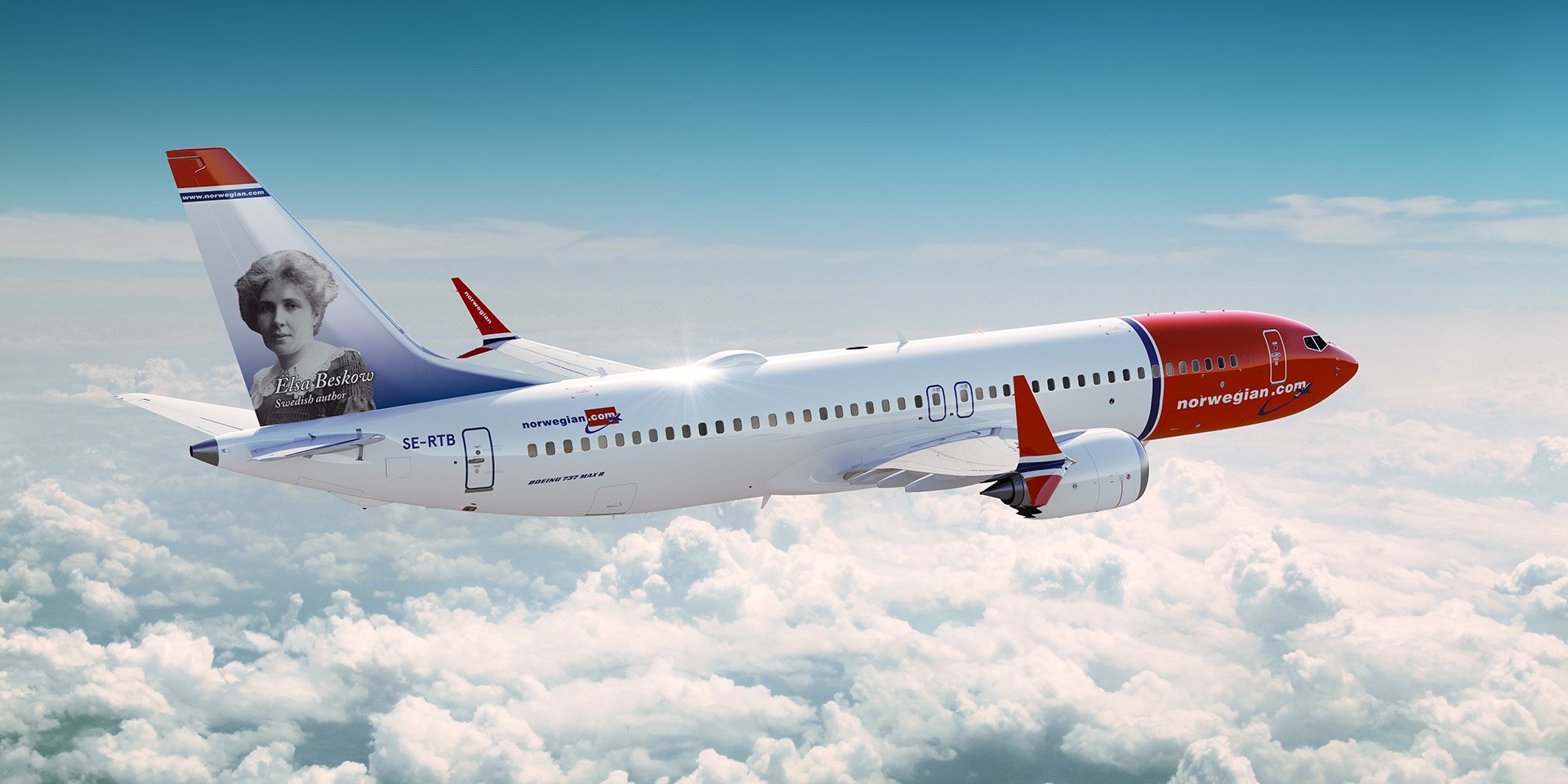 Facts about Norwegian's 737 MAX 8
Advanced technology winglets
CFM International LEAP-1B engines
189 seats
Two pilots and four cabin crew members
Length: 39.5m
Height: 12.3m
Wingspan: 35.9m
Cruise speed: 815-850 kph
In-flight WiFi
Being in the sky shouldn't mean being out of touch. Fly with us and go online in the air. WiFi is available on most of our flights.
Food and drinks onboard
You can buy snacks on most of our flights. If you want something a bit more substantial on board our international flights, be sure to order in advance and we'll have your meal ready for you.
Sky interior in our 737-800s
LED mood lighting to add a feeling of spaciousness and improved cabin perception
Possibility to emulate sunrise and sunset for improved passenger comfort and ambience
Large, pivoting overheading stowage bins designed to add to the openness of the cabin
Integrated speakers in each row's passenger service for improved sound and clarity of public address operations
New, integrated air vent and noise reducing materials, reducing overall cabin noise by up to 2db
Modern, sculpted sidewalls which adds to cabin width
More legroom with new Recaro seats
Reduced emissions due to lighter interior, meaning lower fuel consumption
Want to test out our Sky interior yourself?