{{result.subTitle}} - View as map
{{filteredResult.length}} destinations

for a budget of
{{result.subTitle}} - View as map
0 destinations

for a budget of

}
{{result.subTitle}} - View as map {{filteredResult.length}} destinations

for a budget of
No destinations are currently available. Please try with different search options.
= Some flights in this period have transit stops
No destinations are currently available. Please try with different search options.
Why go?
For of Europe's most beautiful medieval cityscape: turreted old-town walls, lush green parks, cobbled streets and winding passageways full of lively bars, restaurants and boutiques.
Local hotspot
Raekoja plats (Town Hall Square), the focal point of the Old Town where seven streets merge. It's home to several beer terraces, as well as other bars and restaurants. Regular markets, concerts and festivals take place here.
You probably didn't know
The Estonian language has borrowed from English, German, Swedish, Russian, French and Finnish (note the striking similarity to Tolkien's "Quenya"). You probably know quite a few words of Estonian already.
Suggested reading
Estonia (the Bradt Travel Guide, 2014) by Neil Taylor. The author won an Estonia Presidential Award for his guidebook.
---
Things to do in Tallinn
MEKK
Modern Estonian cuisine is order of the day at the intimate 50-seat restaurant MEKK, in the Savoy Boutique Hotel. The setting is minimalist, and dishes are artistically presented. They're big on seasonal produce and Baltic fish. For example, salted herring with a caper mayonnaise, creamed potato and rye-bread croutons. Or in summer chef's specials might include grilled perch with roasted new potatoes and chanterelles cooked in cream.
Restoran Gloria
Head to classy Restoran Gloria for an old-fashioned, white-tablecloth dinner. The place first opened its doors as a nightclub called "Dancing Paris" in 1937, and the art nouveau décor still stands. Classic French cooking is on the menu, with some Russian-French Tsar-era favourites too (Herring Romanov; blinis, gravadlax and salmon roe) and the wine list makes use of one of the best cellars in town. Dishes might include tartare of beef, caramelised foie gras, sole meuniere or beef tournedos. And for dessert, what else but tarte tatin?
Olde Hansa
For a bit of tongue-in-cheek fun, there's Olde Hansa, where the decor, music and food recreate ye olde medieval experience. Feast like Tallinn's Hanseatic merchants of yore on game sausages made of bear, wild boar and elk.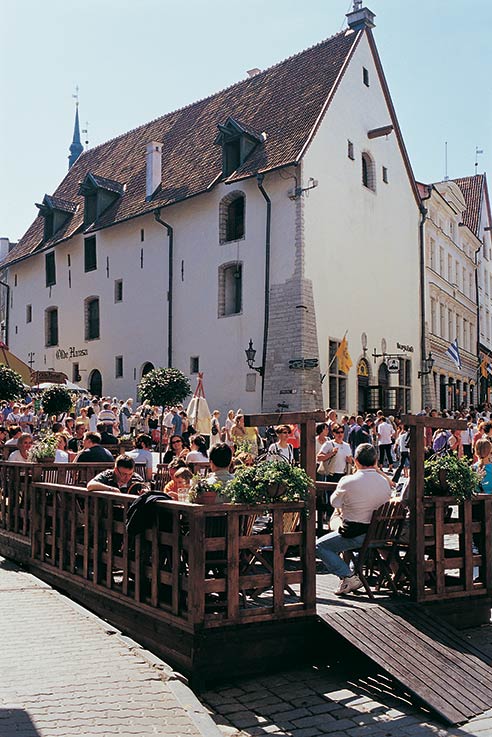 Clazz
There's live music and dining at Clazz, an intimate restaurant-club with a loyal local following. They program a wide variety of performers and styles both local and international. There's something on every night: jazz, Latin and everything in between.
Teater
A ritzy setting, an over-21s policy, and flamboyant themed evenings make Teater a glam night out. (As well as a student-free zone.) The club is popular with a stylish set of late-20s and thirtysomethings, who come for Dom Perignon parties, Cuban nights, "Moulin Rouge" feather-boa dress-ups, or "Gatsby" flapper-chic fun.
Privé
For a stylish clubbing experience, there's Privé for good DJs and varied party nights. The interior is all baroque glamour: velvet swag-curtains, gilt mirrors, shimmering flock wallpaper, candelabras and sleek chaises-longues. Expect anything from R&B, tribal beats, hip hop and funky house to disco, jazz and soul. It's small and popular with discerning locals so be prepared to queue – and dress smart. You can book a table for up to four (minimum spend 120 euros) or join their "Family" via the website to gain priority access.


Hää Eesti Asi
Hää Eesti Asi or "the Good Estonian Stuff" is the place for Estonian handicrafts and food. Browse for traditional textiles (wool, linen, embroidery and knitwear), wooden kitchen utensils, traditional jewelry, assorted sweets, jams and honeys, and a wide variety of alcoholic drinks (Vana Tallinn, the rum-based liqueur is considered the national drink.)
Viru Keskus
In the heart of Tallinn, Viru Keskus shopping centre has everything you could need. Inside you'll find 109 stores from international brands to Baltic names, and attached to this building is the venerable old Tallinna Kaubamaja (Tallinn Department Store), a household name since 1960, and conveniently open 9am–9pm Monday–Saturday, 10am–7pm on Sundays.
Balti Jaama Turg
Balti Jaama Turg, the old Russian market behind Tallinn's main railway station, sells just about everything – meat and veg, underwear, secondhand clothes, crockery, books. But it's best known for Soviet-era curios and military memorabilia. An old-school bazaar that's very often bizarre.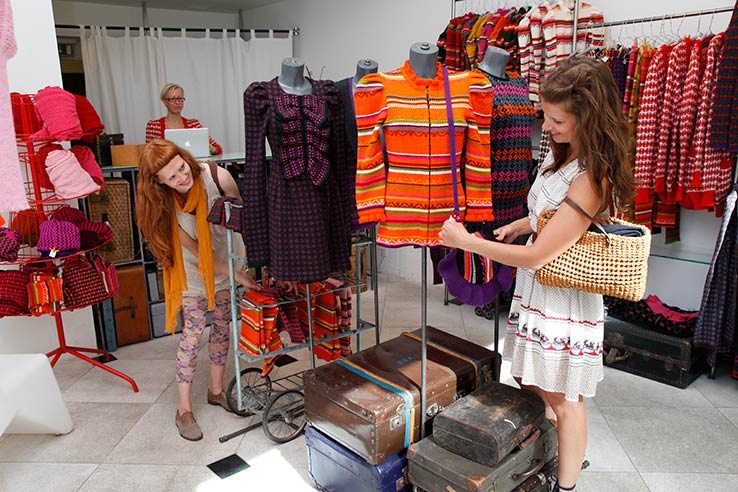 Seaplane Harbour
Explore Estonia's seafaring history at Seaplane Harbour (the Estonian Maritime Museum), set in a concrete seaplane hangar. It's the most popular museum in the country. Kids can get a feel for life in a submarine (which hangs from the ceiling). Or visit the stately old ice-breaker "Suur Tõll", moored outside, which is over a hundred years old. Stay for lunch and lovely views of the harbour.
KUMU
KUMU (the Art Museum of Estonia) is the nation's largest and most impressive exhibition venue. Go for its Finnish-designed limestone, glass and copper building, and the collections of Estonian art inside. They range from early 18th-century to present day and include examples of Social Realism and Soviet Nonconformist art. A varied programme of Baltic and international shows – from new photography to "sound poems" to video installations – runs in the four exhibition halls.
Telliskivi Creative City
Telliskivi Creative City is the largest hub for creative industries in Estonia. It's a true hipster heaven: ten former industrial buildings buzzing with bars, cafes, restaurants, shops, galleries, concert and theatre halls.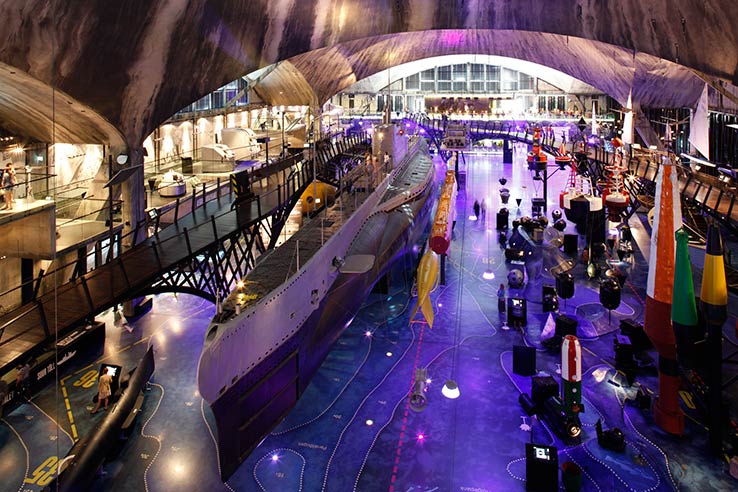 Events to look out for
Tallinn Music Week – pop and rock festival (March–April)
Jazzkaar – largest Baltics jazz fest (April)
Vanalinna Päevad – Tallinn Old Town Days festival (May–June)
Beer Summer music festival (July)
Birgitta Festival – modern musical theatre in medieval convent ruins (August)
PÖFF – Tallinn Black Nights Film Festival (November)
Christmas Market (December–January)
Flying with Norwegian
Flexible tickets
You can make changes to your ticket up until 30 minutes before take-off.
In-flight entertainment
Fly Norwegian, and you'll have entertainment at your fingertips. Video on Demand is available on most flights.
New aircraft - low emissions
Fly with one of the youngest fleets in the world, which means less emissions and a more comfortable flight.