{{result.subTitle}} - View as map
{{filteredResult.length}} destinations

for a budget of
{{result.subTitle}} - View as map
0 destinations

for a budget of

}
{{result.subTitle}} - View as map {{filteredResult.length}} destinations

for a budget of
No destinations are currently available. Please try with different search options.
= Some flights in this period have transit stops
No destinations are currently available. Please try with different search options.
Why go?
The largest of Greece's Dodecanese islands has it all – guaranteed sunshine, gorgeous beaches, crystal-clear waters, and stories of past civilisations to keep things interesting.
Local hotspot
The spectacular fortified Old Town of Rhodes, created by the crusading Knights of St John in the 14th century, has recently been awarded UNESCO heritage status. On a clear day you'll get glorious views across to Turkey, but it's at its most magical at night when the cruise ships have departed.
You probably didn't know
The Colossus of Rhodes (built to celebrate the island's victory over Cyprus in 305BC) was one of the largest statues in the world (until it was destroyed by an earthquake 50 years later). Rhodes' current mayor is planning to build a new version at the entrance to the port – and make it five times bigger than the original.
Suggested reading
Reflections on a Marine Venus (Lawrence Durrell, 1953).
---
Things to do in Rhodes
Mavrikos
Mavrikos is a family-run establishment in Lindos' main square. Founded by Grandpa Mavrikos in 1933, it's popular with the local cognoscenti thanks to its elegant décor and pretty, shaded courtyard. Grandson Dimitris dishes up some of the finest food on the island – order the oven-baked fennel, fresh octopus with smoky local cheese, nuts and fennel or lamb in kumquat sauce.
Kyma Beach Restaurant
We'll forgive you for thinking you've walked into a chi-chi restaurant in Mykonos or Santorini upon entering Kyma Beach Restaurant. This beach-side eatery in Pefkos has unparalled views of the Aegean Sea, plus creative cocktails and stellar cuisine. The menu runs the gamut from punchy pastas to fantastic fish and succulent meat dishes.
Marco Polo Café
There are few more romantic settings for dinner than Marco Polo Café, a glorious 15th-century building in the Turkish quarter of Rhodes Town. The food here pushes boundaries – think sea bass carpaccio, grilled calamari on a light-as-air aubergine mousse, succulent lamb and squid ink pasta. The desserts are particularly sublime, prepared by a local Italian patisserie chef, and you'd be a fool to miss out on the heavenly caramel pear mousse with hazelnut chunks.
Methexi
A bohemian jazz joint might not be what you were expecting in Rhodes but Methexi at 28 Oktovriou, cnr Griva is just that, complete with its vintage mirrors, old-school typewriters and movie posters dotted around the walls. As you'd expect, it attracts a buzzy, young crowd.
Amphitheatre Boutique Club
The Nikki Beach franchise might have started those famous white parties, but Amphitheatre Boutique Club in Lindos has perfected them. This white-washed open-air space with glorious views across to the neighbouring acropolis and glittering bay attracts up to 2,000 beautiful people who like to dance the night away as big-name DJs drop all the latest hits.
Rogmi Tou Xronou
Rhodes' premier rock venue is Rogmi Tou Xronou (translated as 'Crack in Time', which explains chunks of clocks throughout the bar) at 4 Arionos Square. In a lively square in Rhodes Town's old quarter, this cool basement dive blasts out heavy metal hits, brings in decent rock bands and has the ultimate way to beat the Monday blues: a Monday Blues night.
Olive Oil Factory
The olive tree has been cultivated here for more than 7,000 years, and olive oil extracted for almost as long. A visit to the Olive Oil Factory will give you a chance to taste this silken oil, see it being pressed, and buy a whole host of olive oil inspired products.
Athina Jewellers
Jewellery making in Rhodes is a tradition that dates back 5,000 years, which is a reason to choose an elegant necklace over an 'I heart Rhodes' shot glass any day. Athina Jewellers has a very fine, long-standing reputation (35 years – not quite a few millennia, but still…) and produces exquisite pieces with a modern twist.
Lindos
You can't visit Rhodes without taking in one of the three settlements that predate medieval Rhodes Town – Camirus, Ialysus and Lindos, and the latter is by far the most impressive. It's a 116m hike up a steep hill to get there, but worth the effort for the best views on Rhodes island.
Museum of Modern Greek Art
The promise of Ancient Greek art might not be enough to rouse you from your sunlounger, but the Museum of Modern Greek Art, which reopened in 2015 after extensive restoration work, is truly something to behold. It has the largest collection of art outside of Athens including work by surrealist Nikos Engonopoulos and neo-Byzantinist Photis Kondoglou.
Stegna
Looking for a quiet beach? Try Stegna. With a long, sandy curve and crystal-clear waters, there are rock pools for the kids to mess around in and great snorkelling opportunities too. The village of Stegna is utterly charming, with a number of delightful little tavernas for a casual lunch.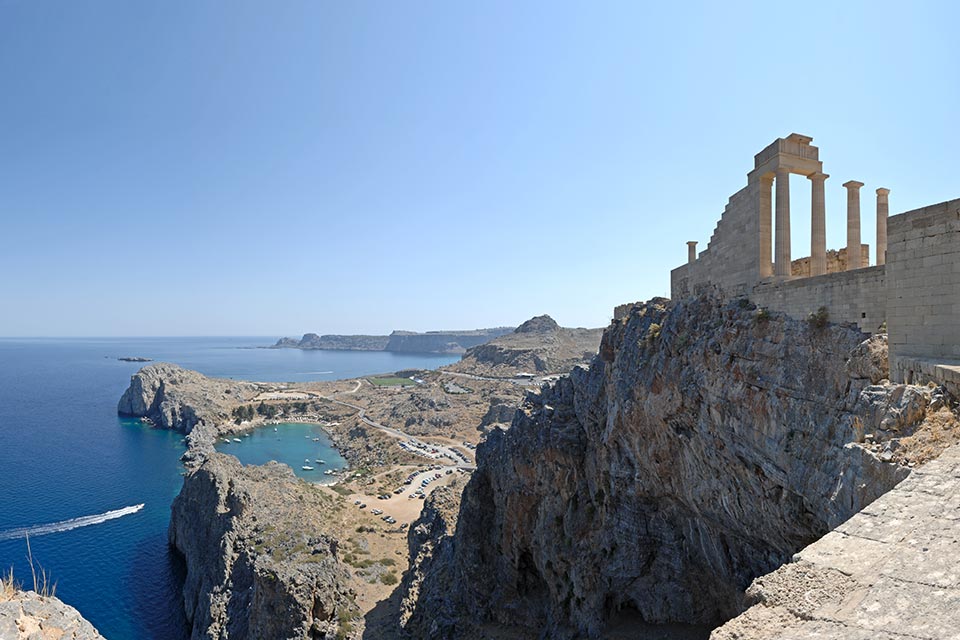 Events to look out for
Rhodes Medieval Rose Festival (last weekend in May)
Rhodes International Film and Visual Arts Festival (June)
Assumption of the Virgin (more fun than it sounds; August)
Rhodes International Festival (September)
Flying with Norwegian
Flexible tickets
You can make changes to your ticket up until 30 minutes before take-off.
In-flight entertainment
Fly Norwegian, and you'll have entertainment at your fingertips. Video on Demand is available on most flights.
New aircraft - low emissions
Fly with one of the youngest fleets in the world, which means less emissions and a more comfortable flight.