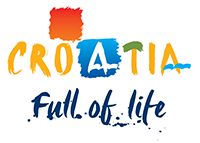 Explore Istria – the green Mediterranean
The crystal clear Adriatic Sea, friendly hospitality, cultural and historical points of interest makes this region an interesting holiday destination. The options for dining out are almost limitless, from quiet local tavernas, hidden away off a bach road in the inland and serving the most delicious homemade pasta with truffles, to exquisite seafood restaurants near the waterfront.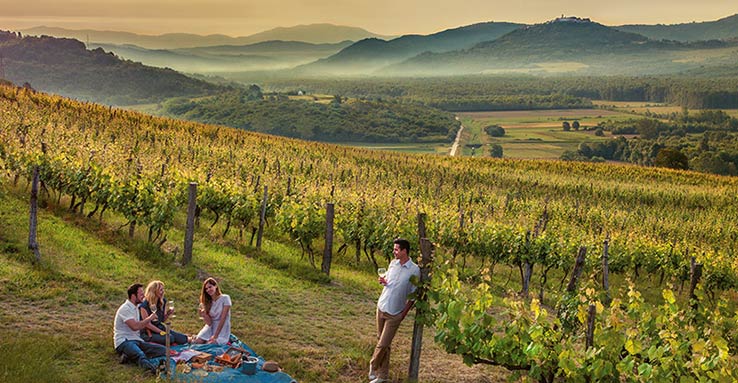 Nature
As the only national park in Istria, Brijuni with its 14 islands presents a unique play of nature that brings together remarkable animal species and rare and rich flora all at one place. Other archipelagos to explore are in front of Rovinj and around the Kamenjak cape, which also is well known for its wild landscapes and virgin beaches. Don't miss a boat excursion along the Lim Fjord.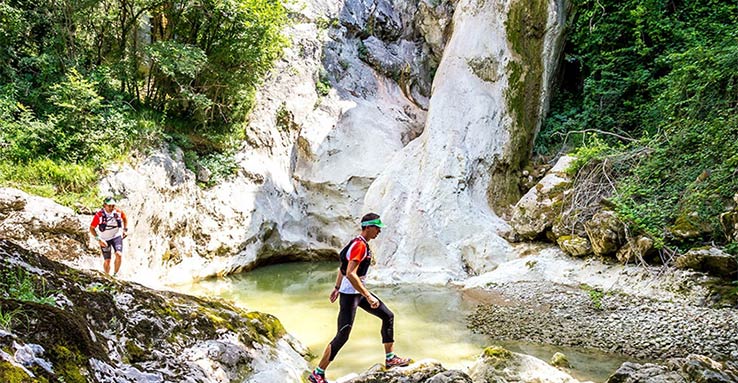 Activities
Outdoor types will love the spread of activities – from sailing to exploring the underwater beauty with reefs, caves and shipwrecks, trekking, riding, paragliding, ziplining, adrenaline parks, tennis or golf... And that's not all: Istria also has an excellent reputation among cyclists with its quiet roads during spring and autumn, and amazing views.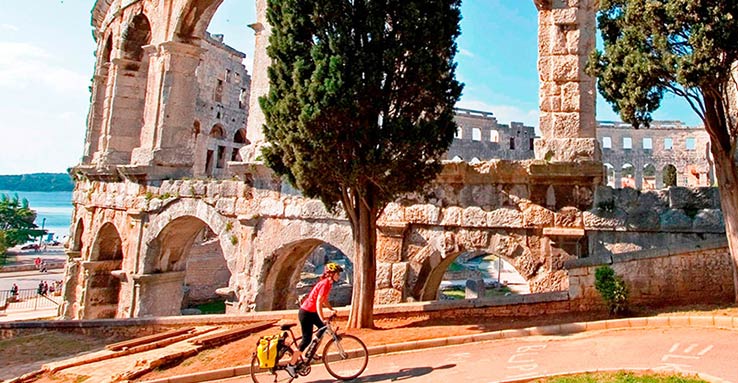 Histroy and culture
The Pula Amphitheatre – the famous Pula Arena – as the sixth largest Roman amphitheatre in the world, is the most important monument in Croatia from the antiquity. Today, it's the venue for many different events: gladiator fights spectacle, Pula Film Festival, various concerts, opera, ballet, sports competitions and more.
Another among many cultural attraction is located 60 km from the Arena: The Euphrasian Basilica dating from the 5th century, listed on the UNESCO world cultural and heritage list. It's possible to climb up to its steeple and view the harbour of Porec. During summer, classic music concerts are held in the evening hours once a week.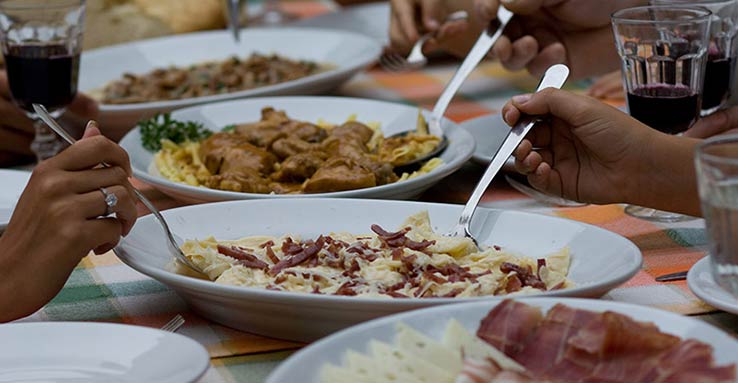 Mediterranean flavour
Wine and olive oil tastings are the regions's latest fad. Follow the signed routes to vineyards and olive groves in the countryside, and taste these nectars right from the source – an awesome opportunity that's recommend to everyone.
The Istrian truffle is a culinary winner that is hard to resist – hidden undergroundin the Motovun forest and successfully tracked by special trained truffle hunting dogs.
Experience the regional flavours by having a traditional meal with Istrian dried ham "prsut", followed by "fuzi" (homemade pasta) with chicken stew and cooked sour cabbage – and for dessert the Istrian homemade pastry "fritule" and "krostule".
More inspiration and travel tips
Find out what makes the Istrian peninsula a top holiday destination and get inspired by the online brochures at istra.hr.
Pula at a glance
Why go
Because even with its wealth of Roman architecture, Pula is still not as well-known or overrun with tourists as it deserves to be.
Local hotspot
Giardini Street is a wide, tree-lined stretch next to the old city walls where locals gather for drinks late into the evenings.
You probably didn't know
Istria's regional produce, including excellent wines, extra virgin olive oils, prosciutto, asparagus and wild rocket has earned it the nickname 'Little Tuscany'.
Suggested reading and viewing
To read: Dante's Divine Comedy rather ominously references Pula as one of the circles of hell, thanks to the Roman graveyards the 14th-century poet saw outside the city walls while visiting the city. To watch: Pula's Roman amphitheatre features in the 1999 fantasy film Titus starring Anthony Hopkins.
Bare stats
P

opulation: 57,460

Annual visitor numbers: 300,000 (2014)

January mean temperature: 5°C
August mean temperature: 23°C
---
Things to do in Pula
Amfiteatar Restaurant
Close by the Roman amphitheatre, the nearby Amfiteatar Restaurant produces fresh plates of modern Mediterranean cooking such as octopus carpaccio and baked seabass with vegetables from its own kitchen garden.
Milan
With the local Istrian cuisine borrowing heavily from nearby Italy (Trieste is about 1.5 hours drive north of Pula, via Slovenia) one of Pula's best restaurants is named Milan. And serves beautifully al dente homemade pastas, fresh shellfish and home-grown olives.
Trapan Wine Station
With no fewer than four different types of soil, Istria is a winemaker's paradise. Visit the Trapan Wine Station in nearby Šišan, a 10-minute drive outside the city, where you can sample some of the region's vintages produced by new-age grape aficionado Bruno Trapan.
Bodulka
Also in the nearby village of Šišan is Bodulka, a fine restaurant attached to the family-run Velanera hotel. The open-air dining room overlooks rolling fields, and the chef stirs up tasty plates including fragrant saffron risotto and a killer chocolate lava cake.
Giardini Street
Giardini Street was built as a city garden in the mid-19th century and then transformed into a paved marketplace dotted with trees and lined with bars and cafes. In the early evenings locals flock here for an Ožujsko beer or a glass of Istrian Malvasia wine and to catch up on the day's events.
Luna's Lounge Bar
If your idea of a night out revolves around cocktails and sunsets, head for Luna's Lounge Bar at the Park Plaza Histria, near Verudela beach; it's open until midnight daily.
Pietas Julia
Pietas Julia, overlooking the harbour is the city's best spot for those keen to hit the dancefloor. There's an outdoor lounge serving wood-fired pizzas before the electro/house music gears up indoors, playing until 4am on a Saturday.
Rojcnet
Prefer rock to house? Rojcnet, situated in the basement of the Rocj Centre, is the place to head for indie kids, with live gigs every month.
The Central Market
To experience the sheer variety of Istria's produce – from wild honey, freshly landed seafood, olive oils and of course the famous Istrian truffles – visit Pula's bustling Central Market, a traditional iron-framed glass structure built in the 19th century.
Captain Jack
Those with a sweet tooth should pop into Captain Jack, an emporium on Sergijevaca close to the city's famous Triumphal Arch of Sergii, where barrels are piled high with multi-coloured candies.
Flanaticka Ulica
Head to Flanaticka Ulica, the main shopping street in Pula, to find clothing, cosmetics and shoe shops from international and home-grown brands.
Uliks café
Before he moved to nearby Trieste and wrote his masterpiece Ulysses, James Joyce spent six months in Pula teaching English to Austro-Hungarian naval officers. It was here he wrote what was to become Portrait of the Artist as a Young Man, and his legacy is still celebrated today in Uliks café, where the language school once stood, and where a bronze sculpture of him sits on a chair outside.
The Triumphal Arch of Sergii
Built between 29 and 27BC to commemorate the Sergius family, who were in positions of power at the time, the Triumphal Arch of Sergii is known as the 'golden gate' of the city of Pula and was once part of the city walls. While the walls were mostly pulled down in the 19th century, the arch survives, with ornate decoration on its western, city-facing side.
Brijuni National Park
The Brijuni National Park is an archipelago of 14 islands just a few kilometres off the coast. It is where Josip Tito, once president of Yugoslavia, would host film stars like Elizabeth Taylor, Richard Burton and Sophie Loren, using it as his summer residence. Daytrips to the island, perfect for family trips, leave from Fažana, a 15-minute drive north of Pula, daily.
Events to look out for:
Pula Film Festival (July)
Seasplash Reggae Festival (July)
Pula Summer Festival (July-August)
Istrafest (July-August)
Outlook Festival (September)
Eat and drink on board

You can buy a variety of snacks, sandwiches, other light meals and beverages during your flight. Make sure you check our in-flight menu when you get on board.

New aircraft - low emissions

The average age of our aircraft is only 3.6 years old, which means less emissions and makes our fleet one of the youngest in the world.

Seat reservation

Starting from 10 Euros you can get the window seat, be seated in the front to save time or near the exits to have more legroom. Already booked? Add seat reservation now.
Video on Demand

On flights longer than 3,5 hours, you can watch movies and tv series from your smartphone, tablet and laptop for 7 Euros. Remember your headset!

Central airport

Pula Airport is centrally located, with quick and easy transport connections to the city centre and beyond. Less hassle, more time to enjoy yourself.

Earn CashPoints

Sign up for Norwegian Reward, and earn CashPoints every time you fly with us.