{{result.subTitle}} - View as map
{{filteredResult.length}} destinations

for a budget of
{{result.subTitle}} - View as map
0 destinations

for a budget of

}
{{result.subTitle}} - View as map {{filteredResult.length}} destinations

for a budget of
No destinations are currently available. Please try with different search options.
= Some flights in this period have transit stops
No destinations are currently available. Please try with different search options.
---
Things to do in Madeira
Restaurante O Forno
For a classic Madeira eating experience, it's hard to beat Restaurante O Forno, in Ponta do Pargo on the remote northwest coast. Owners Marta and Arnaldo are famed for their friendly welcome, great wine list and hearty food, mostly done on a wood-fired grill out front. Try the stewed octopus, "espetados" (beef on skewers) and Madeira specialities like "bolo do caco" garlic bread. After it all, you get a free shot of their homemade "poncho" spirit.
Taberna da Poncha
Poncha – a potent combination of "aguardente de cana" (alcohol distilled from sugar cane juice), honey, sugar, lemon rind and various fruit juices – rivals sweet Madeira wine as the alcohol of choice on the island. The best place to try it is the Taberna da Poncha, in the inland hillside town of Serra de Agua, a cosy but vibrant tavern where the floor is covered in discarded peanut shells and the poncha flavours range from mint to passion fruit.
Blandy's Wine Lodge
Blandy's is the most famous of the Madeira wine brands, and their Wine Lodge in the centre of Funchal takes you through the history and the making of a wine that has barely changed in centuries (it's still heated to high temperatures to mimic the sea voyages that inspired it). At the end you'll get to taste different varieties of Madeira.
Carros de Cesto wicker toboggan ride
Ernest Hemingway once called Funchal's famous Carros de Cesto wicker toboggan ride "the most exhilarating experience of my life" – and the attraction, which has been going since 1850, is still popular. Two of the 150 "carreiros", all dressed in crisp white uniforms, will ferry you down the 2km stretch of tarmac from the village of Monte, reached by cable car from central Funchal. If it's more leisurely than in Hemingway's day, it's still a fascinating little slice of Madeira history.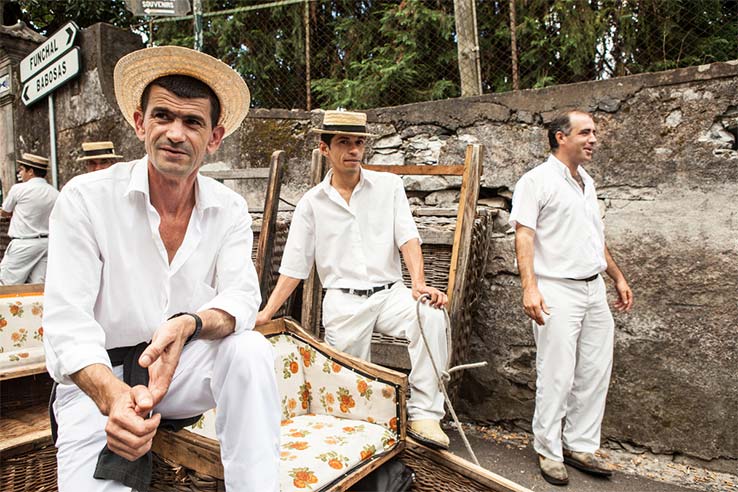 Events to look out for:
Madeira Carnival (February)
Madeira Flower Festival (April)
Porto Santo Ultra Trail Run (May)
Madeira Day (July)
Paul do Mar Limpet Festival (July)
Funchal Jazz Festival (July)
Madeira Wine Rally (July/August)
Machico Food Festival (August)
Monte Festival (August)
Paul Do Mar Water Jump (August)
Funchal International Film Festival (November)
Flying with Norwegian
Flexible tickets
You can make changes to your ticket up until 30 minutes before take-off.
In-flight entertainment
Fly Norwegian, and you'll have entertainment at your fingertips. Video on Demand is available on most flights.
New aircraft - low emissions
Fly with one of the youngest fleets in the world, which means less emissions and a more comfortable flight.