No destinations are currently available. Please try with different search options.
= Some flights in this period have transit stops
No destinations are currently available. Please try with different search options.
Why go?
Because Corfu's ravishing Old Town is the perfect gateway to the soft-sand beaches and cypress-dotted mountains of one of Greece's most beautiful islands.
Local hotspot
Corfu Town's marble-lined promenades, such as the colonnaded Liston, are a magnet for well-dressed Corfiots and out-of-towners alike. People-watch over frothy coffees and delectable cocktails.
You probably didn't know
The Queen of England's husband, Prince Philip, was born at Corfu's Mon Repos Estate. The island also produced independent Greece's first leader, Ioannis Kapodistrias.
Suggested reading
Prospero's Cell (Lawrence Durrell, 1945); My Family and Other Animals (Gerald Durrell, 1956).
---
Things to do in Corfu
La Cucina
Corfu (called Kérkyra in Greek) is one of Greece's top culinary destinations, with its centuries-old fusion of Greek and Venetian cuisines. Search out La Cucina in the narrow pedestrian-only lanes of the Old Town, where hand-rolled pastas marry perfectly with local seafood and rich Corfiot cheeses. Find it at Guilford 17.
To Tavernaki tis Marinas
Sneak away from the busiest quarters of the Old Town, to To Tavernaki tis Marinas, the city's top traditional tavern. Locals head here for its perfect grilled sardines, fresh salads and thick steaks paired with neat shots of ouzo or tsipouro. Affable staff and streetside tables with views of nearby market stalls round out the lively ambience. Find it at Agias Sofias 1.
Klimataria
It's always worth the trip south of Corfu Town to Benitses village for one of Greece's top tavernas, Klimataria. Locally called 'Bellos', after the low-key owner Kostas Bellos, the casual eatery's claim-to-fame is its carefully selected ingredients – from homemade olive oil that still tastes of the orchard, to barrels of rich, creamy feta or tender calamari caught just off shore. Book ahead to be sure of a table.
Café Bristol
In the Old Town, Café Bristol hides away from the busiest promenades but its narrow bistro-like bar reliably fills by early evening. Squeeze in to nab a well-made cocktail, gyrate to R&B and make new friends. Don your best togs to fit in with the chic Corfiots.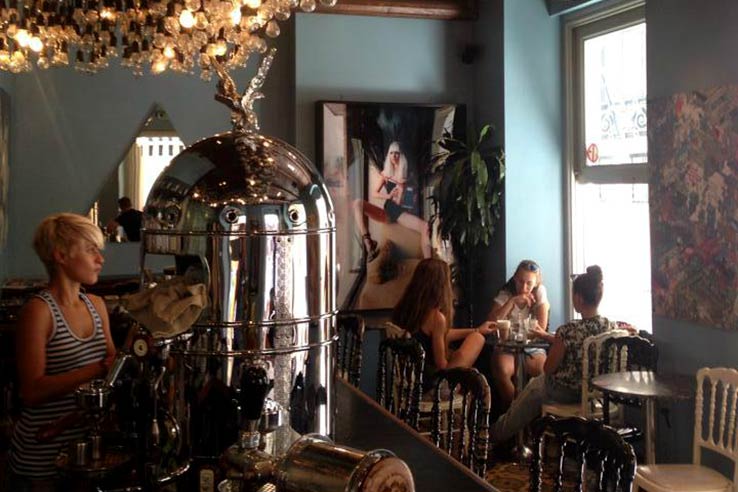 The Venetian Old Town
The warren of walking streets in the Venetian Old Town offers the best shopping on the island, from clothing stores clustered along G. Theotoki Street to souvenir stands overflowing with knick-knacks, carvings and kumquat liquor. Plan to take a break from your browsing at Papagiorgis (at N. Theotoki 32), the best shop for homemade ice creams and artful towers of intricately crafted sweets.
Icon Gallery
Greece has long been renowned for its singular icon painting and religious art traditions – perhaps the most famous is the Cretan School, which flourished from the 15th to the 17th centuries and spawned El Greco. Today, Icon Gallery in Corfu Town is the spot for contemporary takes on the historic form, as well as heraldic art, carvings, and stained glass.
Pogoniou
If you're in the market for suitcase stuffers like local olive oil, herbs and mountain tea, Pogoniou is the place for you. Shelves are also crammed with excellent cheeses, cured meats and locally sourced spoon sweets. Find it at Markora Gerassimou 17.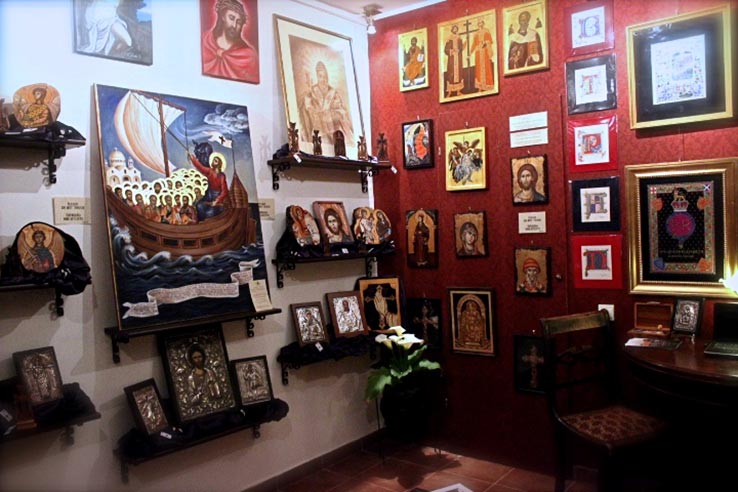 Corfu Museum of Asian Art
Surprisingly, Corfu is home to a world-class Asian art museum. Venture into the vast, ornate halls of the centrally located Palace of St Michael & St George to find the Corfu Museum of Asian Art, loaded with beautifully curated works of art from all over the Orient. With brilliantly descriptive placards, you can't help but absorb a little history as you take in over 10,000 pieces including priceless Tibetan statues, Ming vases and lush Japanese woodblock prints.
The Old Town
Corfu's crowning glory is its Venetian-era, UNESCO World Heritage Old Town. It's not about hitting pre-determined sights, but rather vowing to take a couple of hours and simply get lost among alleys, hidden plateia (plazas) and historic churches such as Agios Spyridon, housing the relics of the town's saint, and the timber-roofed 15th-century Our Lady of Antivouniotissa with its excellent Byzantine museum. When you emerge, make your way to the 15th-century Palaio Frourio, built by the Venetians on the remains of an earlier Byzantine fort. It is the grandest of Corfu's forts, and offers spectacular sea and town views if you take the time to climb.
The Corfu Trail
Whether with your own wheels or with a walking stick, you'll be able to explore Corfu's emerald shores and craggy cliff tops. The 64km-long island is rimmed by beaches and topped by Mount Pantokrator. Walkers know that the place to go is the meandering Corfu Trail, which traverses the island north to south and takes between eight and 12 days to complete.
Events to look out for:
Greek Orthodox Carnival (late February/early March)
Greek Orthodox Easter (April or May)
Varkarola Festival (August)
Saint Spyridon celebrations (11 August and 12 December)
Flying with Norwegian
Flexible tickets
You can make changes to your ticket up until 30 minutes before take-off.
In-flight entertainment
Fly Norwegian, and you'll have entertainment at your fingertips. Video on Demand is available on most flights.
New aircraft - low emissions
Fly with one of the youngest fleets in the world, which means less emissions and a more comfortable flight.