Why go?
Because if you think you know Spain, this temperate, cosmopolitan and cultured city will first surprise, then enchant.
Local hotspot
Just off the river, Zazpikaleak or Las Siete Calles ('Seven Streets') in the old town has the best buzz, and – more importantly – the best local snacks, pintxos.
You probably didn't know
Athletic Bilbao is the only European football team to recruit solely Basque players.
Suggested reading and viewing
To read: The Basque History of the World (Mark Kurlansky, 2000). To watch: Spanish Affair (Ocho apellidos vascos) (2014), a rom-com that riffs on the differences between Basques and Andalucians.
---
Things to do in Bilbao
Café Iruña
Established in 1903, it's the combination of OTT decor and top-notch jamon that place Café Iruña a cut above the other bars along the small strip opposite Los Jardines de Albia. Try local wine txakoli at the bar, or head to the main dining room upstairs for typical Basque food while enjoying the tiled bling of the Moorish interior.
Café Bar Bilbao
For a typical tapas-bar experience, head to Café Bar Bilbao. The pintxos are all handmade with care, and its location under the arches by Plaza Nueva is cool in more ways than one.
Restaurante Mina
Got the urge to splurge? You'll not find a better reason than the sublime tasting menu at Restaurante Mina, chef Álvaro Garrido's 'dream factory' in edgy San Francisco district. Ten courses of feather-light, taste-heavy Basque cuisine for €69 is a distinct bargain.
Berton Bukoi
Don't mistake Berton Bukoi for your usual tourist restaurant. Sure there are the trappings –the typical Basque knick-knacks covering the brick walls – but eschew the cold pintxos on the counter in favour of solemillo (steak) or marinated octopus from the menu and you'll taste the difference.
San Sebastian
Food fans can't venture to the Basque country and not hit up the town of San Sebastian, an hour along the coast. Even those without the budget for Michelin stars can join the high-quality feeding frenzy for a few euros, in and around the old town.
BilboRock
Seventeenth-century churches aren't often raging centres of hedonism, but BilboRock has gone from a place of worship to a modern arts centre. The chapel now hosts films, shows, and live music – the latter enhanced by some heavenly acoustics.
Kafe Antzokia
Owing much to Bilbao's reputation as northern Spain's hub for counter-culture, converted cinema Kafe Antzokia is the place in town to experience the local variety of metal and punk bands.
Cotton Club
Whether Cotton Club is for you depends on your idea of personal space. Late night rum drinkers and music lovers cram in to this 20-year-old venue like sardinak (Basque sardines) on weekends, so it's not one for shape-throwers. However the vibe is as lively as the wild decor.
Gorostiaga
Spot the real locals – especially the older men – by their coloured berets, or txapela, which are colour coded depending on their region: black for Bilbao, blue for San Sebastian, and so on. Try these, and pretty much any other model of hat you can think of, at Gorostiaga, where they've been making and selling them for 30 years.
The Athletic Bilbao shop
Pick up a sporty, trademark red-and-white striped reminder of your trip at the Athletic Bilbao shop in the Old Town.
La Petite Fromagerie
The whole Salamanca Iberican hams that hang from the ceilings of most Old Town delis would make a great souvenir, if you could fit one in your suitcase. Maybe instead, try something from La Petite Fromagerie, which is run by a former chef who's obsessed with sheep and goat cheeses.
The Guggenheim Museum
Single-handedly responsible for multiplying the city's visitor numbers seven-fold since its 1997 opening, the sexy silver curves of the Guggenheim Museum are instantly recognisable. Regular exhibitions are often worth the (steepish) entry price, but the grounds are also full of free public art.
The Museo de Bellas Artes
Often overshadowed by the Guggenheim, the Museo de Bellas Artes is nonetheless a delightful gallery, with three permanent collections of local, contemporary and classical art.
Boat tours
Get the full measure of this former industrial city with a guided boat tour. Choose from a one-hour cruise along past many of the city's main sites, or a two-hour trip downstream to the coast.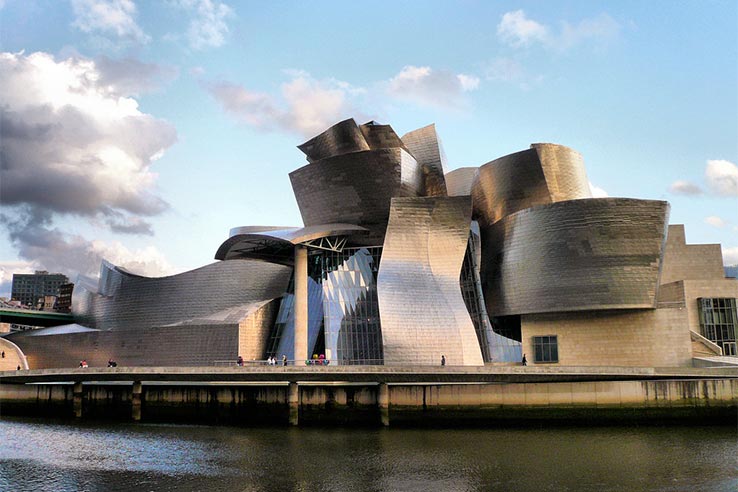 Events to look out for
Carnival (Feb/March)
Semana Santa (March/April)
Virgen del Carmen (July)
Bilbao BBK festival (July)
Running of the Bulls (Nearby in San Fermin in July)
Aste Nagusia (August)
Flying with Norwegian
Flexible tickets
You can make changes to your ticket up until 30 minutes before take-off.
In-flight entertainment
Fly Norwegian, and you'll have entertainment at your fingertips. Video on Demand is available on most flights.
New aircraft - low emissions
Fly with one of the youngest fleets in the world, which means less emissions and a more comfortable flight.