When you don't overpack, you help us to avoid delays and won't face additional charges at the gate. Win-win!
Included in your hand baggage:
One carry-on bag free-of-charge.
One small personal item to be placed under the seat in front of you (e.g. a small handbag or slim laptop case). Please pack essentials in your personal item (e.g. medicine, valuables and baby items).
You can also bring one bag of duty free goods purchased at the airport in addition to your hand baggage allowance.
Size and weight limits
Your ticket type determines your hand baggage allowance.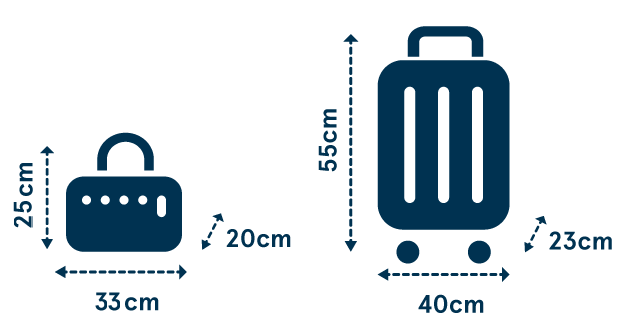 Total weight not to exceed
LowFare, LowFare+, Flex, Premium 10 kg
PremiumFlex 15 kg
Dubai flights 8 kg (due to on board weight restrictions)
Avoid charges at the gate!
We have limited cabin storage, so your hand baggage may be measured at the gate. Hand baggage that exceeds the limits of your ticket type will be stowed in the aircraft hold at a charge, per leg.
Add extra baggage to your booking
It's much cheaper to purchase extra checked baggage online (up to 4 hours before departure) if you think you might exceed our hand baggage limits.
Children and infants
Infant (under 2 years)
There is no hand baggage allowance for infant tickets, but you can bring a reasonable amount of baby food and milk/formula for the flight.
Children (2 to 11 years)
If you purchase a child ticket, your child can bring the amount of hand baggage and checked baggage that their ticket type allows.