{{result.subTitle}} - View as map
{{filteredResult.length}} destinations

for a budget of
{{result.subTitle}} - View as map
0 destinations

for a budget of

}
{{result.subTitle}} - View as map {{filteredResult.length}} destinations

for a budget of
No destinations are currently available. Please try with different search options.
= Some flights in this period have transit stops
No destinations are currently available. Please try with different search options.
Why visit Paris?
For the romance, the wealth of culture and history, and the sheer beauty of those iconic Haussmann streets.
Local hotspot
Rue des Martyrs, for hip new restaurants, pop-up bars, off-beat vintage clothing shops and chic homeware boutiques.
You probably didn't know
That Ancient Roman ruins can still be found in Paris, from the Arènes de Lutèce amphitheatre to fragments of the thermal baths in the Musée de Cluny.
Suggested reading about Paris
Sandrine's Paris: A Cultural History of the World's Most Romantic City (Sandrine Voillet, 2007)
---
Things to do in Paris
Roy's
Pigalle's hipsters have fully embraced the succulent burgers, craft beer and authentic tiramisu on offer at Roy's, the new pub-cum-restaurant set up by Italian couple Fabrizio and Silvia Roy.
La REcyclerie
Café and urban farm La REcyclerie offers an ever-changing menu full of fresh and locally sourced ingredients. It also hosts second-hand garage sales and gardening workshops for the whole family, in line with its goal to "reduce-reuse-recycle". This café is located in the Clignancourt neighbourhood of Paris, alongside the tracks of the "Petite Ceinture", a disused railway line that encircles the whole city.
Chartier
When you fly to Paris, visit Chartier, just off the Grand Boulevards, has barely changed since it opened back in 1896. Enormous mirrors and trademark sideboards – where regulars once kept their personal napkins – have remained, contributing to the Belle Epoque feel. Chartier's original aim "to provide a decent meal at a reasonable price," is part of their philosophy more than a century later. Classic French dishes like steak and chips are priced around 10 euros.
Le Camion qui Fume
When Californian chef Kristin Frederick launched Le Camion qui Fume back in 2011, its instant success sparked a food-truck revolution. Where that truck drives, Parisians follow, queuing patiently for their juicy takeaway burgers, which come served with hand-cut chips, real Cheddar and bakery-fresh bread.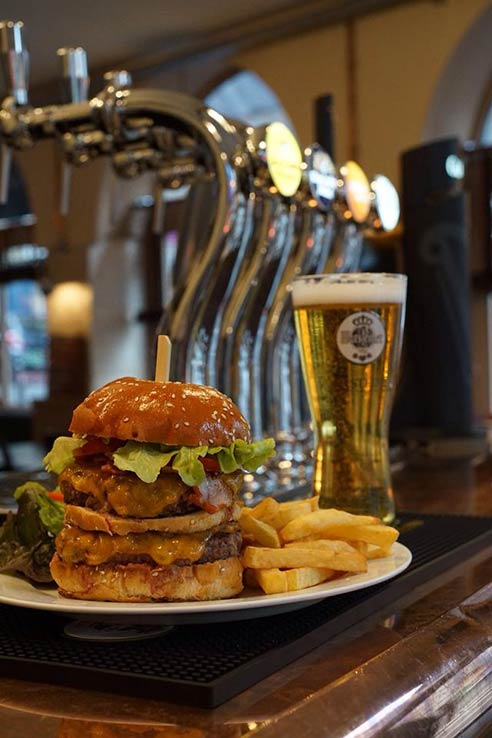 FR/AME
Located in the glossy 15th arondissement FR/AME is a bar and restaurant that combines a laid-back Californian attitude with French glamour; the chic-yet-chilled choice for Parisians come aperitif time. Cocktails come sprinkled with herbs grown in the restaurant's garden and there's a breathtaking view of the Eiffel Tower to drink in, too.
Rosa Bonheur
The party starts early at Rosa Bonheur, a bar in a lodge in the leafy Buttes-Chaumont park a stone's throw from the bustling streets of Belleville in Paris. Parisians can be found sampling the house rosé from early evening and dancing to French pop in the disco-ready bar until late.
Point Éphémère
Stretched along the Canal de l'Ourcq in the 10th arondissement, its concrete exterior decorated with edgy graffiti art, the no-frills Berlin-style bar Point Éphémère attracts a relaxed, hip crowd. Go for pop-up exhibitions, food trucks and electro, pop and house DJ sets.
Badaboum
Badaboum club, in the buzzing Bastille quartier, features a "secret room" of Paris. This is a hidden loft with the vibe of a 1970s retro bachelor pad, where party-goers can play their own music on an independent sound system. Evenings kick off with concerts by both emerging and more established pop and rock artists. Later on, clubnights keep electro and techno lovers dancing til dawn.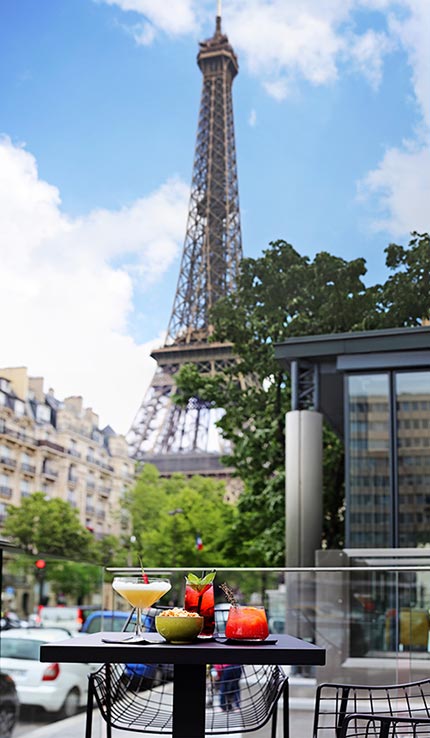 FREE'P'STAR
The much-loved FREE'P'STAR vintageshops are all within walking distance of each other in the fashionable Marais district. Precarious ladders lead to tiny basements and attics packed to the brim with one-off pieces, from colourful silk scarves to '80s leather jackets.
Marché aux Puces de Saint-Ouen
The sprawling Marché aux Puces de Saint-Ouen at Paris's northern tip, is made up of 14 submarkets, and is generally thought to be the largest flea market in the world. The place to find rare antiques and statement furniture.
Thé Mariage Frères
Unlikely though it may sound, tea is a big thing in the French capital. Thé Mariage Frères tea emporium on rue Montorgueil has become something of an institution with its "walls of tea" housing pickings from more than 30 countries. Search for creative flavours such as Earl Grey French Blue, dotted with fragrant cornflower petals.
Shakespeare and Company
Historic Shakespeare and Company is a tiny bookshop crammed full of English-language gems, from old classics to pop culture, to rare editions. There's a reading room upstairs for curling up, and an old typewriter for use by budding writers. The Left Bank store was once a hub for expat writers including Allen Ginsberg, William Burroughs and Henry Miller, and still attracts big-name writers for readings and events.
Antoine et Lili
The boutique Antoine et Lili is one of the best places to shop the "bobo" bohemian style so popular with this city's inhabitants. The three stores straddling the Canal Saint-Martin are filled with colourful women's and children's clothing, and bright home accessories. Who said Parisians only wear black?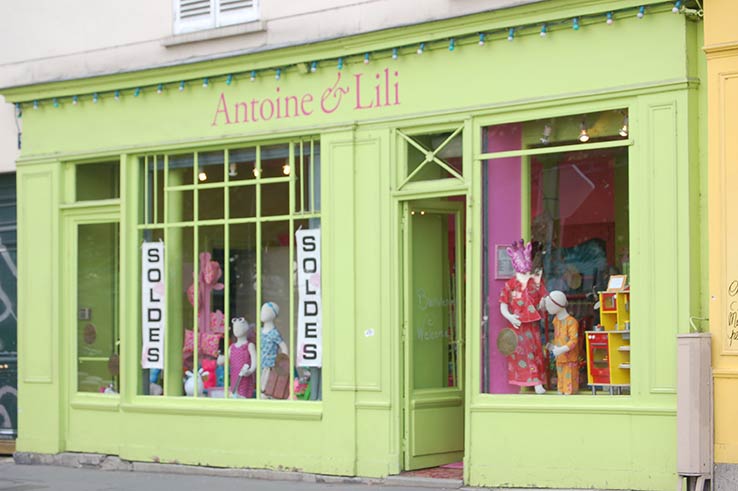 Berges de Seine
Stretches of pedestrianised pavement along the banks of the Seine between the Louvre and the Eiffel Tower now double as an outdoor playground – part of the new Berges de Seine initiative. In the special kids' zone, little ones can express themselves by drawing on a giant chalkboard, or let off steam on climbing walls, while grown-ups can unwind with open-air yoga classes.
La Fleche d'Or
Housed in the former Charonne train station, shabby-chic La Fleche d'Or is a staple of the city's live music scene. With a focus on indie, it books promising, up-and-coming French groups and internationally acclaimed acts alike.
Cité des Enfants
The Cité des Enfants, in La Villette's giant park, is a science museum created especially for kids (recommended for 2- to 12-year-olds). It aims to teach them through interactive games and experiences. For example, by measuring their running speed or watching themselves riding on a magic carpet on TV, via green-screen special effects.
Musée Picasso
In the heart of the Marais, Musée Picasso has finally reopened its doors after years of renovation work. The museum now provides greater insight into the artist's life and work, with twice as much exhibition space.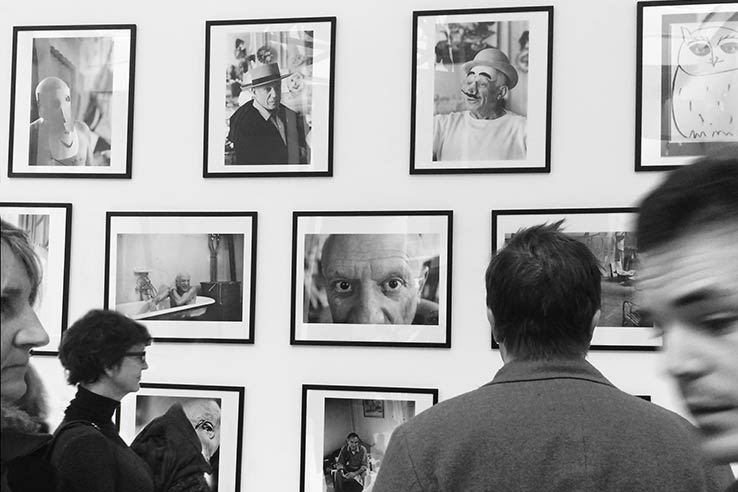 Events to look out when you fly to Paris
Fête de la Musique (June)
Cinéma en Plein Air (July/August)
Paris Plages (July/August)
Fête des Vendanges de Montmartre – wine, food, culture (October)
Mois de la Photo (November)
Marchés de Noël – Christmas markets (December)
Flying with Norwegian
Flexible tickets
You can make changes to your ticket up until 30 minutes before take-off.
In-flight entertainment
Fly Norwegian, and you'll have entertainment at your fingertips. Video on Demand is available on most flights.
New aircraft - low emissions
Fly with one of the youngest fleets in the world, which means less emissions and a more comfortable flight.