{{result.subTitle}} - View as map
{{filteredResult.length}} destinations

for a budget of
{{result.subTitle}} - View as map
0 destinations

for a budget of

}
{{result.subTitle}} - View as map {{filteredResult.length}} destinations

for a budget of
No destinations are currently available. Please try with different search options.
= Some flights in this period have transit stops
No destinations are currently available. Please try with different search options.
Why go
Because beneath its polished exterior there's plenty of personality, if you care to seek it out.
Local hotspot
Plainpalais, a youthful district stuffed with bars, independent shops and street-food joints.
You probably didn't know
Switzerland is a winegrowing nation and Geneva is its third largest production area.
Suggested reading
Mary Shelley wrote Frankenstein (1818) after visiting Geneva – several scenes are set in the city and the nearby Salève mountain. For something less Gothic, maybe Swiss Watching (2010) by Diccon Bewes.
---
Things to do in Geneva
Hamburger Foundation
Away from the tourist centre, the slightly shady Pâquis district is home to Geneva's best burger joint, Hamburger Foundation, a restaurant born out of the city's current trend for food trucks – it has two, which rove the city daily. At the back of the room, an unassuming doorway leads to sister establishment Chez Henri, an oyster bar that makes for a classy apéro.
Café Papon
Occupying a beautiful building and large outdoor terrace in the Old Town, Café Papon serves many local, seasonal specialities such as fera (lake fish), steak tartare and wild boar. There's a well-priced dish of the day every lunchtime.
La Buvette des Bains des Pâquis
Right on the lake and part of the city's 1930s public swimming baths, La Buvette des Bains des Pâquis is a relaxed spot for a light lunch on the terrace in summer, or a fondue on a winter's evening. Kids are welcome, and there's a child-friendly dish of the day at lunchtimes.
Café des Negociants
Swiss celebrity chef Philippe Chevrier owns numerous restaurants in his native city including Café des Negociants, a classy but unstuffy bistro in the lovely Italianate suburb of Carouge, which serves a particularly fine steak and chips.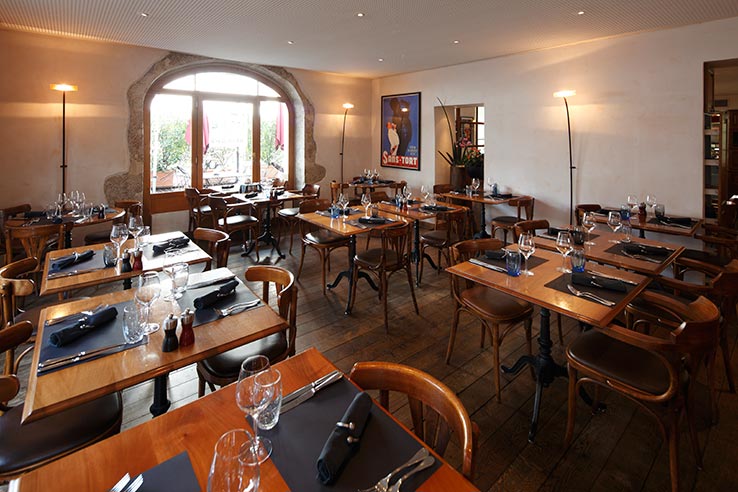 La Verre à Monique
A clutch of imaginative cocktail bars have sprung up in Geneva in recent years, and La Verre à Monique in the arty Quartier des Bains is one of the best. The quirky thrift-shop decor, low lighting and stylish cocktails served in cut glass tumblers create a speakeasy feel.
Le Kraken
A bar hop along the lively Rue de l'Ecole de Médecine should include the eccentrically decorated Le Kraken, which stocks the beers of local artisan brewery Calvinus, named after the city's founding father.
Chat Noir
The diverse line-up of live music, comedy and club nights at Chat Noir in Carouge has given the place a devoted following. Start with dinner and cocktails before the gig.
Yvette de Marseille
Tucked away in the Eaux-Vives district, former mechanic's garage Yvette de Marseille is a popular neighbourhood bar with a good drinks selection, a funky soundtrack and a lovely outdoor terrace.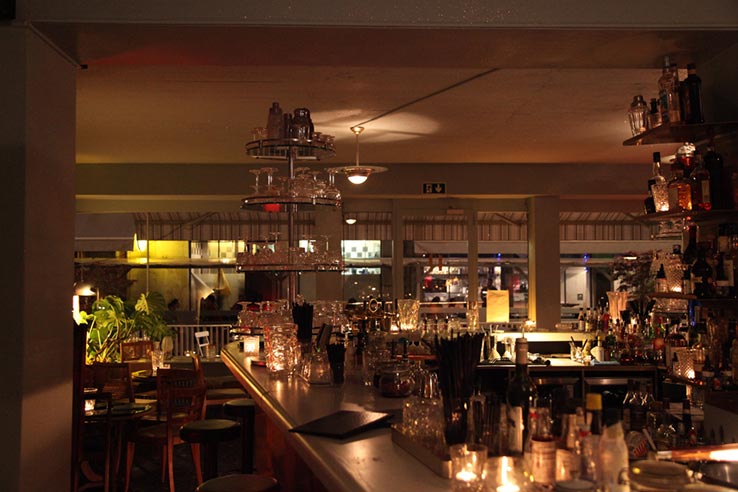 Plainpalais flea market
The Plainpalais flea market is the place to rummage for second-hand clothes, trinkets and antiques every Wednesday, Saturday and first Sunday of the month. Nearby Café Remor is a good post-shop hangout for coffee and people-watching on the terrace outside.
Foound
New in town, Foound is a concept space designed to house and promote local designers and entrepreneurs. Clothes and jewellery boutiques share space with a tattoo parlour, a yoga company and a street art collective.
Carouge
Pretty Carouge is the antidote to the slick designer shops in the centre of town, firstly for the beauty of its Sardinian-style architecture, and secondly for the artisan workshops and idiosyncratic boutiques dotted along its streets.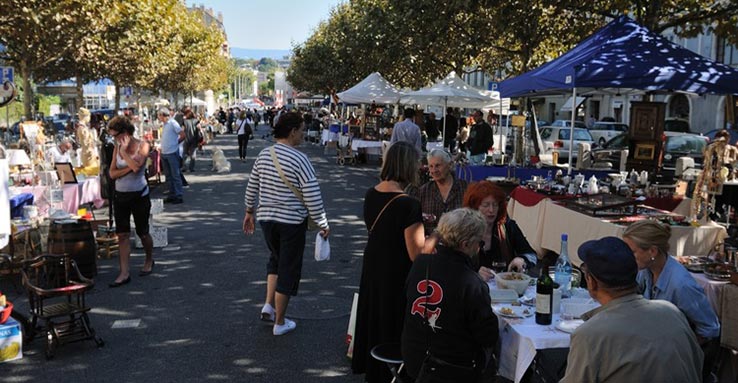 Musée d'ethnographie de Genève (MEG)
Many of Geneva's art museums and commercial galleries are clustered in the Quartier des Bains, including modern art museum MAMCO and the recently renovated Musée d'ethnographie de Genève (MEG), with its diverse collections from five continents. Look out for the Nuit des Bains, a popular open-house evening, which is staged four times a year.
Victoria Hall
For quality classical music head to the sumptuous Victoria Hall, built in honour of the British monarch. As well as staging regular concerts by the Orchestre de la Suisse Romande, the hall welcomes a line-up of visiting international orchestras and choirs.
Red Cross Museum
The moving permanent exhibition at the recently revamped Red Cross Museum is well worth the bus ride to the Nations district. Visitors can also buy honey made by 50,000 bees kept on the museum's roof.
Bastions Park
The city centre Bastions Park is ideal for some family time out. There's a children's playground, giant chessboards and, in winter, an ice-rink next to the café that's free to the public (skates can be hired on site).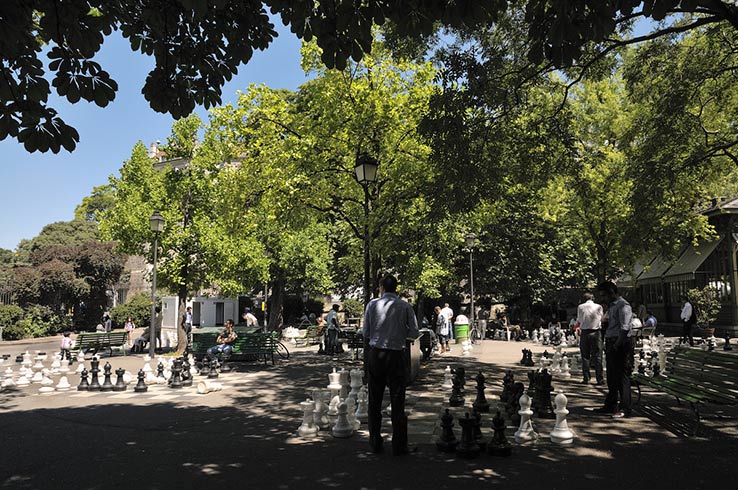 Events to look out for
Antigel Festival (February)
Open Cellars vineyard event (May)
Bol d'Or sailing race (June)
Lake Parade (July)
Geneva Festival fireworks (August)
L'Escalade festival (December)
La Nuit des Bains (January, March, May, December)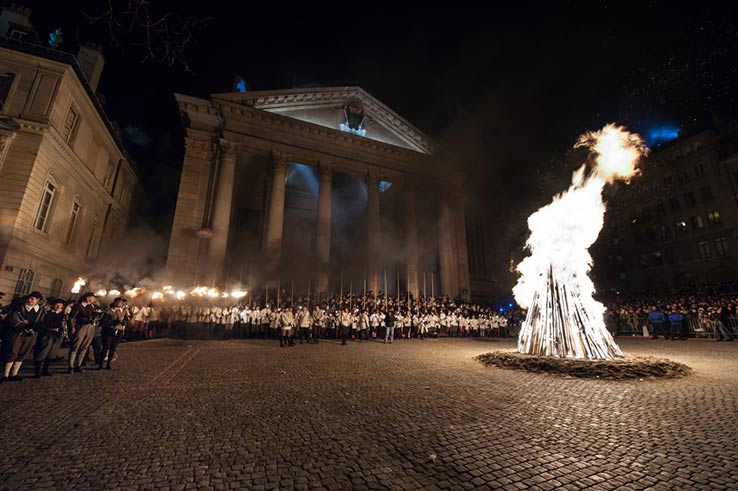 Flying with Norwegian
Flexible tickets
You can make changes to your ticket up until 30 minutes before take-off.
In-flight entertainment
Fly Norwegian, and you'll have entertainment at your fingertips. Video on Demand is available on most flights.
New aircraft - low emissions
Fly with one of the youngest fleets in the world, which means less emissions and a more comfortable flight.