No destinations are currently available. Please try with different search options.
= Some flights in this period have transit stops
No destinations are currently available. Please try with different search options.
Why go?
For fascinating history, excellent museums, outstanding natural beauty and a relaxed approach to city living.
Local hotspot
Solsiden, a pierside hub of bustling restaurants, cafés, hotels and bars.
You probably didn't know
There's a tiny town just south of Trondheim Airport in Værnes called Hell. Don't believe the hype – it's an adorable little place.
Suggested reading
Berlin Poplars, a novel about complicated family life on a Trondheim farm, won the 2004 Riksmål Prize for Norwegian literature and is the only book written by Anne B Ragde to receive an English translation.
---
Things to do in Trondheim
Una Pizzeria e Bar
Trondheim has a world-class pizzeria – Una, an effortlessly stylish and spacious restaurant at Solsiden, where the wood-fired oven is the star of the show. Don't miss the n'duja pizza, made with spicy Italian pork sausage and cream cheese; there's also a Nutella-heavy dessert pizza if you're feeling brave.
Bror Bar
Trondheim might not have had its share of quality burger joints in the past, which is part of the explanation of Bror Bar's storming success. Here you'll find authentic U.S. diner-style hamburgers, served alongside fish tacos and craft beers.
Dromedar Kaffebar and Jacobsen & Svart
Until recently, local chain cafe Dromedar Kaffebar seemed untouchable, with four local branches in Trondheim and a well-earned reputation for superb tea, coffee and cake. While Dromedar has been facing competition from Oslo-based Kaffebrenneriet the later years, newcomer Jacobsen & Svart has upped the coffee game in Trondheim another level.
Mat fra Hagen
On Nedre Bakklandet, just east of the Nidelva River, you'll find vegetarian eatery Mat fra Hagen nestled among a row of bohemian independent businesses. Healthy and sustainable items on the menu include turnip burgers with kimchi, buckwheat noodles with tofu, and excellent falafel wraps.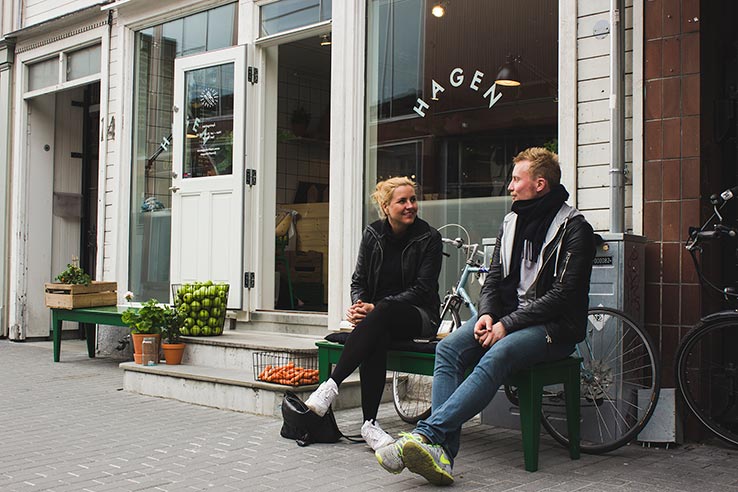 Trondhjem Mikrobryggeri
Beer lovers will feel at home at Trondhjem Mikrobryggeri, where five or six house brews are on tap and there's a really lively atmosphere, especially at weekends.
Taps
Situated in the charming Bakklandet, there's even more joy for beer lovers to be at Taps brewpub, featuring the local, prize-winning and hard to find anywhere else Monkey Brew on tap as well as other brews. Combined with a laid-back neighbourhood atmosphere, Taps is all about quality craft beers without the fuzz.
Studentersamfundet
Daglighallen is a small, well-stocked bar which forms part of the student society, Studentersamfundet. This centre contains a live music venue and is the main hub of the bi-annual UKA festival, which takes place in October.
Livid Jeans
Unsurprisingly, high-quality jeans handmade in Norway do not come cheap, but Livid Jeans are an investment. Five years after he bought a sewing machine and began taking orders for jeans from friends and family, Jens Olav has a built a reputation for being one of the best denim manufacturers around. And not all his jeans are expensive – Livid recently opened a ready-to-wear production line in Portugal to bring down the costs.
Bogart Cosmo
For many more Norwegian and Scandinavian fashion brands for both men and women, check out Bogart Cosmo, a family-run department store that always keeps up with trends.
Shopping malls
Prefer to do your shopping in one place? Sirkus Shopping, the city's most popular shopping mall, is home to plenty of local and global brands. Mercursenteret is a smaller mall but has the advantage of being in the centre of town.
Trondheim Kunstmuseum
Trondheim has always been an arty city and its Kunstmuseum exhibits some of the finest artworks from the Trøndelag region and beyond.
Rockheim
Trondheim also boasts a fine musical heritage, which is why Norway's third city beat Oslo and Bergen to host Rockheim, the national museum of pop and rock. It's a stunning building and there's enough here to keep you entertained, even if your interest in Norwegian pop begins and ends with A-Ha's Take on Me.
Falstadsenteret
During the Second World War, the Falstad Centre, located north of Trondheim in Levanger, was a Nazi concentration camp. Today it's a leading human rights centre and a regional tourist attraction – you can visit the museum and library to learn more about Norway's wartime experience.
Events to look out for:
Kosmorama International Film Festival (February)
Trondheim Jazz Fest (May)
Olavsfestdagene (St Olav's Fest) (July-August)
Pstereo Music Festival (August)
UKA Festival (Every other October, next festival in 2017)
Eat and drink on board

You can buy a variety of snacks, sandwiches, other light meals and beverages during your flight. Make sure you check our in-flight menu when you get on board.

New aircraft - low emissions

The average age of our aircraft is only 3.6 years old, which means less emissions and makes our fleet one of the youngest in the world.

Seat reservation

Starting from 10 Euros you can get the window seat, be seated in the front to save time or near the exits to have more legroom. Already booked? Add seat reservation now.
Video on Demand

On flights longer than 3,5 hours, you can watch movies and tv series from your smartphone, tablet and laptop for 7 Euros. Remember your headset!

Central airport

Trondheim Airport, Værnes is centrally located, with quick and easy transport connections to the city centre and beyond. Less hassle, more time to enjoy yourself.

Earn CashPoints

Sign up for Norwegian Reward, and earn CashPoints every time you fly with us.