No destinations are currently available. Please try with different search options.
= Some flights in this period have transit stops
= Some flights in this period have transit stops
The search result shows the lowest available adult single fare in period. All fares show fare in selected currency.
Why vacation in Stockholm, Sweden?
Book tickets to Stockholm, Sweden's beautiful capital, for an unforgettable city break. Discover a city built on an archipelago, with 14 islands joined by 57 bridges. Explore how each island in this Scandinavian jewel has its own identity, from Gamla Stan, the city's Old Town, to Södermalm, AKA Stockholm's cool quarter and home to the boutique Hotel Rival. In fact, there is a wealth of accommodation options in Stockholm to suit all budgets. Being so close to the water, Stockholmers love to sail and swim, especially in the summer when the city's numerous beaches come alive. Back on dry land, stroll the beautiful cobbled streets of Gamla Stan on your way to must-see places in Stockholm, like the Royal Palace and the Nobel Prize Museum, just a couple of minutes' walk away. Then, take a break Swedish-style by enjoying coffee and a delicious cinnamon bun. Book a flight to Stockholm now and discover a city where old world charm meets contemporary Scandinavian cool.
Fun facts for a Stockholm vacation
Did you know Stockholm has close to 100 beaches? In the summer these are idyllic places to spend long lazy days with the locals.
Stockholm is home to the world's first airplane hostel. Jumbo Stay is a converted Boeing 747 at Arlanda Airport, with 33 rooms.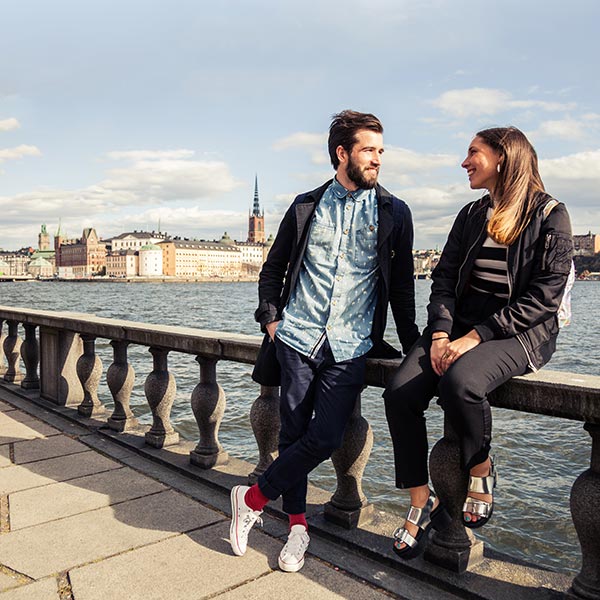 Stockholm airport information
Getting from Stockholm Arlanda Airport Terminal 5 to the city center
TRAIN
The Arlanda Express train to Stockholm Central Station departs from Arlanda North station at Terminal 5 every 10 to 30 minutes, depending on the time of day, and takes around 20 minutes to reach the city center. Local commuter trains from Arlanda Central Station
depart every half hour (stopping from 12.45–4.45am) and take around 40 minutes.
BUS
Flygbussarna coaches depart from bus stop one at Terminal 5 every 10 minutes and arrive at the Cityterminalen (Central Bus Station) next to Stockholm Central Station in around 45 minutes. FlixBus also runs direct services from Terminal 5.
TAXIS
A taxi should take around 40 minutes to travel the 40km from Arlanda Airport to Stockholm city center. Licensed taxis are available outside the terminal building.
CAR OR MOTORCYCLE
Motorists should take the E4 freeway all the way from Stockholm Arlanda Airport to the city center. The journey takes around 40 minutes.
Things to do in Stockholm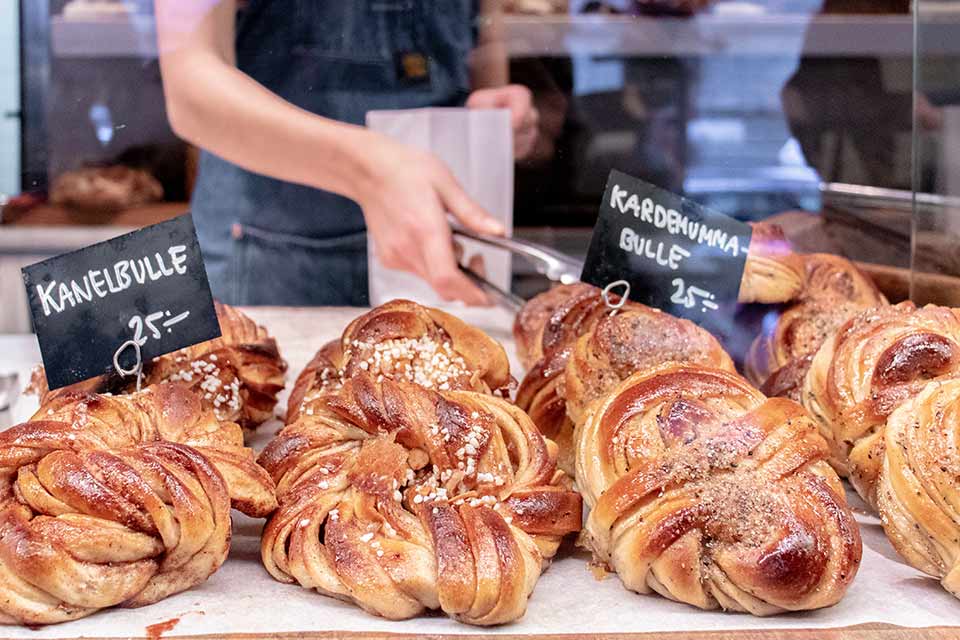 Stop for fika
Taking a break for coffee and cake is a Swedish tradition and there's even a special word for the ritual, fika. In fact, Swedes are some of the world's most fervent coffee consumers. For Swedes, fika is all about relaxing and taking stock, rather than grabbing a quick coffee on the go to refuel. There are thousands of places to enjoy fika in Stockholm and a wealth of different cakes and pastries to try. We recommend enjoying a delicious cinnamon bun, or a marzipan-covered pastry known as a dammsugare (vacuum cleaner) with your coffee or tea if you prefer.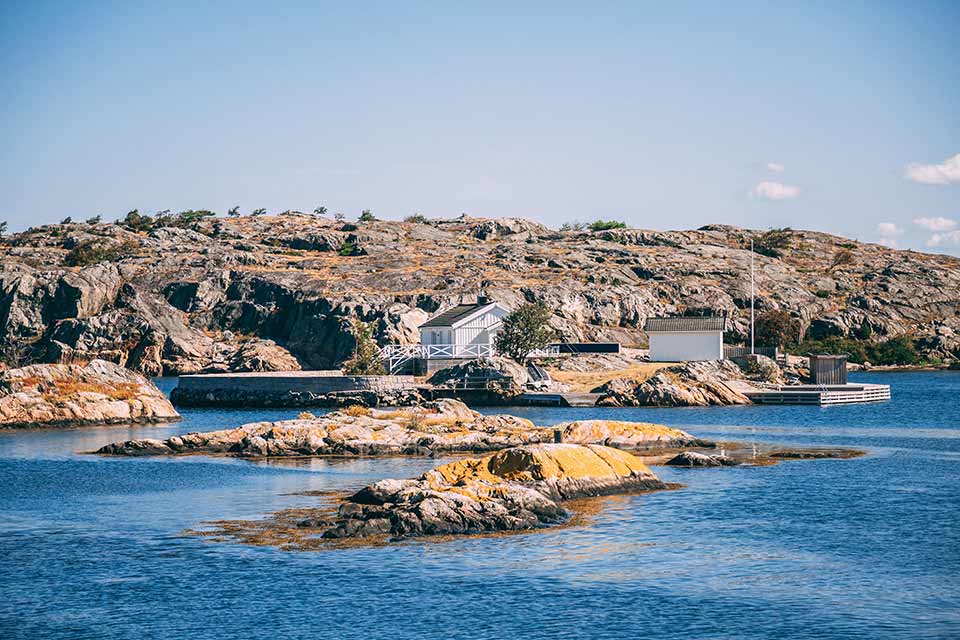 Sail through the archipelago
The Stockholm archipelago consists of some 24,000 islands and islets, making it one of the largest archipelagos in the world by number of islands. Many Stockholmers have summer houses there, which they retreat to during the warmer months. As a visitor, the best way to explore the archipelago is to take an organized boat tour. A cruise from Stockholm harbor to some of the closer islands can take around three hours. That's more than enough time to get a sense of the fabled Swedish outdoor life and why this beautiful region is so important to Stockholmers.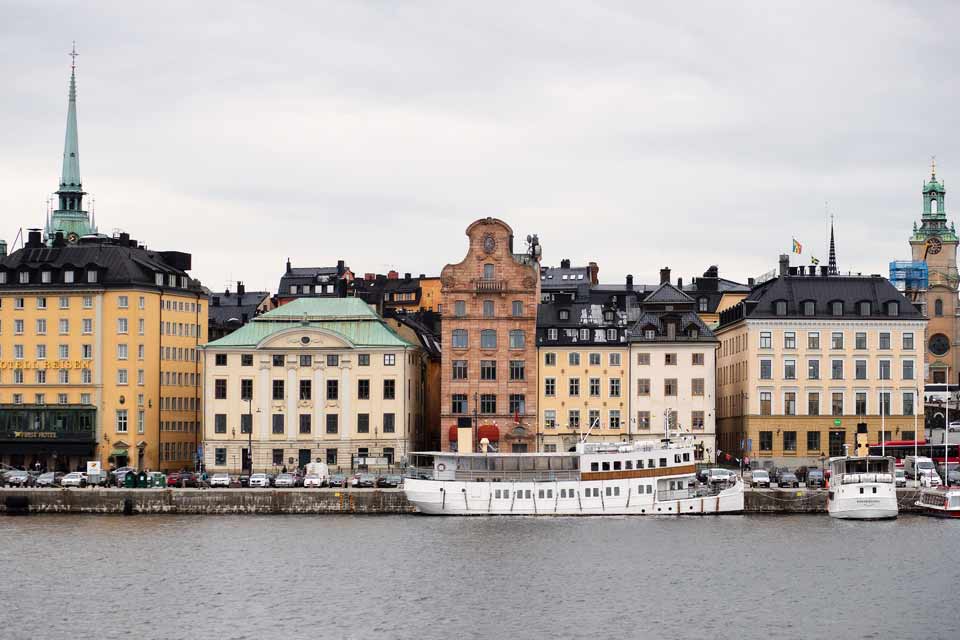 Stroll Gamla Stan
Literally "Old Town" in Swedish, pretty Gamla Stan should be top of your list of must-see places in Stockholm. Home to historic attractions such as the Royal Palace and Stockholm Cathedral, as well as the Nobel Prize Museum, it's where the city was founded in the mid-13th century, making it a great place to learn about Swedish history. After a stroll around Gamla Stan's charming cobbled streets don't forget to stop for fika at a local cafe.
Ride the art metro

Stockholm's metro system, which stretches for 110km, is sometimes referred to as the world's longest art gallery. Over 90 metro stations feature works of art and installations from over 150 artists, as part of a project that started in the 1950s. One option is to simply buy a metro ticket (valid for one hour) and hop on and off at the metro stations of your choice. Or, for the same price you could embark on a guided tour that takes in four to five stations. The choice is yours

Drop in on City Hall

Stockholm's Stadhus (City Hall) is the venue for the annual Nobel banquet each year, where laureates and foundation members dine and dance the night away following the awards ceremony. Completed in 1923, its 348-foot-high tower, topped with the Swedish emblem of tre kronor (three crowns), is an integral part of the Stockholm skyline. Its most stunning feature, however, is the Golden Hall, lined with 19 million gold mosaic tiles. Visitors are welcome, but only as part of a guided tour.

Gaze on the perfect shot at Fotografiska

With multiple exhibitions on at any one time, this adored contemporary photography museum on the waterfront in trendy Södermalm is a must-see place in Stockholm. It also opens later than many other museums, meaning you can make an evening of it with an exhibition followed by dinner in the Michelin-rated restaurant upstairs. Conclude your visit with a stroll along the waterfront taking in the splendid views of the Stockholm panorama.

Learn about the Nobel Prize

How much do you know about the world's most prestigious literature, science and peace prizes? Head to the Nobel Prize Museum in the former Stock Exchange building in Gamla Stan to brush up on the late, great Alfred Nobel, his foundation, and the lives of famous Nobel laureates such as Albert Einstein, Marie Curie and Nelson Mandela. Explore the ideas of hundreds of creative minds that have helped to shape the 20th century. The museum is open daily June–August, Tues–Sun September–May (free entry Fridays 5–8pm).

Explore the Royal Palace

Stockholm's Royal Palace, which is still used by Sweden's royal family for official receptions, is one of Europe's largest, with over 600 rooms. You can't visit all of them, but highlights include the Royal Apartments, the Treasury, with its ceremonial crowns and swords, and the Tre Kronor (Three Crowns) museum. Guided tours are available where you'll soon discover that the Royal Palace is as grand as it is huge. It's also worth trying to catch the changing of the guard in the outer courtyard, which happens daily at 12.15pm (1.15pm on Sundays) and lasts around 40 minutes. Make sure to visit the Royal Palace, regardless of how many days you plan to spend in Stockholm.

Skansen

Skansen is the world's oldest open-air museum, dating back to 1891. Located on the lush island of Djurgården, it guides the visitor through four centuries of Swedish life, from pre-industrial times to the 1960s, with many historical homes and farmsteads. There's also a zoo and an aquarium on site, and plenty of green space to explore on the wider island, making this a great day out for the entire family. The nearby Nordic Museum, which tells the story of Nordic lifestyles and traditions from the 16th century onwards, is worth a visit too.

Strandvägen

Strandvägen is one of the most recognizable boulevards in the city of Stockholm. Stretching between two green spaces, Berzelii Park and Nobelparken, on the island of Östermalm, it's lined with grand houses and is one of the most prestigious addresses in Stockholm. Wondering where to stay in Stockholm? You can get a taste of what it would be like to live in Strandvägen by checking in to the nearby Hotel Diplomat or other local accommodation options. Strandvägen also makes a great route when traveling on foot from Gamla Stan to Djurgården, or vice versa.

Eat Swedish meatballs

Wondering what to eat in Stockholm? If you eat one thing it has to be the famous Swedish meatball. This delicious Swedish staple is usually served with mashed potato and lingonberry sauce and is a hearty, warming dish at any time of year. In fact, you may have already tried a version of the dish at Ikea! Stockholm is also renowned for its seafood: make sure you try flavorsome cured salmon, pickled herring or, in August, sweet crayfish at a boisterous Swedish crayfish party.

Learn about seafaring at the Vasa Museum

The Vasa is a giant warship that sank on its maiden voyage in 1628. Salvaged from Stockholm harbor and restored hundreds of years later it now sits in the Vasa Museum – which also happens to be the most visited museum in Scandinavia – on Djurgården island. You'll marvel at the scale of this artfully revived 17th-century warship on a visit to the Vasa Museum, but there's plenty more to see, including exhibitions focusing on shipbuilding and the seafaring life, and some of the more than 40,000 objects found in or around the sunken ship.
Best time to travel to Stockholm
High season
June to August is the high season in Stockholm, with pleasant temperatures around 68–77°F and long sunny days. This is also the perfect time to visit the Stockholm archipelago. However, pack warm clothes too, as the temperature can drop in the evenings. Though the city is busy with tourists at this time, many locals head to their summer houses, especially at weekends. The summer is a great time to experience Stockholm and its abundant nature, but hotel prices can be high.
Low season
The winter is extremely cold in Stockholm and the days are short, but this is also a great time for a winter sports holiday or magical Christmas break. The city's oldest square, Stortorget in Gamla Stan, hosts a brilliant Christmas market, for example. You may also be able to pick up a great hotel offer too. The spring and fall are beautiful in Stockholm, with average temperatures in the 40s–50s, and though the evenings can be chilly, long walks around the city, or a boat tour are still a must.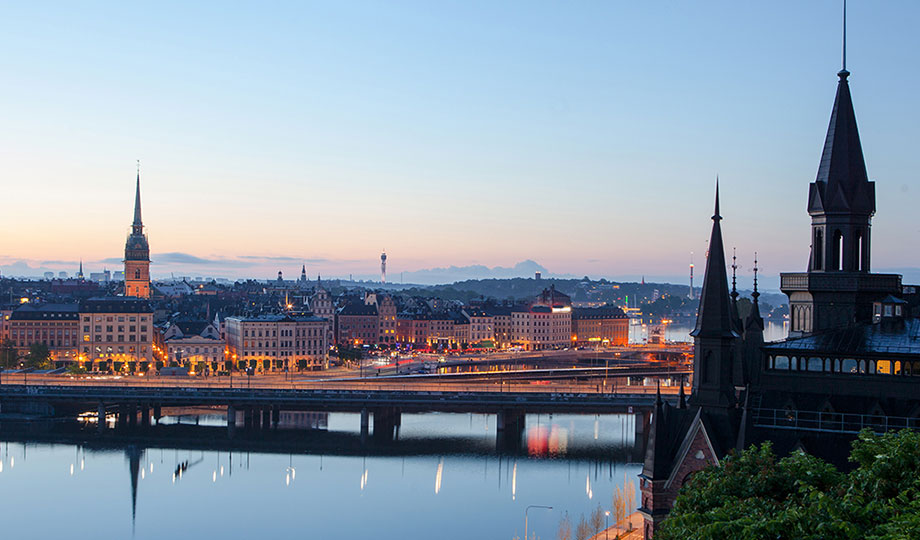 Flying with Norwegian
Get a comfortable flight with our 787 Dreamliner
Flexible tickets
You can make changes to your ticket up until 30 minutes before take-off.
Eat and drink on board
On all our long haul flights you can choose between two menus incl wine, beer or mineral water
New aircraft - low emissions
On our long-haul flights you fly with our 787 Dreamliner, one of the most environmentally friendly options there is.
Video on Demand
On flights longer than 3,5 hours, you can watch movies and tv series. Remember your headset!
Cheap flights to Stockholm
Check out our lowfare calendar and discover your next flight to Stockholm or on of the more than 150 destinations we fly to. The earlier you book your flight the cheaper the prices.
Discover cheap flights in our Low fare calendar
Want more comfort on our flight?
With our Premium seats you get a recliner chair with extra legroom, a 3-course meal, Priority boarding and Fast track included and extra attentive crew to esure you'll have a plesant flight.
Read more about our Premium product and upgrade now!
Get extra benefits with Reward
While away from home, you might need somewhere to stay and a way to get around.
Through our partners you can easily find and book a hotel that suits you and rent a car that fits your needs. Book through Reward and get up to 10% and earn CashPoints.
Learn more about our Reward program and start earning CashPoints today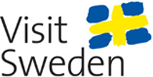 This is Stockholm
Stockholm is widely regarded as one of the world's most beautiful cities, built where lake meets sea, on fourteen islands, with eight centuries of history and culture to choose from. Stockholm is a ground breaking, welcoming and innovative trendsetter. Fashion, technology, music, film, design and the game industry thrive here like never before. It is a place where creativity grows, and where dreams and new ideas are realized. But most of all – a city open for everyone!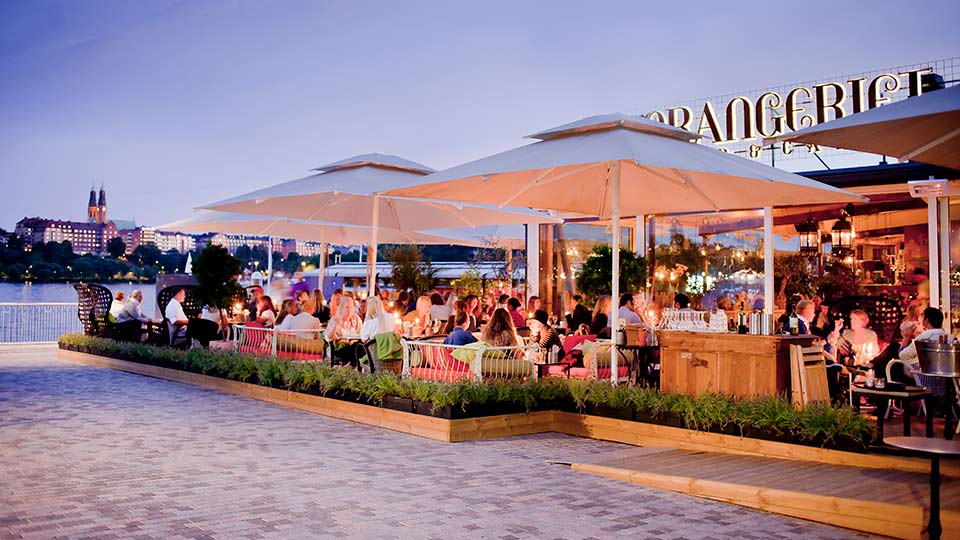 Photo: Conny Fridh/imagebank.sweden.se


World Class Cuisine
Innovative, classic, modern, cozy, Swedish and International. Stockholm's restaurant offering is beyond the ordinary. Trends in gastronomy are born here, new food concepts take shape here, and the entire city sparkles with star chefs and restaurants. From affordable and experimental to high-end and classic, the capital has it all when it comes to foodie experiences.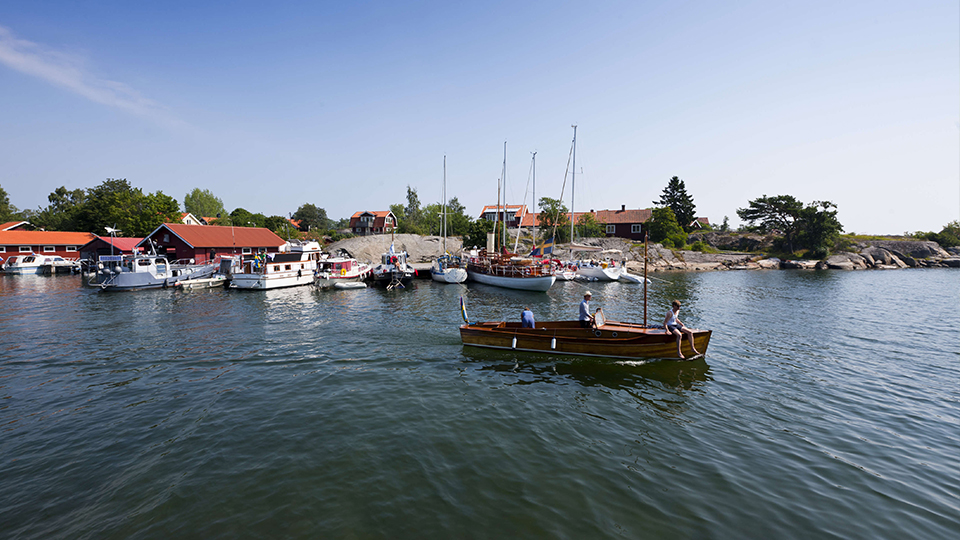 Photo: Henrik Trygg/mediabank.visitstockholm.com

Stockholm Archipelago
Situated near the water and an archipelago of nearly 30,000 islands, islets and skerries, Stockholm is unique. Traffic from the white archipelago boats is plentiful in the summertime, but even in winter, unique experiences await beyond the city. Here, you can enjoy beautiful and special nature, take a seal safari, visit historic settings, see art, hike, cycle, paddle, and eat locally sourced dishes and archipelago delicacies. Everywhere you look, there is water.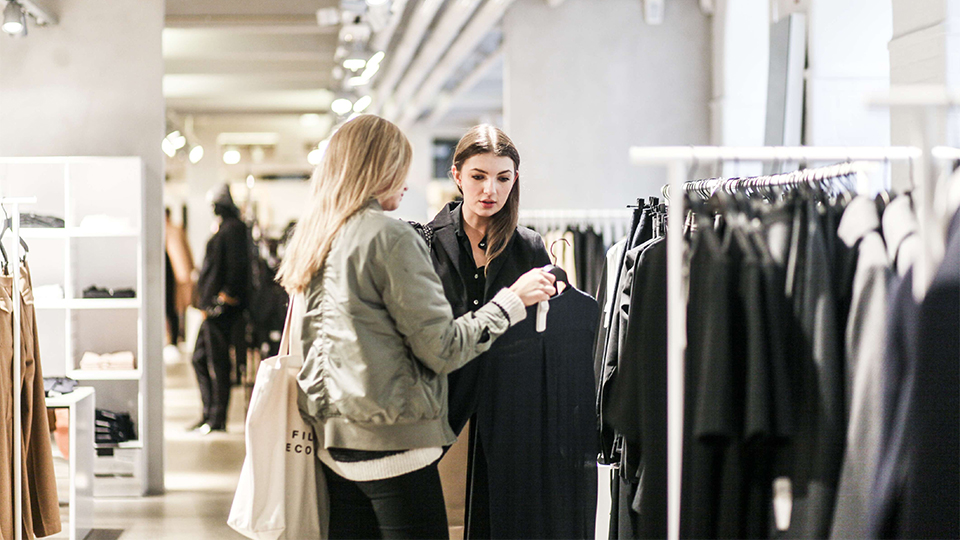 Photo: Tove Freij/mediabank.visitstockholm.com


Exclusive Fashion, Art & Design
Swedish and Scandinavian design is all about functionality and simple, clean lines. In the exclusive Östermalm neighborhood, around Kommendörsgatan, Nybrogatan and Sibyllegatan, you'll find many of Sweden's most esteemed antique dealers of art, furniture, jewelry, books and rugs. Have a peek inside he classic Swedish interior design shop Svenskt Tenn on Strandvägen, where you'll find Josef Frank's colorful patterns and a lovely gift department. The area round Biblioteksgatan is a dynamic center for luxurious shopping. Some Swedish brands? ACNE, Whyred, Byredo, COS, & other stories, HOPE, House of Dagmar,.. the list goes on and on!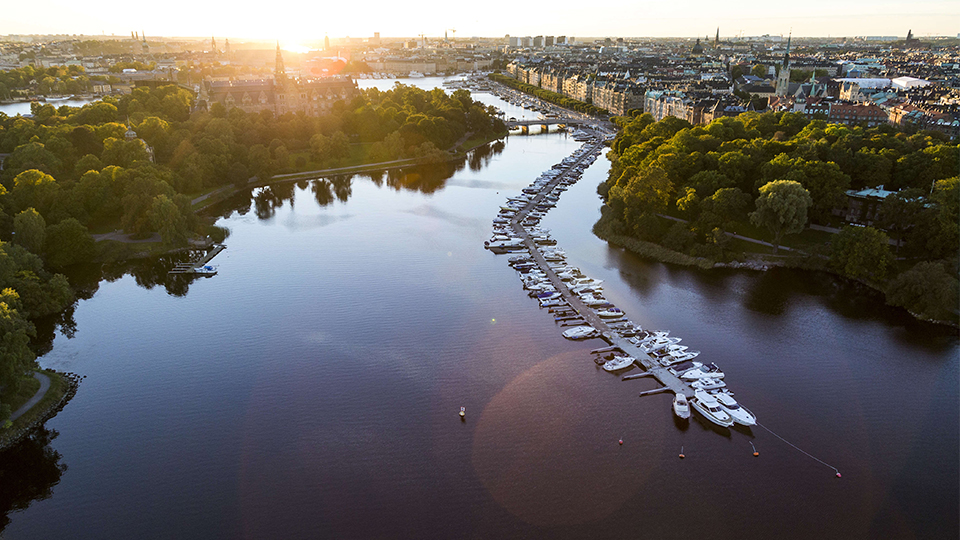 Photo: Henrik Trygg/mediabank.visitstockholm.com


Green Stockholm
Green is the new black and no large city has more green spaces than Stockholm. And what's more: the air and the water is clean and fresh and you're never far away from nature.
Spend the day biking around the beautiful city and paus for a picnic in one of the many parks, or stroll around the city and enjoy the sights. In Stockholm, you can be close to nature all day while still being in a global booming city.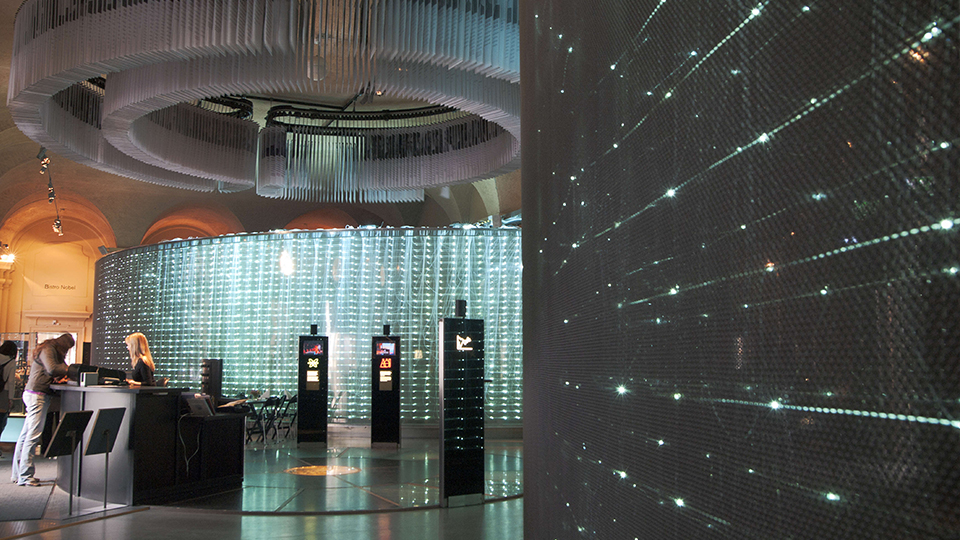 Photo: Staffan Eliasson/mediabank.visitstockholm.com


Tech Savvy
What does Stockholm and Silicon Valley have in common? The creation of widely successful tech start-ups! Thanks to an infrastructure and educational system, that supports growth and possibility, Stockholm produces the highest number of "unicorns" per capita than any other global city.
Early action to promote digitalization has meant that Sweden is now one of the most connected countries in the world with one of the highest rates of computer, internet and mobile penetration. With star players such as Skype, Spotify, King and Klarna, tech savvy doesn't even begin to cover it.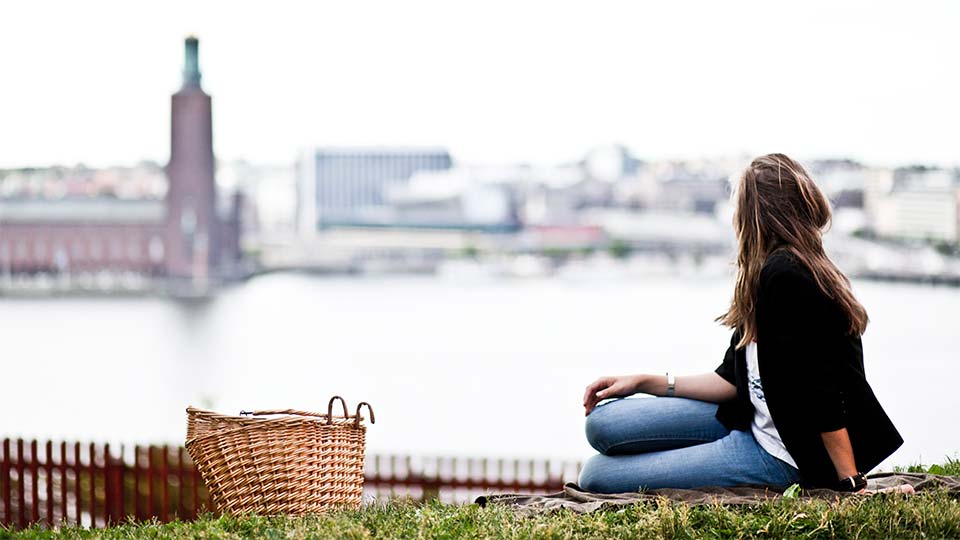 The Swedish Lifestyle
Swedes are all about making the most out of everything and enjoying life. With four distinct seasons, there is a variety of activities to enjoy throughout the year. Outdoor activities such as skiing, kayaking, berry picking, and hiking are just a few things Swedes enjoy. Regardless of the season, fika is always a favorite among locals. Fika is much more than having a coffee though. It is a reason to set aside a moment for quality time. Even in the winter cold around Christmas time, people sit down - inside or outside - to enjoy a fika and a talk.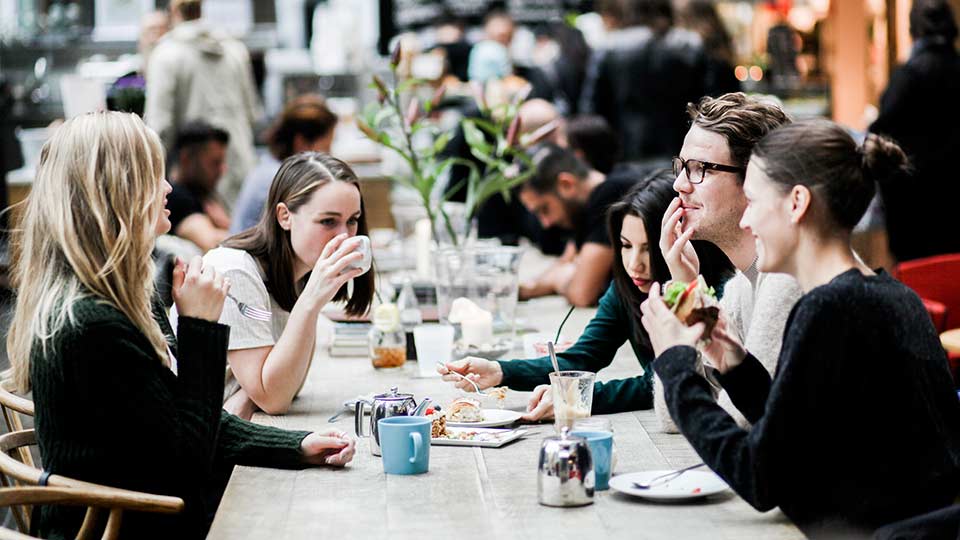 Fika
Have you heard of the unique Swedish tradition of fika? For over a hundred years, Swedes have had their very own word for drinking coffee, tea, or juice alongside a baked good: to fika. Fika is much more than having a coffee though. It is a reason to set aside a moment for quality time. It is a tradition observed frequently, preferably several times a day. Even in the winter cold around Christmas time, people sit down - inside or outside - to enjoy a fika and a talk.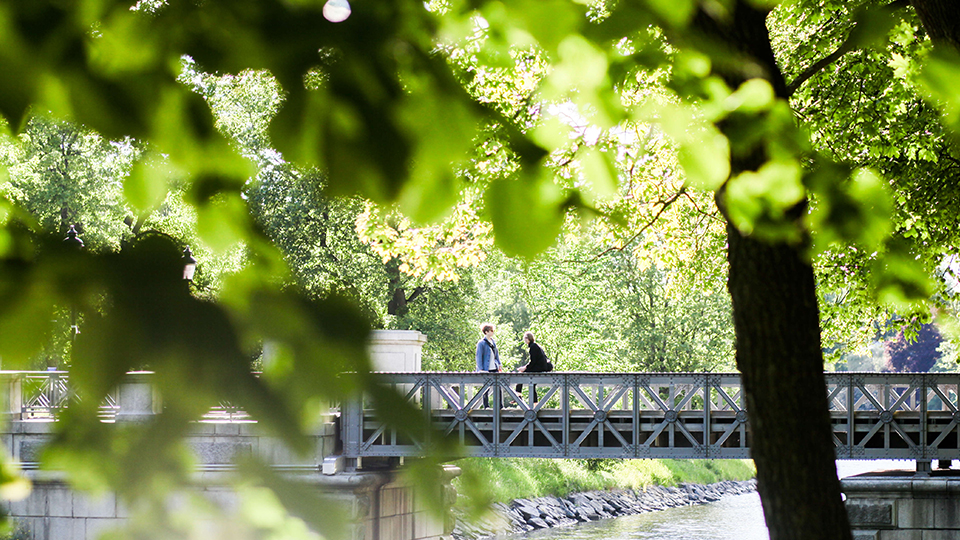 Photo: Tove Freij/mediabank.visitstockholm.com


Nature
Sweden has four distinct seasons, and Swedes make the most out of each one! Swedes take every chance they get to be outdoors both cooking and eating. It can be a picnic, barbecue or just bringing a bowl of soup into the garden.
Sweden is a culinary nation shaped by its countryside. The coastline, lakes and rivers provide fish and shellfish. And the vast forests are full of berries, mushrooms and game, which all have a special place in Swedish cuisine. It's all about making the most out of what nature provides!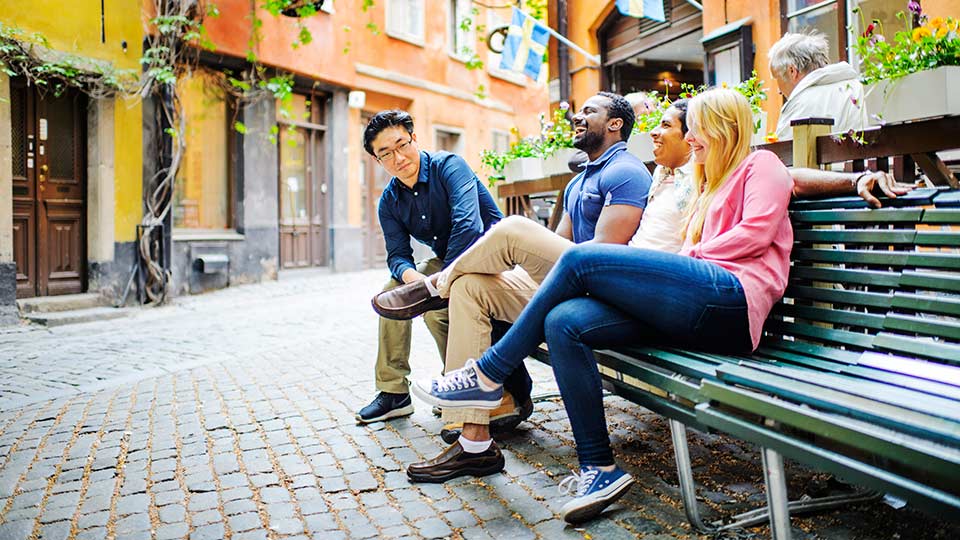 Equality
Equality is an important foundation for Sweden. It is about everyone having the same rights, opportunities and obligations regardless of gender, age or background.
A vital part of that is parental leave. For each passing year, more fathers are taking leave to be with their young children. It can be seen out on the streets, where both women and men hurry to and from work and go shopping.
More inspiration and travel tips
See more travel tips and find more inspiration at visitstockholm.com and visitsweden.com.