Why Visit Pisa?
Visitors who fly to Pisa usually have the city's Leaning Tower on the top of their sightseeing list. The bell tower has been unintentionally tipping since the 12 century when it was built on unstable soil near the ornate Santa Maria Assunta cathedral, which sits just in front of the Leaning Tower. When you visit Pisa, take a trip up the stairs of the famously tilted tower before exploring everything the compact Italian city has to offer. Start with a walk through the Pisa Botanical Gardens, which have an exotic collection of plants from all over the globe. Then, cross the Arno river to the tiny but lavish Santa Maria della Spina church, or book the flight to Pisa simply for the divine Tuscan food.
---
Things to do in Pisa
Trattoria San Omobono
The cosy Trattoria San Omobono does hand-made tortelli, ravioli and gnocchi, served with whatever meat-based sauce the chef has made that day. Perfect for dinner.
Quarto D'ora Italiano
A few steps from the tower, Quarto D'ora Italiano serves superb pizzas with smoky wood-fired bases and a handful of quality ingredients sprinkled on top.
Trattoria Nonna Rosa
If you're after something a bit lighter (and cheaper), try Trattoria Nonna Rosa. Ten euros will get you a glass of wine, slabs of focaccia and the best charcuterie in the city. Plus there's free wi-fi.
Antica Bottega di Pisa
Serving pizza, panini and prosecco, Antica Bottega di Pisa is the perfect place to rest your weary legs. Be sure to try the bruschetta al lardo, served with a squeeze of lemon – it's so good even your waistline will forgive you.
Mercato Delle Vettovaglie
Make like the local nonnas and buy the freshest produce at Mercato Delle Vettovaglie, the city's fruit and vegetable market. Join the longest queue (it'll be the stall that sells the best food), don't touch the veggies (it's an Italian thing), then have a homemade picnic on the nearby river Arno
Bazeel
Pisa's a university town, so there's no shortage of evening shenanigans. Head to Bazeel for an aperitivo and live music.
Bar Amaltea
Groovers and foodies will love Bar Amaltea – the cocktails are strong enough to have you dancing into the early hours, and there's a great array of delicious, sobering snacks, too.
La Volta
Beer lovers should head to La Volta for its selection of craft beers and ales, starting at two euros. This place is great for a mid-week drink, when local bands come to play from 8pm onwards.
Vicolo Divino
Small but perfectly formed, enoteca Vicolo Divino is the kind of place travellers love to stumble upon. The staff can direct you to a tipple to suit your mood, along with a plate piled high with local salami and cheeses.
Porto di Boccadarno
Pisa's marina, Porto di Boccadarno, is a 15-minute taxi ride from the centre, but well worth a visit in the evening. This is where the city's beautiful people come to play, before jetting out on their superyachts. Take your pick from any of the restaurants and bars on the water.
Valenti
In Pisa's centre, Valenti sells clothes and accessories from Diane Von Furstenberg, Dior and Fendi, to name a few. Owner Ninni Valenti selects every item, and her excellent taste is evident in the collection.
B.B. Maison
Coats, dresses, shoes, jewellery, even perfumes are crammed into the small, slightly cluttered store that is B.B. Maison – but rummage among the chaos and you'll soon emerge victorious.
Corso Italia and Borgo stretto
For bigger, more mainstream brands, head to Corso Italia or keep wandering down Borgo stretto, on the other side of the river Arno.
The Leaning Tower of Pisa
The Leaning Tower of Pisa is worth a climb, but it's just one of the four lovely, also slightly leaning buildings that make up Campo dei Miracoli, the city's cathedral area. Moorish arches lead visitors into the Romanesque Duomo, which features some of Italy's most important artwork, including Galileo's bronze chandelier.
Palazzo Reale
Once home to the ruling Medici family, Palazzo Realeis a quiet-ish museum with a remarkable collection. Keep an eye out for a polyptych of San Nicola da Tolentino, painted by Raphael in 1500.
Teatro Verdi
Actors, singers, artists and dancers all tread the wooden stage boards at Teatro Verdi, Pisa's avante-garde theatre. Seasons are divided into the performing arts categories of opera, theatre, and contemporary dance, so there's something for everyone, every single month.
Palazzo Blu
Cultural and art space Palazzo Blu hosts some excellent exhibitions from Italian and international modern artists.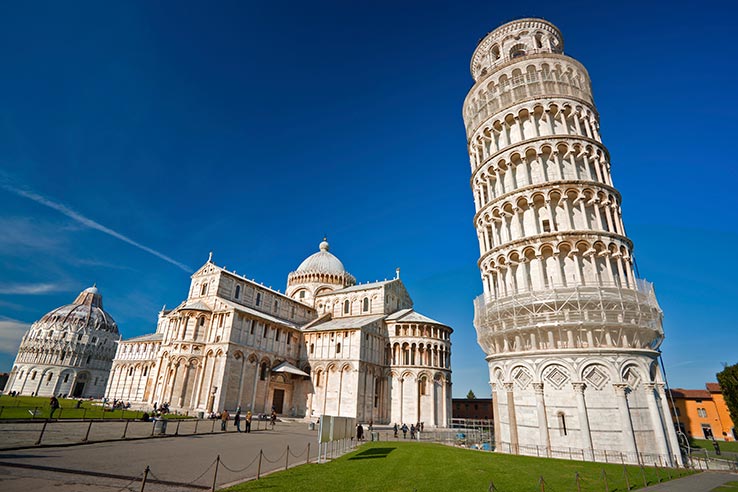 Events to look out for:
Saint Ubaldo Day (May)
San Ranieri Day (June)
Gioco del Ponte – Pisa's version of the Palio (June)
Eat and drink on board

You can buy a variety of snacks, sandwiches, other light meals and beverages during your flight. Make sure you check our in-flight menu when you get on board.

New aircraft - low emissions

The average age of our aircraft is only 3.6 years old, which means less emissions and makes our fleet one of the youngest in the world.

Seat reservation

Starting from 10 Euros you can get the window seat, be seated in the front to save time or near the exits to have more legroom. Already booked? Add seat reservation now.
Video on Demand

On flights longer than 3,5 hours, you can watch movies and tv series from your smartphone, tablet and laptop for 7 Euros. Remember your headset!

Central airport

Pisa International Airport is centrally located, with quick and easy transport connections to the city centre and beyond. Less hassle, more time to enjoy yourself.

Earn CashPoints

Sign up for Norwegian Reward, and earn CashPoints every time you fly with us.