Why vacation in Paris, France?
Paris is the most romantic city in the world. The City of Lights is full of must-see museums, galleries and attractions, along with world-class restaurants. Iconic landmarks like the Arc de Triomphe or Montmartre's cobbled streets make it feel like a movie set at times. Shoppers love its many chic boutiques and famous department stores. Take a flight to Paris and immerse yourself in the city's classic café culture and indulge in delicious French food: steak frites, foie gras and elegant patisserie. Evenings on a Paris vacation package are best spent taking it all in and exploring hip districts like Le Marais. Thrill seekers should head to Disneyland Paris, Europe's most popular theme park, just outside the city. Book a cheap flight with Norwegian today and discover the romance of Paris for yourself.
Fun facts for a Paris vacation
320 baguettes are eaten in France every second. That's 10 billion every year.
The shortest street in Paris is the rue des Degrés in the second arrondissement (district). It's less than six meters long and consists of 14 stone steps.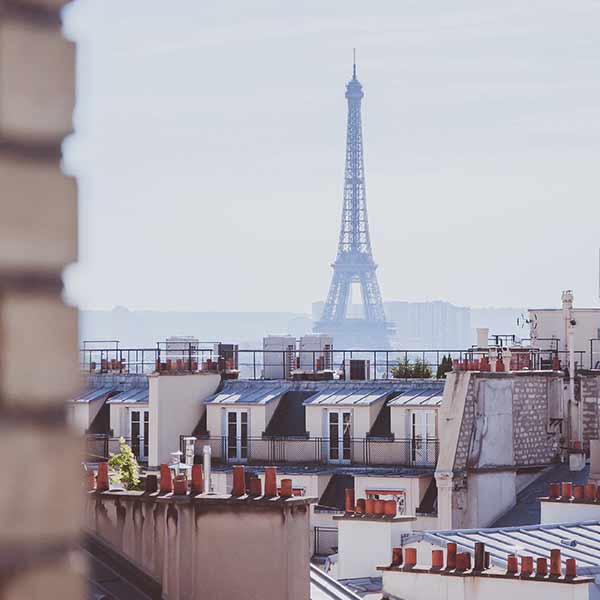 Paris airport information
Getting from Paris Charles de Gaulle Airport T1 to the city center
TRAIN
The RER B line connects Charles de Gaulle to Châtelet-Les Halles station in approximately 30 minutes. Trains depart from the station Aéroport Charles de Gaulle 1 every 10 to 15 minutes, from around 5am to midnight. Take the shuttle from terminal one to terminal three (consult a Paris airport map) to catch it.
BUS
There are a number of bus routes linking Charles de Gaulle and central Paris and the journey takes up to 80 minutes. Buses can be boarded outside arrivals, with most routes running from early in the morning to late at night.
TAXIS
There is an abundance of licensed taxis outside exit 24 on the arrivals level of the terminal. The journey into central Paris takes approximately 30 to 40 minutes.
CAR OR MOTORCYCLE
Motorists arriving on a flight to Paris should take the A1 freeway via Porte de la Chapelle or the A3 via Porte de Bagnolet, for central Paris.
Things to do in Paris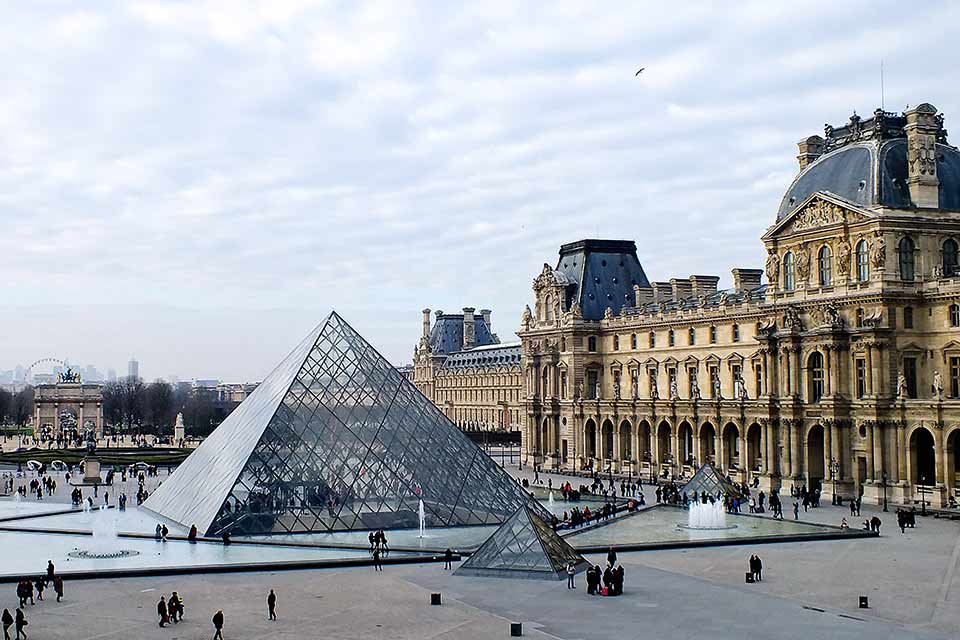 Visit the Louvre Museum
Many visit the world's most famous art museum for a glimpse of Leonardo da Vinci's Mona Lisa. But there are more than 35,000 works of art on display at the Louvre, from ancient relics to Impressionist art. The museum can get very busy, so to avoid the queues, head for the quieter entrance at the Carrousel du Louvre. It's also worth buying timed tickets online beforehand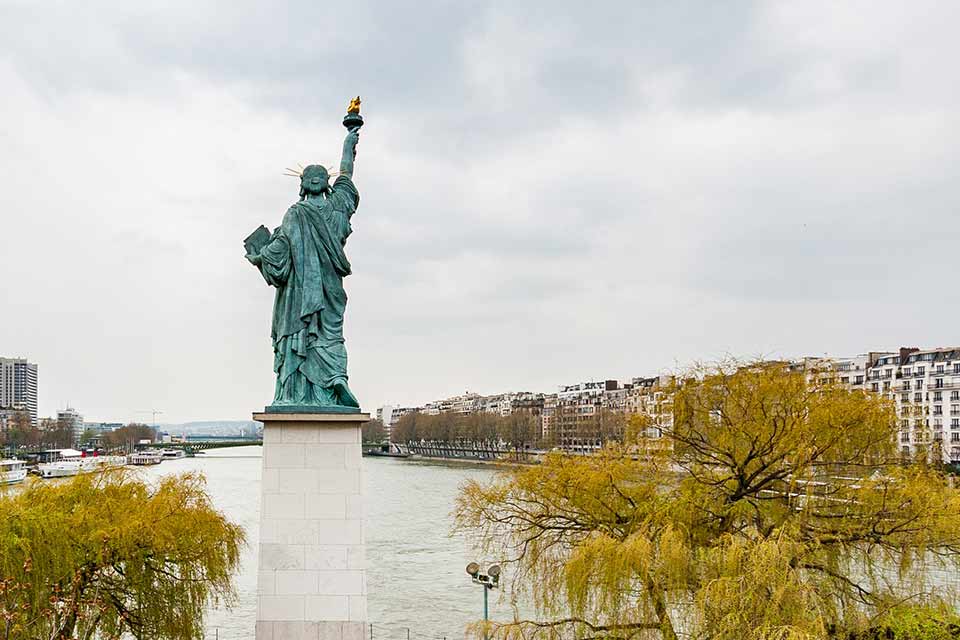 Visit the Statue of Liberty
Did you know there are five Statue of Liberty replicas in Paris? The original and largest stands at 11.5 meters and is located on the Île aux Cygnes, an artificial island in the Seine. It was gifted to France by the USA in 1889. The remaining replicas can be found at the Musée d'Orsay, the Musée des Arts et Métiers (two in fact), and in the Jardin du Luxembourg. There is also a torch replica, the Flame of Liberty, at Pont de l'Alma near the Champs-Élysées.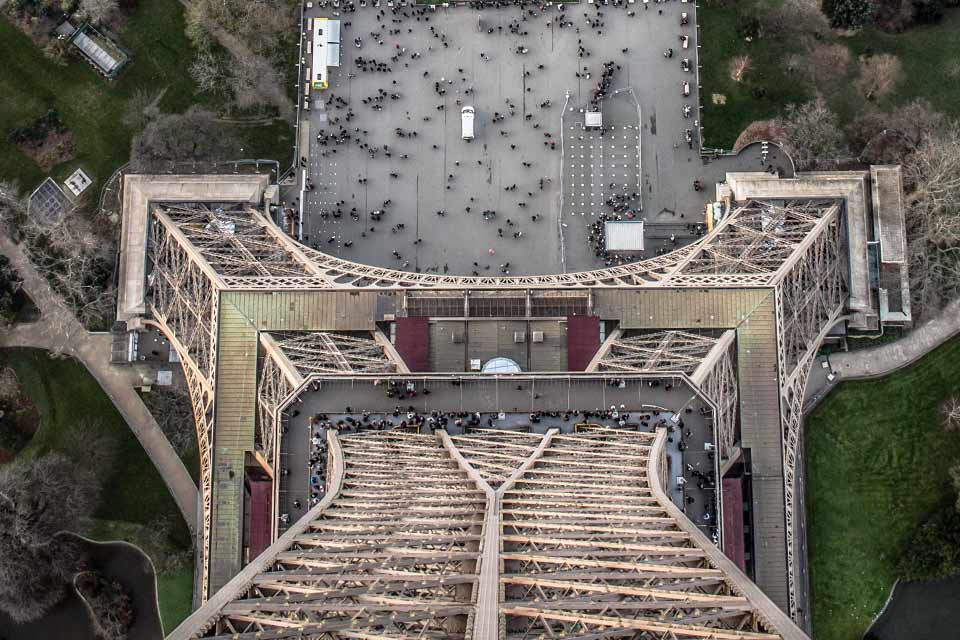 Climb the Eiffel Tower
The Eiffel Tower was supposed to be a temporary structure when erected for the Exposition Universelle of 1889. Indeed, many Parisians hated it. Close to a century-and-a-half later, it remains one of the world's most iconic landmarks. Visitors can climb 674 steps to the second floor, or take the elevator all the way to the top for the full panorama. The views are breathtaking
Be dazzled by Versailles

Louis XIV's magnificent palace is an easy day trip from Paris (50 minutes from the center, via the RER C train). Standout features include the formal gardens and the Hall of Mirrors. Don't miss the Grand Trianon either, where Louis XIV escaped his court, or the rustic farm and hamlet built to amuse Marie Antoinette. Like the Louvre, Versailles is always packed. To cut waiting times (though you'll still have to queue), buy tickets online.

Browse chic Galeries Lafayette

Fashionistas won't want to miss Galeries Lafayette on a trip to Paris. This iconic 120-year-old department store is located on Boulevard Hausmann in the ninth district. It stocks the latest men's and women's fashions, accessories, beauty buys and homeware. It's topped by a 43-meter-high, art nouveau glass dome, as well as a roof terrace.

Delve into Paris's ancient history

Ancient Roman ruins can still be found in Paris, from the Arènes de Lutèce amphitheater to the fragments of the thermal baths in the Musée de Cluny. But for really ancient treasures, head to the Musée Carnavalet in Le Marais. It's home to artifacts from Paris settlements dating back more than 6,000 years.

Dine at a Michelin-starred restaurant

Paris has more than 100 Michelin-starred restaurants, making it second only to Tokyo as the city with the most Michelin-starred restaurants globally. From French food to Japanese and Italian, the city has so many great restaurants, it can be difficult to decide what to eat in Paris. Make discovering the food a priority on your Paris vacation. It's one of the reasons people buy tickets to Paris.

Eat lunch at a brasserie

For a casual lunch that won't break the bank, head to a brasserie. Leather banquettes, globe lights and mirrors set the scene, while white-aproned waiters deliver plates of steak tartare or crispy confit duck, followed by rum baba or a slice of tarte Tatin. For a quick bite at the bar, order a croque monsieur (essentially a next-level take on the grilled-ham-and-cheese sandwich).

Explore the Latin Quarter

Paris's fifth arrondissement, known as the Latin Quarter, is one of its hidden gem neighborhoods. Traditionally a student area, it has a relaxed café culture vibe. It is also home to a number of important historical buildings such as the Panthéon, beautiful outdoor gardens like the Jardin du Luxembourg, and possibly the world's most famous bookshop, Shakespeare & Company. In the evenings, head to the Latin Quarter's many brilliant restaurants and jazz clubs.

Indulge your sweet tooth

No trip to Paris is complete without a visit to a patisserie. Whether it's delicate macarons, cream-filled éclairs, buttery-rich croissants or delicious cakes, sweet French food is irresistible. In fact, you'll find it hard to walk past a patisserie window without popping in to buy a sweet treat for yourself or a loved one. The city's sugary offerings should be top of your list of what to eat in the city and are worth the airfare to Paris alone.

Kid around at the Centre Pompidou

The famous cultural center is Paris's most playful building, covered in colorful vents, pipes and ducts. Behind its quirky façade, there's plenty to keep kids entertained. The Galerie des Enfants hosts hands-on exhibitions, designed by artists and creatives, while the studio space runs museum tours and arty workshops for all ages. The external escalators are also fun to ride, with panoramic city views once you reach the top.

See Paris from the Seine

For a different perspective on Paris, see the sights by boat. Various operators run cruises along the River Seine, from hour-long round trips to excursions with multi-course formal dinners. The more low-key Batobus, meanwhile, is aimed at both locals and tourists. Setting off from the Eiffel Tower, it has nine city-center stops and offers a scenic change from the Métro. It's one of the best things to do on a trip to Paris.

Stroll the Île de la Cité

This small island in the Seine is literally the heart of Paris – there's a marker set among the cobbles in front of Notre-Dame cathedral. There's no better way to spend an afternoon than wandering its narrow streets, checking out the photogenic flower market and the soaring, Gothic Sainte-Chapelle cathedral. The tiny park at the western tip is perfect for a picnic and, if you time it right, spectacular sunset views.

Tour the Palais Garnier

The opulent Opéra Garnier or Palais Garnier was the inspiration for Gaston Leroux's novel The Phantom of the Opera. It's easy to see why on a visit to this beguiling, storied theatre – a Paris institution since the mid 19th-century. Tickets for a ballet or opera sell out months in advance, but don't worry if you miss out: there are daily, all-access guided tours in English. You may even see a phantom stalking the stalls.

Wander Montmartre

Hilly, cobbled Montmartre is almost too pretty to put into words. It's crowned by the white domes of the basilica of Sacré-Coeur; brave the winding staircase to the top for unmatched views over Paris. Down the hill, the charming Musée de Montmartre pays tribute to the artists that once lived here, including Pierre-Auguste Renoir. Pretty, wisteria-draped houses give Montmartre a village feel. Look out for the tiny Clos Montmartre, one of the city's last vineyards.

Watch the sunset from the Arc de Triomphe

The Arc de Triomphe, located at the western end of the Champs-Élysées, is one of the largest triumphal arches in the world. The climb to the top of the 49.5-meter-high, sculpture-adorned arch involves hundreds of stairs, but the view across Paris is 100% worth the effort, especially as the sun is going down. This is one monument, along with the Eiffel Tower, you won't want to miss on a Paris vacation package.
Best time to travel to Paris
High season
The high season in Paris falls in the summer from June to August. During this time the city is very busy, with long lines at attractions. Many Parisians take their annual summer holiday at this time, so expect some local businesses to close. The weather in Paris during the summer months is pleasantly warm and generally dry. However, there are occasional heatwaves and sporadic showers.
Low season
The best time for a vacation in Paris is in the spring or fall. The weather is mild and the city is less busy. But a trip to Paris also makes an ideal winter getaway for families, when you can take advantage of great Paris deals and shorter queues. This is especially true post-Christmas (December can be busy). The weather will be cold and damp, however, and there's always the possibility of snow.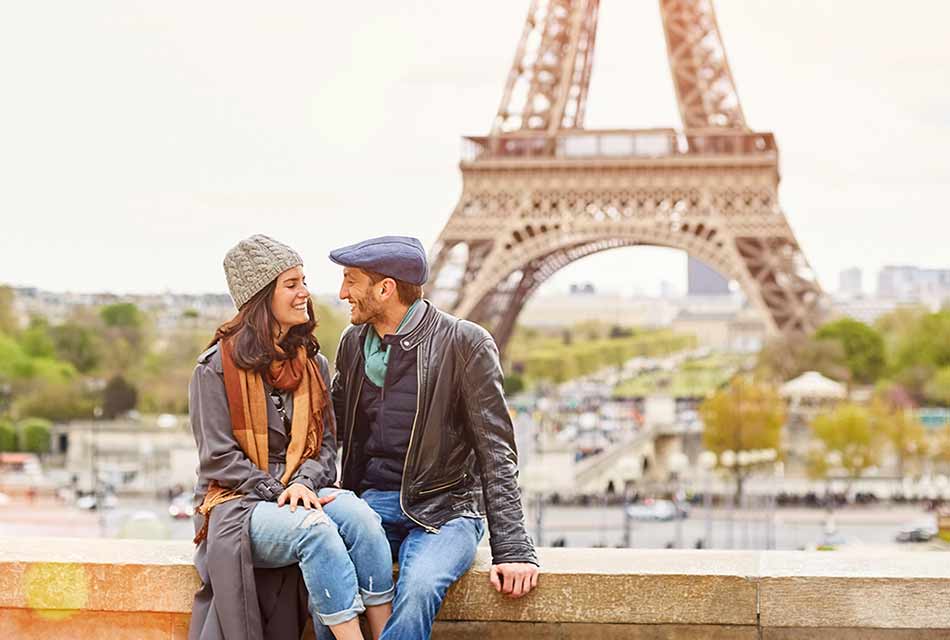 Let's stay in touch
Get great flight deals delivered straight to your inbox.
Flying with Norwegian
Get a comfortable flight with our 787 Dreamliner
Flexible tickets
You can make changes to your ticket up until 30 minutes before take-off.
Eat and drink on board
On all our long haul flights you can choose between two menus incl wine, beer or mineral water
New aircraft - low emissions
On our long-haul flights you fly with our 787 Dreamliner, one of the most environmentally friendly options there is.
Video on Demand
On flights longer than 3,5 hours, you can watch movies and tv series. Remember your headset!
Cheap flights to Paris, France
Check out our lowfare calendar and discover your next flight to Paris or on of the more than 150 destinations we fly to. The earlier you book your flight the cheaper the prices.
Discover cheap flights in our Low fare calendar
Want more comfort on our flight?
With our Premium seats you get a recliner chair with extra legroom, a 3-course meal, Priority boarding and Fast track included and extra attentive crew to esure you'll have a plesant flight.
Read more about our Premium product and upgrade now!
Get extra benefits with Reward
While away from home, you might need somewhere to stay and a way to get around.
Through our partners you can easily find and book a hotel that suits you and rent a car that fits your needs. Book through Reward and get up to 10% and earn CashPoints.
Learn more about our Reward program and start earning CashPoints today