Martinique at a glance
Why go?
Champagne and Chanel, steel drums and steamy jungles – this French island is an intoxicating mix of elegant European living and rootsy Caribbean culture. Superb gastronomy, a hikeable volcano, idyllic beaches and a world famous rum legacy make this lushly-forested island a paradise for outdoor lovers, gastronomes and Francophiles.
Local hotspot
Fort-de-France's seafront on a Friday or Saturday night is where locals head for street food, sea breezes and dancing.
You probably didn't know
The artist Paul Gauguin spent five months on Martinique. Critics say the island had an even greater influence on his painting than Tahiti.
Suggested viewing
The film Sugar Cane Alley (1983) based on the novel by Joseph Zobel exposes Martinique's brutal 1930s slave culture.
Bare stats
Population: 400,000
Annual visitor numbers: 728,000
January mean temperature: 25°C
August mean temperature: 28°C
---
Things to do in Martinique
Le Petibonum
Le Petibonum, near the village of Le Carbet on the west coast, is a rustic beach shack where the charismatic host, Guy Ferdinand, is as much of a draw as his imaginative French-Caribbean fusion cuisine. (Think foie gras with plantain.) White sands, swishing palms, cooling vapours, beach massages and a chilled-out playlist makes this the hippest long-lunch venue on the island.
Plein Soleil
For a colonial feel, Plein Soleil, near the village of Le François on the east coast, isa wonderfully airy hillside restaurant. It has a contemporary Creole-style interior, sea views, fresh breezes and gourmet food.
La Maison de L'ilet Oscar
On its own island, a 15-minute boat ride off Le Francoise, is the wooden Creole house of La Maison de L'ilet Oscar, which serves succulent Creole fare to sultry local zouk background music.
Man Coco
The island's best bakery is Man Coco, an unprepossessing van on Rue de Isambert on the south-west side of Fort-de-France's Marché Couvert (covered market), which sells twists on classic French pâtisserie, such as guava tarts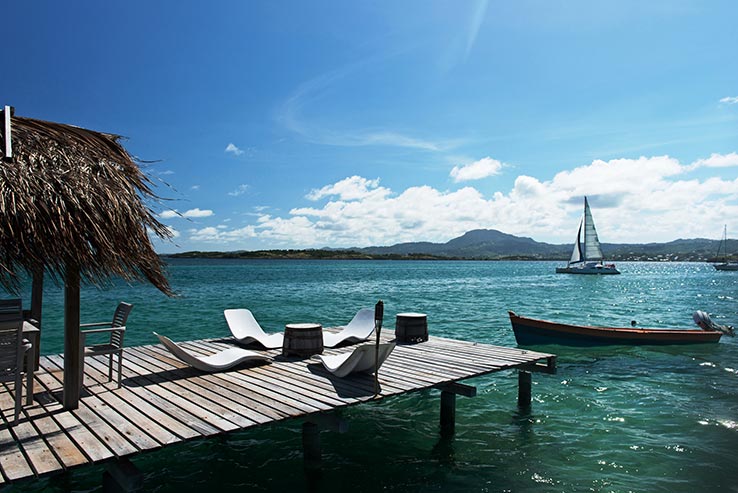 Lili's
A favourite for both locals and visitors, Lili's is a beach bar set on a tiny, white sandy cove in Schoelcher, on the west coast. Dishes are generous and good value; cocktails, fruity and potent – 'Ti punch is the Martinican classic, made with sugar cane syrup, lime and local "rhum". Singing cicadas, lapping seas and reggae music complete the idyllic scene.
Le Grand Ballet de Martinique
Le Grand Ballet de Martinique are musicians and dancers who perform old school rhythms of "beguine" and "mazurka" in traditional Creole costumes in hotels across the island.
Le Paparazzi
For Western-style clubbing, Le Paparazzi in Le Lamentin is the island's most fashionable nightspot.
Le Marché Couvert
You'll smell it before you see it: Le Marché Couvert, a bustling covered market in the centre of Fort-de-France, is packed with vendors selling freshly-ground spices, medicinal herbs, indigenous fruits, vegetables and tropical flowers. It's the best place to stock up on souvenirs, including finely-crafted wooden bowls, straw hats, Creole-style clothes and "filibos" – colourful candies made from cane sugar.
La Galleria
La Galleria is a huge shopping mall (by Martinican standards), where locals selling straw hats and pottery do business alongside top French brands such as Cartier, Chanel and Lacoste.
Village Creole
The cluster of brightly-painted huts that make up Village Creole, in seaside Les Trois-Îlets, is the prettiest place to shop for French lingerie, perfume, beachwear and jewellery.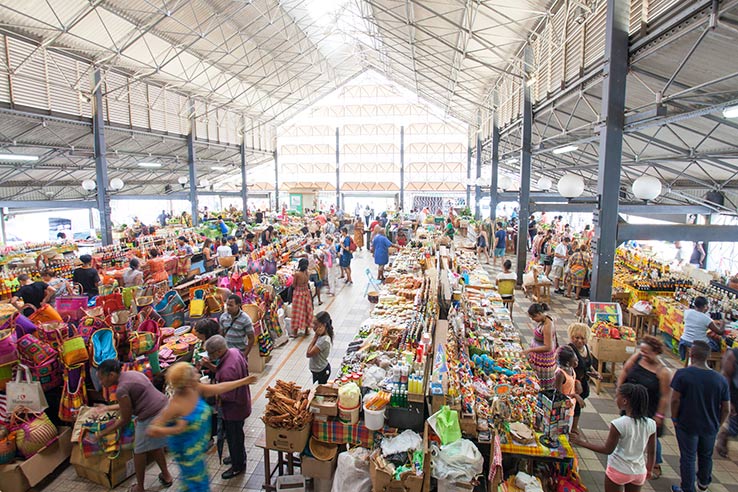 Perfect beaches, rainforests, waterfalls and coral-rich waters make Martinique a haven for outdoor lovers. Scuba diving, snorkelling, surfing, sailing, fly-boarding, canyoning and kayaking are all on offer.
Mount Pelée
A dramatic hike is the 1,397m-high dormant volcano Mount Pelée, a steep five-hour climb which takes in far-reaching views of forested ranges and the Caribbean and Atlantic seas (although you might have to wait for the mist to clear). The drive through the rainforest to get there, along the N3, also known as the Route de la Trace, is worth the journey in itself, and there's a small detour to swim in the waterfall of Saut Gendarme
Saint Pierre
The former capital of Saint Pierre was known as the Paris of the Caribbean until 1902 when Mount Pelée erupted, flattening the city and killing all but one of its 30,000 inhabitants, prompting it to be renamed the Pompeii of the Caribbean. Some of the remains, including the old theatre and prison, are still visible and there's a small museum showing photographs and artifacts recovered from the debris.
L'Habitation Clément, Depaz, of Jardin de Balata and Slave Savannah
Other attractions include the still-working colonial rum plantations of L'Habitation Clément and Depaz, which produce some of the best rum in the world; the botanical gardens of Jardin de Balata, which homes 3,000 varieties of tropical plants – 300 palms alone; and Slave Savannah, a replica of a maroon village with a small museum giving a frank and unsanitised version of Caribbean slave history.
Les Salines, Anse Dufour, Anse Michel and Anse Noir
The prettiest beach on the island is Les Salines. Other beauties include Anse Dufour, Anse Michel and Anse Noire, which has black volcanic sand.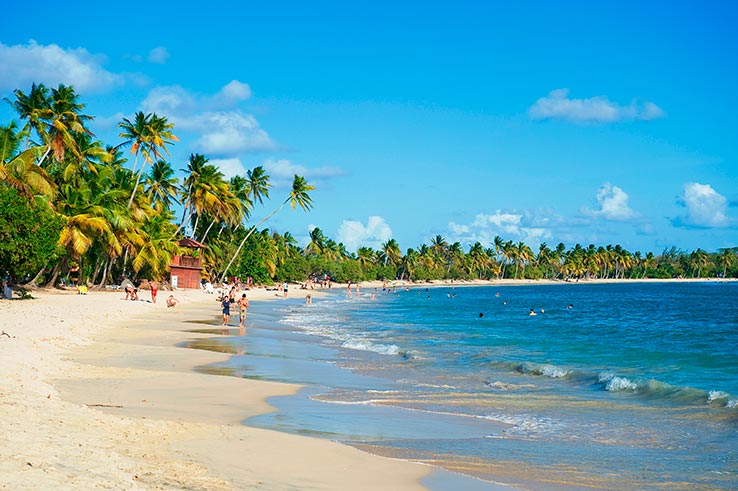 Events to look out for:
Mardi Gras (February/March)
Martinique Jazz Festival (December)
Eat and drink on board

You can buy a variety of snacks, sandwiches, other light meals and beverages during your flight. Make sure you check our in-flight menu when you get on board.

New aircraft - low emissions

The average age of our aircraft is only 3.6 years old, which means less emissions and makes our fleet one of the youngest in the world.

Seat reservation

Starting from 10 Euros you can get the window seat, be seated in the front to save time or near the exits to have more legroom. Already booked? Add seat reservation now.
Video on Demand

On flights longer than 3,5 hours, you can watch movies and tv series from your smartphone, tablet and laptop for 7 Euros. Remember your headset!

Central airport

Martinique Aimé Césaire International Airport is centrally located, with quick and easy transport connections to the city centre and beyond. Less hassle, more time to enjoy yourself.

Earn CashPoints

Sign up for Norwegian Reward, and earn CashPoints every time you fly with us.
Looking for a similar destination?