No destinations are currently available. Please try with different search options.
= Some flights in this period have transit stops
No destinations are currently available. Please try with different search options.
Why go?
It's Europeans' own tropical paradise – without the jetlag.
Local hotspot
The Paper Club, erstwhile headquarters of a defunct local newspaper, hosts the biggest names in Spanish alternative music alongside cutting-edge DJs.
You probably didn't know
The island is home to the world's most northerly coffee plantations, and the only ones to be found in Europe. They're dotted around the island, but most are concentrated in the north-west's green and pleasant Agaete valley.
Suggested viewing
Moby Dick (John Huston, 1956). The movie of Herman Melville's novel was filmed off the coast of El Confital beach. Lead actor Gregory Peck spent most of his off-screen time at Plaza Cairasco's Bar Madrid.
---
Things to do in Gran Canaria
360° Lounge and Restaurant
Playa del Inglés, a mainstay of the 18-to-30 experience, has been gentrified with new luxury hotels. You don't have to be a guest to spend an evening at the five-star Bohemia Suites & Spa's in-house 360° Lounge and Restaurant, however. Listen to live blues in the Lounge and sample Med-meets-Orient tasting menus in the Restaurant, as the sun goes down on Maspalomas dunes below.
Restaurante Martell
When eating at Santa Brígida's Restaurante Martell, you need to have faith in the silver-haired, smooth-talking maître-d, Antonio Martell. There's no written menu, so Toni advises diners what to choose. The courgettes with fig sauce are particularly good.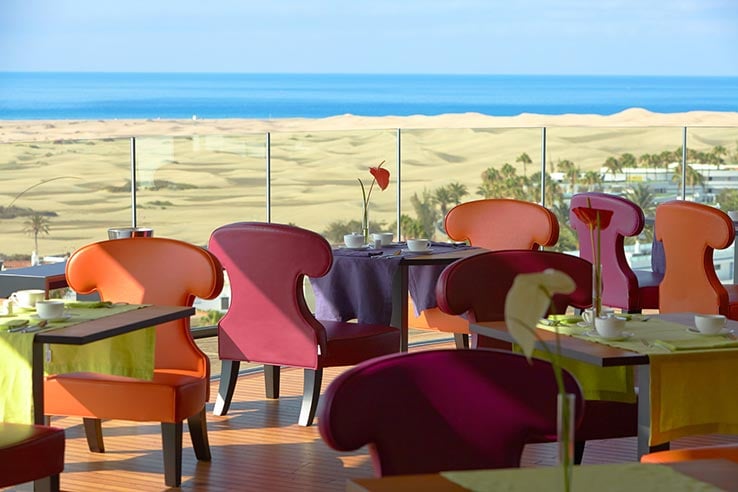 Mojo Club
Gran Canaria has one of the youngest populations in Spain but the country's economic problems haven't stopped the youngsters from partying hard. If the heat gets too much at packed-to-the-rafters Mojo Club above Las Canteras beach, step outside for a cooling blast of Atlantic Ocean air.
Aqua Ocean Club
Gran Canaria's most exclusive resort is Meloneras, full of stylish foreigners. Yet the hedonists that frequent its Aqua Ocean Club are largely locals, who come here for dance-music nights and comedy.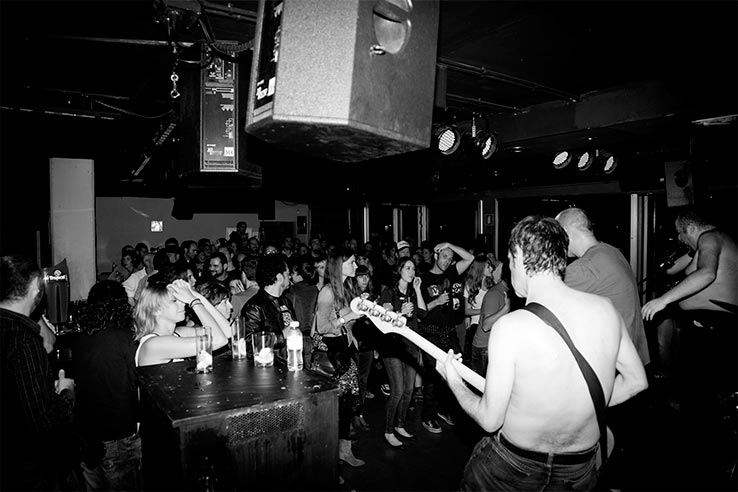 Flamingos Vintage Kilo
The main shopping street in Las Palmas de Gran Canaria is Calle Mayor de Triana. But it's the cobbled streets above the main drag that make Triana such an interesting shopping experience, with individual boutiques such as Flamingos Vintage Kilo. Their born-in-the-USA retro clothing is big on loud designs, with tie-dye T-shirts and Hawaiian shirts dominating the hangers.
Centro Comercial Las Terrazas
The beauty of Gran Canaria's temperate climate is that you can eat, drink and shop outdoors year-round. Shopping centres like El Muelle and Las Arenas in Las Palmas de Gran Canaria have outdoor areas. The newer Centro Comercial Las Terrazas is completely open air, and home to outlets offering discounts on major labels. Find it off the main GC-1 airport road between Las Palmas de Gran Canaria and Telde.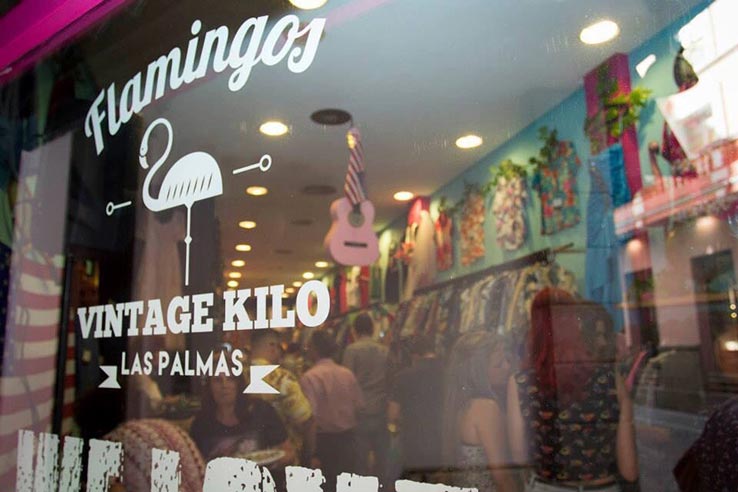 The Painted Cave Archaeological Park and Museum
Gran Canaria is closer to Africa than to Spain. At the Painted Cave Archaeological Park and Museum, Galdar, you can learn about the canarii, early islanders related to North Africa's Berbers who predated the Spanish here. See their famed geometrical cave paintings; and kids will love putting on 3D-glasses for a film that's high in edu-tainment and low on yawns.
UD Las Palmas
Local football heroes UD Las Palmas returned to the Primiera Liga with a dramatic play-off victory against Real Zaragoza in June 2015. Their promotion ended a 13-year exile from Spain's top flight. You can watch how they fare against the big boys including Barcelona and Real Madrid at the out-of-town Estadio Gran Canaria. From the city centre, it's a short bus or taxi ride.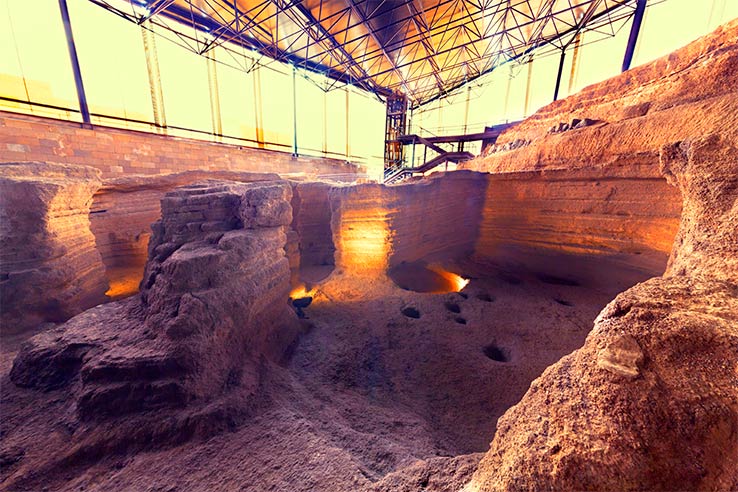 Events to look out for:
Carnaval de Las Palmas de Gran Canaria (January–February)
Fiestas del Almendro en Flor, San Bartolomé de Tirajana, Tejeda, and Valsequillo (January–February)
Festival Internacional de Folklore de la Villa de Ingenio (July–August)
Fiesta de la Rama, Agaete (August)
Fiesta en Honor de Nuestra Señora del Pino, Teror (August)
Fiesta del Charco, La Aldea de San Nicolás (September)
Atlantic Rally for Cruisers, Las Palmas de Gran Canaria (October)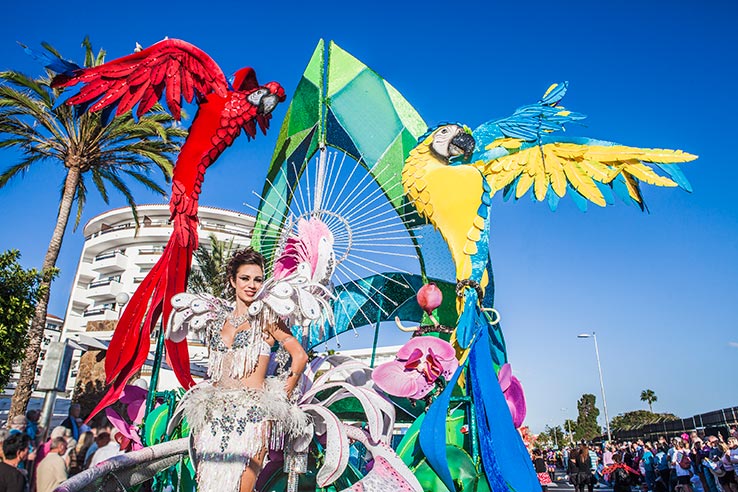 Eat and drink on board

You can buy a variety of snacks, sandwiches, other light meals and beverages during your flight. Make sure you check our in-flight menu when you get on board.

New aircraft - low emissions

The average age of our aircraft is only 3.6 years old, which means less emissions and makes our fleet one of the youngest in the world.

Seat reservation

Starting from 10 Euros you can get the window seat, be seated in the front to save time or near the exits to have more legroom. Already booked? Add seat reservation now.
Video on Demand

On flights longer than 3,5 hours, you can watch movies and tv series from your smartphone, tablet and laptop for 7 Euros. Remember your headset!

Central airport

Gran Canaria Airport is centrally located, with quick and easy transport connections to the city centre and beyond. Less hassle, more time to enjoy yourself.

Earn CashPoints

Sign up for Norwegian Reward, and earn CashPoints every time you fly with us.