Edinburgh at a glance
Why go?
With its historic clout and cultural kudos, Scotland's capital is a city for all seasons.
Local hotspot
Packed with great bars, cool eateries, Michelin-starred restaurants and more, Edinburgh's northern district of Leith is a lifetime away from Irvine Welsh's depiction in 1990s hit "Trainspotting".
You probably didn't know
Rumour has it that Sir Arthur Conan Doyle based his character Sherlock Holmes on a professor at Edinburgh's Royal College of Surgeons. Also, Edinburgh is the world's first UNESCO City of Literature.
Suggested reading/viewing
The Prime of Miss Jean Brodie (Muriel Spark, 1961); and the animated film The Illusionist (Sylvain Chomet, 2010)
Bare stats
Population: 487,500 (June 2013)
Annual visitor numbers: 4 million
January mean temperature: 3°C
August mean temperature: 15°C
---
Things to do in Edinburgh
The Gardener's Cottage
A daily changing menu is scrawled lovingly onto a blackboard and propped up outside The Gardener's Cottage. Ingredients are sourced from local farmers, producers and foragers. Everything here, from the inventiveness of the dishes to the super-friendly service, produces its own magic.
Aizle
Self-proclaimed "neo-bistro" Aizle likes to surprise, with diners offered only a list of curious ingredients as a clue to the five-course tasting menu to come. Style and substance abound.
VDeep
Flying in the face of the identikit curry house, VDeep marries craft beers and Indian food with some serious creative welly. Pork Cheek Vindaloo is just one, of many, reincarnations.
Union of Genius
The humble bowl of soup is propelled to great things at Scotland's first soup café, Union of Genius. Proof that wholesome flavours and a chunk of bread can make for a fine meal.
Stockbridge Market
Popping up every Sunday in one of the city's most gentrified areas, Stockbridge Market is a swell of Asian flavours, stinky Scottish cheeses, and lush local brewers.
Timberyard
Once a costume store for the nearby Royal Lyceum Theatre, Timberyard's industrial vibe belies a stylish hangout. A carefully crafted menu packed with flavour, locally sourced produce and a quirky cocktail list.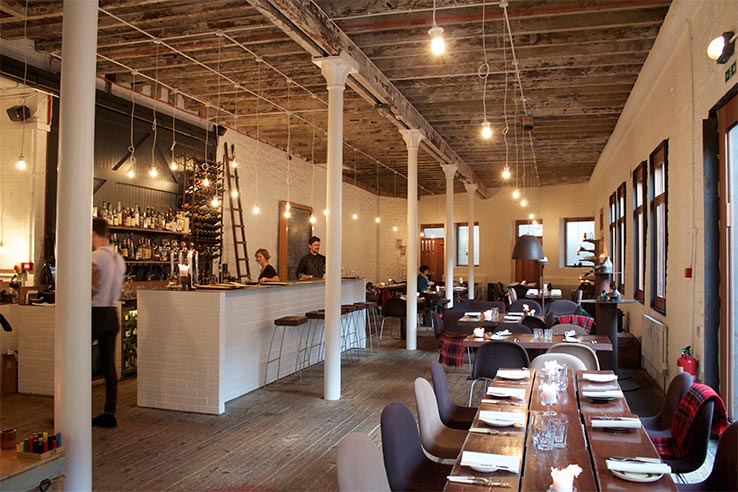 Panda & Sons
Sure, the speakeasy styling, quirky décor and barbershop entrance raise a smile, but it's the true wonder of the drinks menu that really makes Panda & Sons a joy. Devilishly designed and lovingly concocted, the cocktails are the stars here.
Roseleaf
As if its trademark vintage cocktails and lip-smackingly good gin and whisky menus didn't suffice, Leith favourite Roseleaf has a top-notch menu and effortless charm to match.
The Hanging Bat
The Hanging Bat led the charge when the city's craft beer revolution came calling, and it remains the go-to bar for British, cutting-edge brewers in Edinburgh. They do a mighty fine hot dog too.
Devil's Advocate
Snuck away on Advocate's Close, former Victorian pump house-cum-hip food and drink den Devil's Advocate warms up its slick industrious look with a plentiful bar and a clientele that veers from happy after-workers to weekend moochers.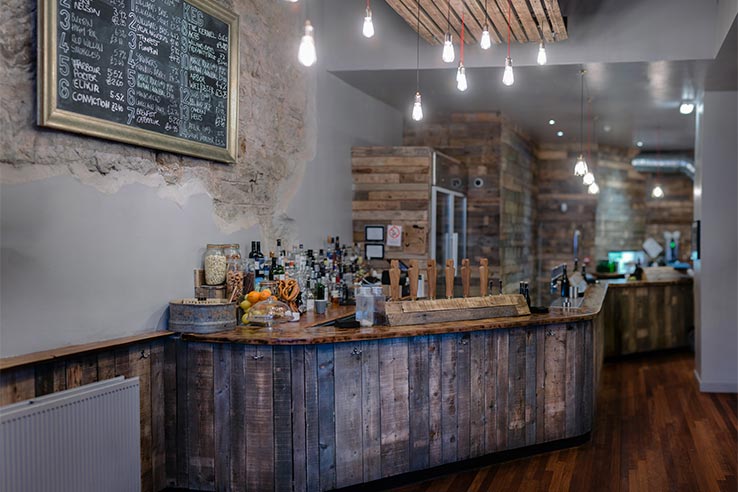 Joey D
A stalwart of the Edinburgh scene, Joey D's clothes and accessories are born out of recycled vintage clothing and all manner of crazy materials. A one off.
The Red Door Gallery
Forget the tourist tat emporiums on the Royal Mile; local artists, illustrators and designers offer ample reason to splash the cash, at The Red Door Gallery. Browse for prints, sketches, homewares, stationery and gifts.
Godiva
Godiva's sea of vintage frocks and glam accessories is a joy for those who like to look back to be fashion forward.
Anteaques
An antiques haven-cum-tea shop Anteaques is a treasure. Small but perfectly imagined, this is one for fans of a bygone era.
Totty Rocks
More than just a great name, indie womenswear label Totty Rocks offers quirky tailoring, with all products in the boutique designed and produced in Scotland.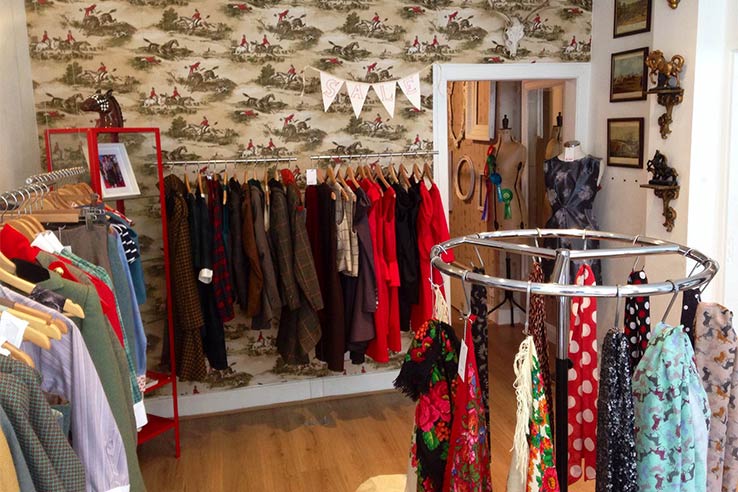 Summerhall
The hottest new arrival on Edinburgh's art scene, Summerhall's multi-arts and workshop space uses all the quirks from its former life as a school of veterinary studies. The old dissection room regularly hosts contemporary exhibitions, music, theatre, dance and more.
Traverse Theatre
It started life in the 1960s as a theatre club in a deserted brothel. Fifty years later (and relocated), the Traverse Theatre (or the Trav to locals) is one of the most respected theatres in Scotland.
The National Museum of Scotland
From dinosaurs to future technologies, Space to Ancient Egypt – the National Museum of Scotland doesn't do small. Interactive areas for kids (from toddlers up) make it perfect for rainy family days out. Better still, it's free.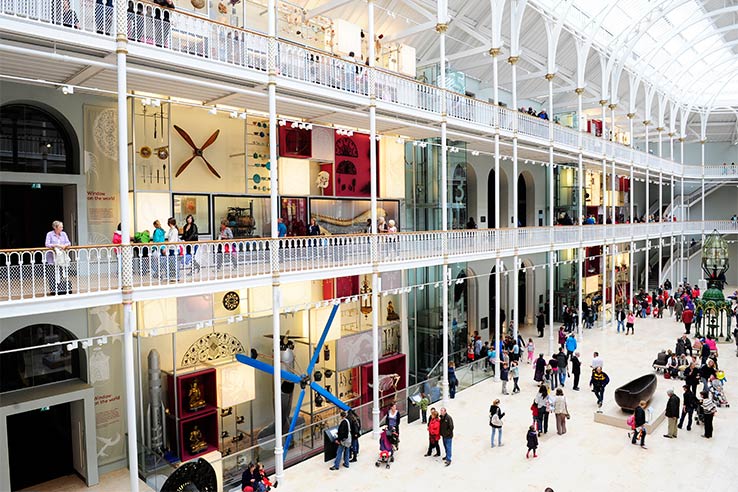 Events to look out for:
Edinburgh International Film Festival (June)
Edinburgh Festival Fringe (August)
Edinburgh International Book Festival (August)
Edinburgh International Festival (August)
Edinburgh Art Festival (August)
Edinburgh Hogmanay (December)
Eat and drink on board

You can buy a variety of snacks, sandwiches, other light meals and beverages during your flight. Make sure you check our in-flight menu when you get on board.

New aircraft - low emissions

The average age of our aircraft is only 3.6 years old, which means less emissions and makes our fleet one of the youngest in the world.

Seat reservation

Starting from 10 Euros you can get the window seat, be seated in the front to save time or near the exits to have more legroom. Already booked? Add seat reservation now.
Video on Demand

On flights longer than 3,5 hours, you can watch movies and tv series from your smartphone, tablet and laptop for 7 Euros. Remember your headset!

Central airport

Edinburgh Airport is centrally located, with quick and easy transport connections to the city centre and beyond. Less hassle, more time to enjoy yourself.

Earn CashPoints

Sign up for Norwegian Reward, and earn CashPoints every time you fly with us.
Looking for a similar destination?