What should you not miss in Bergen, Norway?
To visit Bergen on the west coast of Norway is to visit the capital of the fjords. Known as the city of the seven mountains, Norway's wonderous second city is a beautiful place to visit at any time of year. From Bryggen, its picturesque old town, to abundant nature to contemporary culture, Bergen has something to suit everyone. Foodies will love its dining scene, one of the best in the Nordics, and the abundance of fresh seafood. Then there's the great outdoors, while a fjord cruise is one of the top things to do in Bergen. And when it rains there are a host of museums, galleries and historical sights to explore and stay dry in. Bergen remains very much an under the radar destination, just waiting to be discovered. So, browse flights to Bergen, Norway now and discover the best things to do in Bergen with our travel guide below.
Fun facts for a vacation in Bergen
Bergen is one of Europe's wettest cities, with over 225cm of rain annually. That's double the rainfall of Seattle, Washington in the US.
Bergen is home to the world's largest gingerbread town. Pepperkakebyen is constructed with the help of local schoolchildren and assorted volunteers every Christmas and is open to the public from mid-November through December.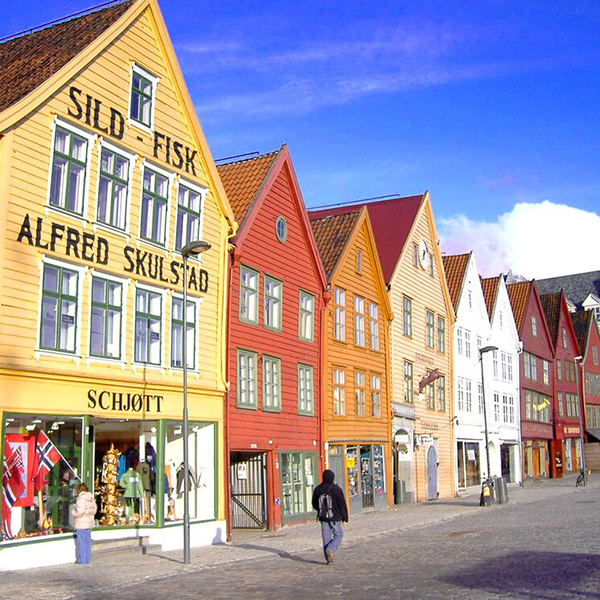 Bergen airport information
How to get from Bergen Airport Flesland to Bergen city center
TRAIN
The Bergen light railway (Bybanen) will take you from Bergen airport to the city center in around 45 minutes. The station is located one floor below Arrivals at the airport's sole terminal and tickets can be bought there, or in advance using the Skyss app.
BUS
The airport bus (Flybussen) is the quickest way to get from the airport to the city center via public transport. After flying to Bergen, you can catch the bus outside Arrivals. Buses take around 20 minutes to reach the city center and depart up to four times an hour. It's best to buy tickets online in advance, as this will save you money.
TAXIS
Licensed taxis are available outside the terminal building. The journey takes around 20 minutes, depending on traffic.
CAR OR MOTORCYCLE
Motorists arriving on a cheap flight to Bergen should follow signs for the 580 road, then continue on it, as it merges with the E39, all the way to the city center.
Things to do in Bergen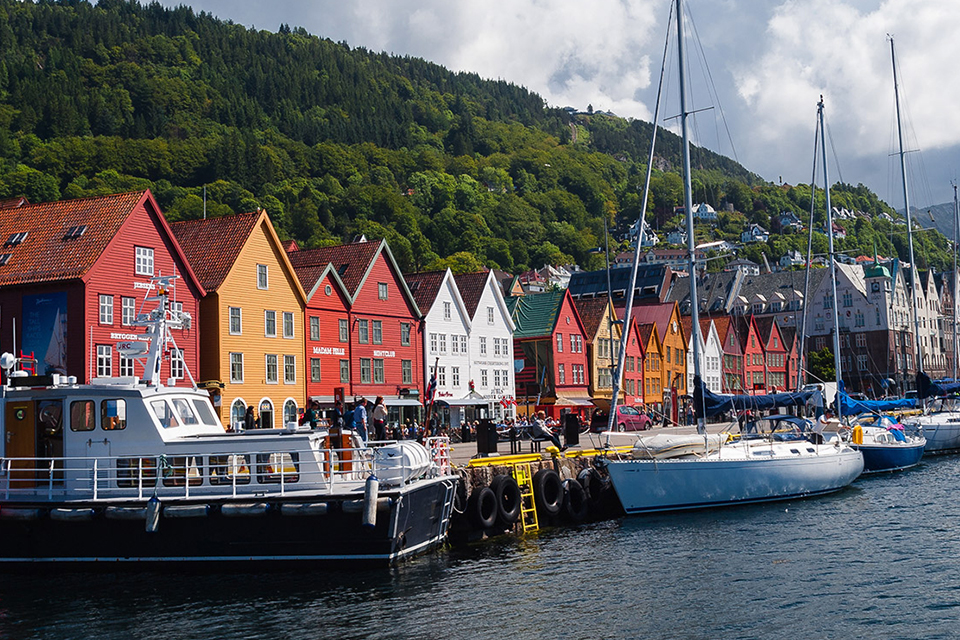 Snap Bryggen Wharf
The façade of the Hanseatic wharf in Brygge, Bergen's old town, is one of the most recognizable sites in the whole of the Nordics and certainly one of its most photographed. Its colorful wooden houses were constructed by the Hanseatic League, a confederation of merchant guilds originating in Germany. They arrived in the 14th century and helped make Bergen one of Europe's most important trading hubs. Having burnt down several times, the timber houses have been reconstructed using the original plans and materials. That's why the Bryggen Wharf is now a UNESCO World Heritage Site, lined with shops, cafes and museums.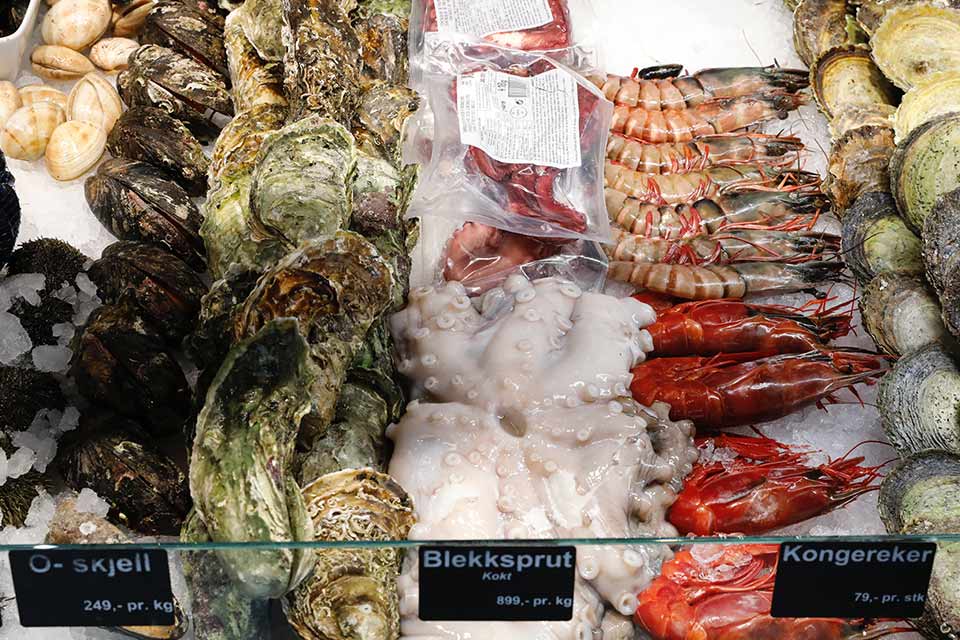 Visit the Bergen fish market
Seafood-lovers will not want to miss Bergen's centuries-old outdoor fish market located close to Bryggen, one of the cool things to do in Bergen. As well as admiring the best catches of the day, the fish market is itself a culinary destination and a great place to stop for a snack or a full meal. Bergen fish market is open daily from 9am to 11pm, from 1 May through the summer. In 2012, an indoor section was added, which remains open throughout the year.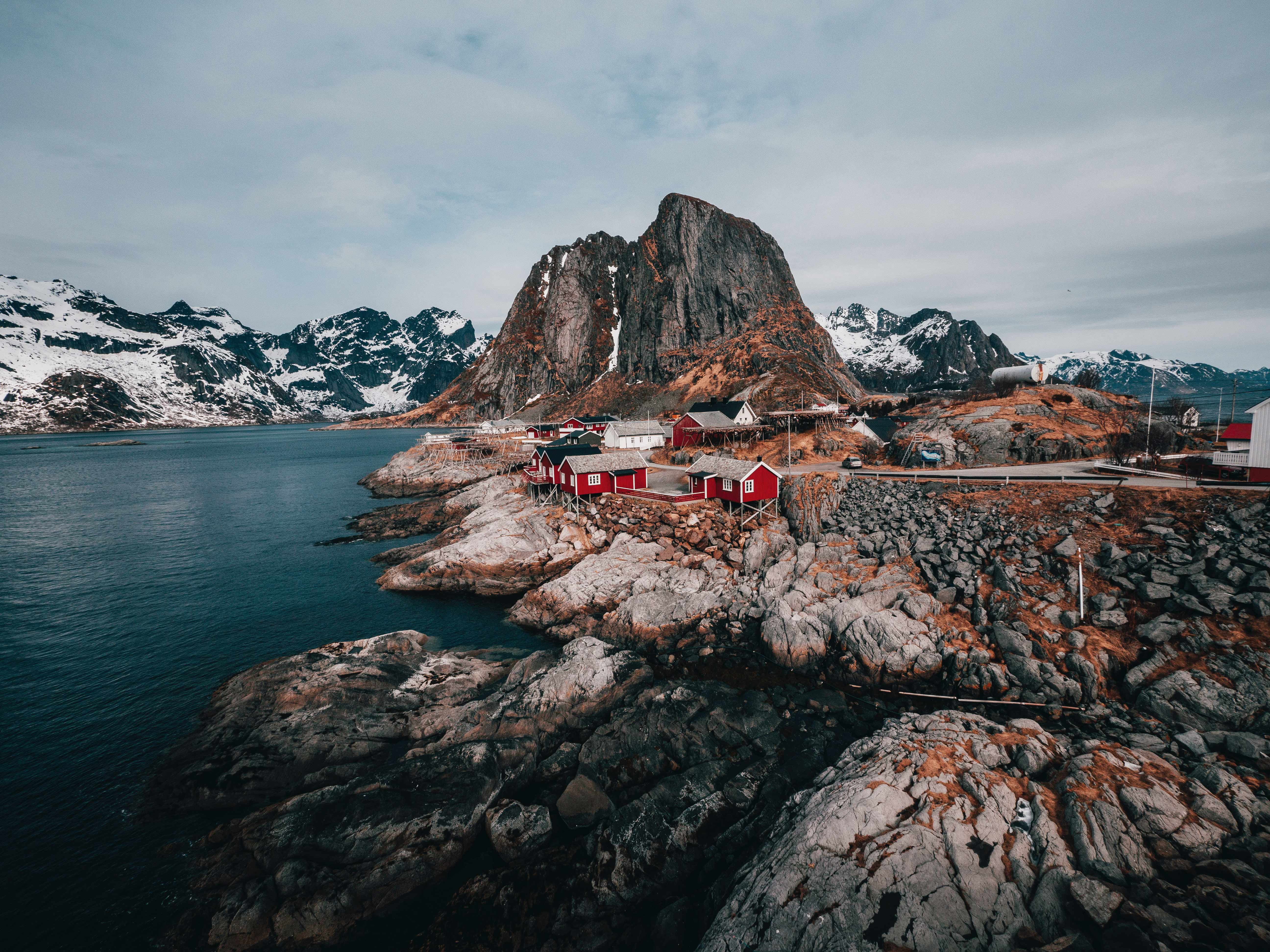 Embark on a fjord cruise
Bergen is surrounded by fjords, the deep glacial inlets that Norway is so famous for. One of the top things to do in Bergen is to take a fjord cruise. A number of companies run day trips or longer out of Bergen exploring the fjords and Norway's spectacular west coast. There's even a route that will take you all the way past the Lofoten Islands to the Norwegian mainland's northern most tip. At the height of summer, this is the land of the midnight sun. Don't miss the opportunity to take a fjord cruise when visiting Bergen.
Old Bergen Museum
In the 19th century, Bergen was Europe's biggest wooden city and the open air Old Bergen Museum is testament to that history. Featuring properties from the last 300 years, the museum is something of a trail as you walk in and out of the timber houses, admiring the interiors, dropping in on exhibitions and meeting people in character and period dress. Make sure to check out one of the four daily theatrical shows in the square too. This family-friendly attraction is easily reachable by bus from Bryggen.
Explore Bergenhus Fortress
Some of the buildings of the Bergenhus Fortress, a remarkably preserved, former royal palace that sits imposingly on the Bergen harborside, date back to the 13th century when Bergen was the capital of Norway. Today, you can take a guided tour or explore several of these at your own leisure, including Haakon's Hall, a ceremonial space that is still used for official receptions, and Rosenkrantz Tower. There is also a museum attached where you can learn more about the history of Bergenhus Fortress.
Admire the Fantoft stave church
Medieval wooden churches called stave churches can be found all over Norway and are famous for their mixture of Christian and Viking styles. They range from austere to highly decorative. The most famous in the Bergen area is the Fantoft stave church, a little south of the city and reachable by light railway. Dating back to the mid-12th century, the original was burnt down, sadly, by arsonists in 1992, before being faithfully reconstructed. Its distinctive architectural style makes the church a must see when flying to Bergen.
Ride the Fløibanen to the top of Fløyen
Standing at over 1000 feet, Fløyen is one of the seven mountains of Bergen and the most accessible from the city center. The easiest way to get to the top of Fløyen is by taking the Fløibanen funicular railway, which can be picked up close to Bryggen and the fish market. The ride takes between five and eight minutes. Once at the top you are rewarded with spectacular panoramic views of Bergen below, as well as a café and a restaurant to relax in and a souvenir shop. You may even want to take your time and hike back down or further into the mountains – Fløyen is a great starting point for many hiking trails.
Drop in on the Hanseatic Museum
If you want to explore Bergen's Hanseatic history further, head to the Hanseatic Museum and Schøtstuene in Bryggen. It tells the story of the deep impact the Hanseatic League had on the city of Bergen and how that legacy can still be seen today. The museum building on Finnegården, which used to be the merchants' trading hall, is undergoing renovations, but there is still plenty to see at Schøtstuene, the last Hanseatic assembly rooms in the world. For the full experience, book a guided tour that takes you from Schøtstuene through the narrow alleyways of the old town.
Get your culture fix at KODE
The KODE group consists of four art museums in central Bergen, as well as several late composer's homes that have been converted into museums. The latter includes the Edvard Grieg museum. Covering everything from craft and design through contemporary and classic art, KODE boasts one of the most extensive collections in the Nordics and is one of the top things to do in Bergen. This includes many works by painter Edvard Munch. You won't have any trouble museum-hopping: the four main KODE buildings sit next to each other along Lake Lungegard
Indulge at some of Norway's best restaurants
Bergen has one of the most exciting dining scenes in Norway, if not the whole of the Nordics. In fact, it's been designated a UNESCO City of Gastronomy. Driving it is some of the best seafood in Europe and a relentless culinary creativity. If you're wondering where to eat in Bergen, you have a wealth of options available, from innovative New Nordic cuisine to traditional and hearty Norwegian food.
Scale Ulriken mountain
Peaking at over 2000 feet, Ulriken is Bergen's highest mountain. There are a number of ways to reach the top. You could take the cable car or any number of local and tourist buses. But for a real workout, why not hike? There are a number of trails leading from the city center to the top of Ulriken. When you arrive, relax at the mountain top restaurant or have a go on Norway's fastest zipline. You can even hike further, along the Vidden Trail to Fløyen.
Hear sweet music at Troldhaugen
Norway's most famous composer, Edvard Grieg, lived the last 22 years of his life at this lakeside villa, around 8km form the city center and easily reachable by public transport. It was where he composed some of his most famous works. The house, which dates back to 1885, is now a living museum and part of KODE, with guided tours running continually. Grieg's composing cabin remains standing too. If you visit from spring to fall you'll be able to catch a lunchtime or evening concert, though you'll have to book additional tickets.
Best time to travel to Bergen
High season
The summer in Bergen sees temperatures reaching the low 70s°F (low 20s°C), which is pretty good for Norway! The city is busy with domestic tourists, but Bergen still lags behind other Scandinavian cities in attracting international tourists. This makes Bergen in the summertime a great option for a comfortable trip away, especially if you're the outdoors type.
Low season
Though winters in Bergen are cold, with temperatures hovering around 32°F (0°C), they are relatively mild (due to the Gulf Stream) compared to other parts of Norway. The fall in Bergen is beautiful, with a packed cultural calendar, but beware of the rain which increases steadily between September and December. May is the driest month, with spring highs of around 50°F (10°C).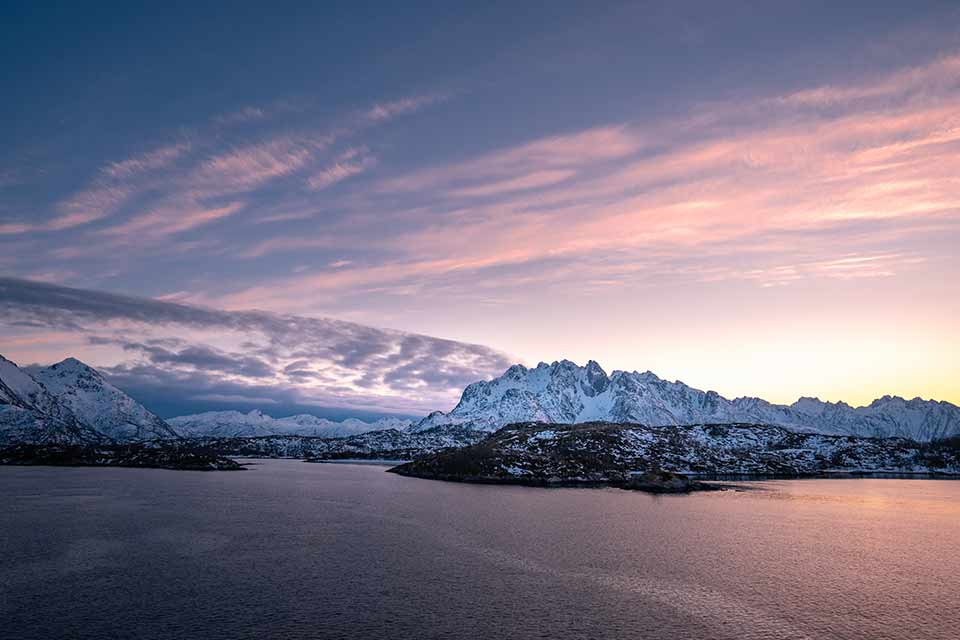 Flying with Norwegian
Get a comfortable flight with our 787 Dreamliner
Flexible tickets
You can make changes to your ticket up until 30 minutes before take-off.
Eat and drink on board
On all our long haul flights you can choose between two menus incl wine, beer or mineral water
New aircraft - low emissions
On our long-haul flights you fly with our 787 Dreamliner, one of the most environmentally friendly options there is.
Video on Demand
On flights longer than 3,5 hours, you can watch movies and tv series. Remember your headset!
Cheap flights to Bergen, Norway
Check out our lowfare calendar and discover your next flight to Bergen or on of the more than 150 destinations we fly to. The earlier you book your flight the cheaper the prices.
Discover cheap flights in our Low fare calendar
Want more comfort on our flight?
With our Premium seats you get a recliner chair with extra legroom, a 3-course meal, Priority boarding and Fast track included and extra attentive crew to esure you'll have a plesant flight.
Read more about our Premium product and upgrade now!
Get extra benefits with Reward
While away from home, you might need somewhere to stay and a way to get around.
Through our partners you can easily find and book a hotel that suits you and rent a car that fits your needs. Book through Reward and get up to 10% and earn CashPoints.
Learn more about our Reward program and start earning CashPoints today