Why go?
For Poland's finest restaurants, coolest bars, most luxurious hotels, and greatest galleries and concert halls.
Local hotspot
On the right bank of the Vistula, Praga is awash with galleries, studios, alternative bars and underground theatres.
You probably didn't know
The Palace of Culture and Science, built by Stalin, is still the tallest building in Poland some 60 years after it opened.
Suggested reading
A Memoir of the Warsaw Uprising (Miron Bialoszewski, revised edition 2015)
---
Things to do in Warsaw
Atelier Amaro
Visiting in 2014, US president Barack Obama was taken to Wojciech Modest Amaro's Atelier Amaro. Seasonal treats included asparagus, spring vegetables, and parsley ice-cream. Main courses featured meticulously sourced veal and cod. Quality and a seasonal approach remain the same here – while Amaro now sports two consecutive Michelin stars.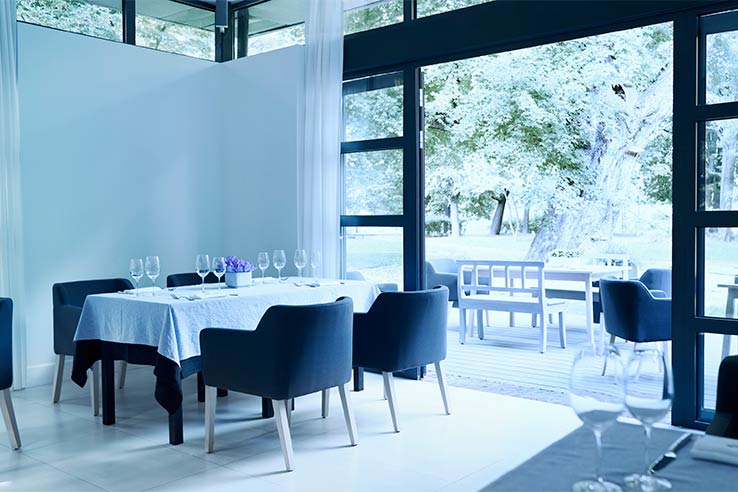 Mount Blanc
Old-school Warsaw specialises in chocolate lounges: café-pâtisseries where pralines, pastries desserts and hot drinks all have one irresistible ingredient. The top choc bar on the block, and one that has brought the finest Belgian creations to the Polish capital, is Mount Blanc. The perfect spot for a winter Sunday.
Stara Kamienica
Easily one of the best restaurants in Poland let alone Warsaw, Stara Kamienica hides its light under a pub-like bushel, providing casual surroundings for Adam Kowalczyk's creations such as wild boar ragout with Boletus mushrooms and lamb dumplings with lavender and blueberries. Set in a tall townhouse dating back over a century.
Salto
Argentine Martin Gimenez Castro prepares his steaks in expert fashion, in the Art Deco surroundings of Warsaw's most stylish five-star hotel, the Rialto. A visual and culinary delight, Salto offers a special steak menu at weekends.
Sen Pszczoly
Arty hangouts typify the scene in Praga, where Sen Pszczoly ("The Dream of Bees") was a late-night mainstay – until a terrible fire destroyed everything. It has since moved to a new location just behind the National Stadium and can still draw from a loyal, bohemian client base for live underground sounds, DJ nights with stunning visual projections, and exhibitions.
Sklad butelek
Scruffy, earnest Sklad butelek is what you're after for a late, messy night in Praga with some live music thrown in (underground, jazz, open mic). You'll find it among similarly boho venues set back from the main street named 11 Listopada. And if not, just ask.
Plan B
Away from the dim lights of Praga, the key after-dark destination downtown is Plan B, a hard-drinking haven for music-focused twentysomethings and younger. In summer, punters spread out onto Plac Zbawiciela, the adjoining square where other bars and cafes have sprung up thanks to Plan B.
World of Amber
As well as vodka, chess sets and gingerbread, Poland specialises in amber. In the heart of the capital World of Amber has three branches. Each with rows of glass cabinets shining with bright-orange rings, pendants, watches and even… chess sets.
Kolo Bazar
For treasure, junk and jumble, Sunday's Kolo Bazar at Obozowa 99 north-west of Central Station, has it all. Books, paintings and vinyl records, as well as enough furniture and ornaments to fill the Palace of Culture and Science. The rest of the week, the market sells local produce.
The Palace of Science and Culture
At the Palace of Science and Culture, kids will love zooming up in the old lift to the 30th floor, 231 metres above the ground. Some grown-ups might get the jitters but most will appreciate the Stalinist architecture and views from the panoramic terrace.
The Warsaw Uprising Museum
It is hard to think about the Polish capital without appreciating that it was almost entirely levelled in 1944 after the brave Warsaw Uprising against Nazi occupiers. The Warsaw Uprising Museum illustrates the events in fascinating and interactive detail, down to a replica of the sewers used by Poles to manoeuvre around the city.
Events to look out for:
Ludwig van Beethoven Easter Festival (Easter)
Anniversary of the Ghetto Uprising (April)
Polish Contemporary Opera Festival (April)
Mozart Festival (June)
International Street Arts Festival (July)
Anniversary of the 1944 Warsaw Uprising (August)
Warsaw Film Festival (October)
Warsaw Christmas Fair (December)
Eat and drink on board

You can buy a variety of snacks, sandwiches, other light meals and beverages during your flight. Make sure you check our in-flight menu when you get on board.

New aircraft - low emissions

The average age of our aircraft is only 3.6 years old, which means less emissions and makes our fleet one of the youngest in the world.

Seat reservation

Starting from 10 Euros you can get the window seat, be seated in the front to save time or near the exits to have more legroom. Already booked? Add seat reservation now.
Video on Demand

On flights longer than 3,5 hours, you can watch movies and tv series from your smartphone, tablet and laptop for 7 Euros. Remember your headset!

Central airport

Warsaw Chopin Airport is centrally located, with quick and easy transport connections to the city centre and beyond. Less hassle, more time to enjoy yourself.

Earn CashPoints

Sign up for Norwegian Reward, and earn CashPoints every time you fly with us.