Milan at a glance
Why go?
For elegance, fashion and fine art in a fast-paced, cosmopolitan city.
Local hotspot
Lose yourself in the winding streets around Via Fiori Chiari, which are packed with restaurants, boutiques and galleries.
You probably didn't know
Milan is home to the world's most celebrated opera house, Teatro alla Scala, which can seat 2,800 people.
Suggested reading
Ernest Hemmingway's romantic First World War Novel A Farewell to Arms, or the Dario Fo play Accidental Death of an Anarchist
Bare stats
Population: 1.3 million (2014)
Annual visitor numbers: 9.9 million (2013)
January mean temperature: 1°C
August mean temperature: 22°C
---
Things to do in Milan
Al Pont de Ferr
Like any Italian city, Milan is packed with great restaurants – from understated family-run cafes to glittering Michelin-star establishments. The bustling Navigli area has plenty of eateries, including Vittorio Fusari's Al Pont de Ferr, a Michelin-starred venue that serves contemporary Italian cuisine.
Erba Brusca
Erba Brusca is something a bit different. In spite of its central location (on Alzaia Naviglio Pavese), its lush gardens make diners feel as if they're in the Italian countryside. The menu consists of traditional Italian staples, with vegetables plucked straight from the garden.
Mangiari di Strada
At Mangiari di Strada, chef Giuseppe Zen serves street food-style dishes, inspired by recipes from across Italy. The only downside is that the restaurant is somewhat tricky to get to from central Milan.
Il Luogo di Aimo e Nadia
For yet more Michelin-star sustenance, book a table at the renowned Il Luogo di Aimo e Nadia. The restaurant has been plating-up exquisite dishes for over 50 years, and is run by the original owner's daughter, Stefania, while chefs Fabio Pisani and Alessandro Negrini work their magic in the kitchen.
Dry Milano and Lievoto Madre al Duomo
For the perfect pizza, head to Dry Milano on Via Solferino. This hugely popular restaurant boasts a sparse, industrial-chic setting. The bar is also impressive and serves fantastic cocktails. Another great spot for pizza is Gino Sorbillo's Lievito Madre al Duomo, which churns out around 400 Neapolitan-style pizzas every day.
H-Club Diana
H-Club Diana at Sheraton Diana Majestic is a fashionable cocktail bar, complete with beautiful outdoor terrace and pool – a favourite among the city's elite.
Galleria Vittorio Emanuele II
As you'd expect from Italy's fashion capital, Milan is awash with fabulous
boutiques. One place to shop for couture – or at least window shop – is Galleria Vittorio Emanuele II. This 19th-century, glass-covered mall is home to fashion's biggest names, including Prada, Louis Vuitton, and Giorgio Armani.
Via Montenapoleone
While Galleria Vittorio Emanuele II is definitely worth visiting (it was, after all, the world's first shopping mall), more serious shopaholics might prefer Via Montenapoleone, a street burgeoning with designer boutiques and very, very beautiful people.
10 Corso Como
For a more affordable yet equally fashionable shopping experience, head to ex-Vogue editor Carla Sozzani's lifestyle store 10 Corso Como, which stocks everything from men's and women's designer labels to up-and-coming clothing brands, accessories and homeware.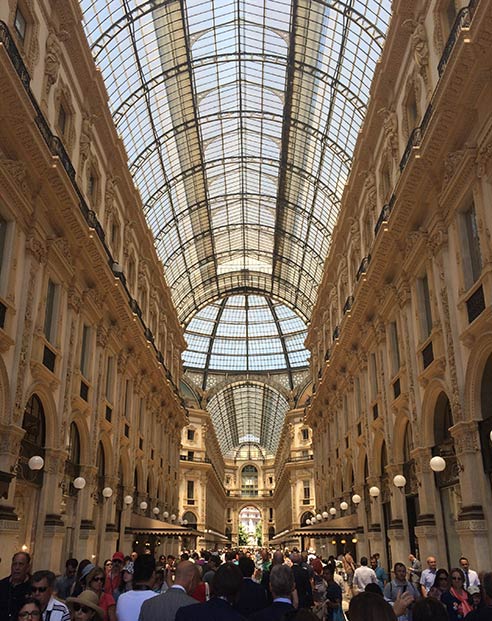 Duomo di Milano
Much of Milan has been rebuilt since the Allied bombings of the Second World War, meaning that the city lacks Rome's ancient grandeur or Florence's dreamy Renaissance skyline. Nonetheless, there remain many stunning medieval and Renaissance buildings. None so grand as the Gothic Duomo di Milano. The cathedral covers an entire block (that's 10,186 square metres) and is decorated with 3,400 statues (not including the 135 gargoyles). After six centuries, the cathedral remains a work in progress.
Leonardo da Vinci
One of Milan's most famous luminaries is the painter, philosopher, inventor and mathematician Leonardo da Vinci, who spent much of his youth in the city. Da Vinci left his mark on Milan in a number of ways. Most notably, he designed one of the five canals found in the Navigli district, as well as lending a helping hand to the decorators at the Convent of Santa Maria delle Grazie by painting The Last Supper on one of its walls. (Be sure to book tours in advance.)
Teatro alla Scala
Milan is also home to one of the world's finest opera houses, Teatro alla Scala. La Scala's season traditionally begins on St Ambrose's Day on December 7, with opera, ballet, concert and recital performances running throughout the year.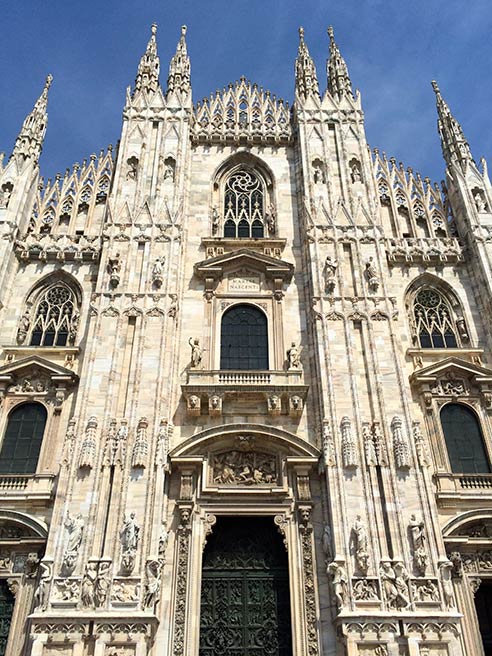 Events to look out for
La Notte Bianca – night-time cultural events (June)
Milan Fashion Week (September)
St Ambrose's Day (December)
Eat and drink on board

You can buy a variety of snacks, sandwiches, other light meals and beverages during your flight. Make sure you check our in-flight menu when you get on board.

New aircraft - low emissions

The average age of our aircraft is only 3.6 years old, which means less emissions and makes our fleet one of the youngest in the world.

Seat reservation

Starting from 10 Euros you can get the window seat, be seated in the front to save time or near the exits to have more legroom. Already booked? Add seat reservation now.
Video on Demand

On flights longer than 3,5 hours, you can watch movies and tv series from your smartphone, tablet and laptop for 7 Euros. Remember your headset!

Central airport

Milan–Malpensa Airport is centrally located, with quick and easy transport connections to the city centre and beyond. Less hassle, more time to enjoy yourself.

Earn CashPoints

Sign up for Norwegian Reward, and earn CashPoints every time you fly with us.