Why go?
For Mozart and Maria (von Trapp) moments, big Alpine views from the high-on-hilltop fortress and baroque in excess.
Local hotspot
Untersberg, a 1,853m peak nudging the German border, for views to make you yodel out loud.
You probably didn't know
Joseph Mohr penned the lyrics to the carol 'Silent Night' at No 9 Steingasse.
Suggested reading and viewing
To read: The Story of the Trapp Family Singers (Maria von Trapp, 2002). To watch: Amadeus (1984).
---
Things to do in Salzburg
Bärenwirt
Bärenwirt has been rolling out meaty grub like bierbraten (beer roast) and beef goulash since 1663. Snag a table on the river-facing terrace when the sun's out.
Esszimmer
Special occasion? Andreas Kaiblinger mans the stove at Michelin-starred, elegantly understated Esszimmer, putting an imaginative spin on local, seasonal produce.
Pescheria Backi
There's no sea for miles, but you'd never know it digging into the winningly fresh seafood at Pescheria Backi, over on the right bank. It's a glorified shack but locals love the place – so will you.
Triangel
Huddled away in the nearby Altstadt, Triangel draws a theatre-going crowd. The picture-clad bistro serves no-nonsense Austrian dishes, like kasnocken (cheese noodles) and pork roast with dumplings. The lunch special is a snip at €6.50.
Green Garden
For a something healthier, slip across to the Green Garden, a nicely chilled, garden-themed café, with an all-veggie and vegan menu. Dishes like chanterelle lasagne and wild herb salad play up natural, integral flavours.
Augustiner Bräustübl
A stein-swinging beer hall with homebrews on tap, monk-run Augustiner Bräustübl has been going strong since 1621. Drink in the vaulted halls or in the thousand-seater, tree-canopied beer garden.
Die Weisse
Across the river, Die Weisse brewpub has a garden for quaffing Salzburg's finest wheat beer. The party vibe cranks up a notch at the monthly Almrausch, when DJs spin to lasses in dirndls and lads in lederhosen (really).
Steinterasse
Sunset is primetime on the swanky 7th-floor terrace of Hotel Stein. As day fades into dusk, sip a cocktail and admire the fortress glowing on the hillside opposite.
Enoteca Settemila
Rafael's passion for wine is infectious at Enoteca Settemila, an intimate, Italian-run wine bar. There's a carefully edited selection of European wines, including organic and biodynamic bottles.
Kaffee Alchemie
For a morning espresso pick-me-up after the night before, try retro-cool Kaffee Alchemie, where the baristas really know their stuff.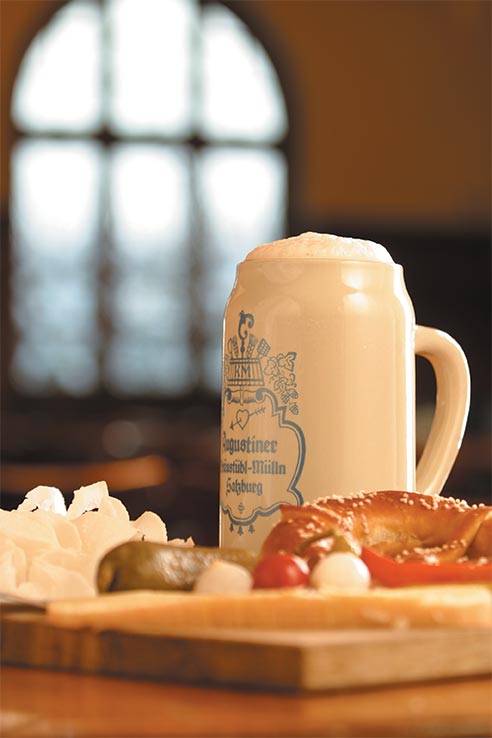 Fürst
Whether you're after a made-to-measure dirndl, a yodelling marmot or a bottle of Mozart aftershave, Salzburg's most famous shopping street, Getreidegasse, obliges. Nip into Fürst for the original (and best) chocolate-and-marzipan Mozart balls or Spirituosen Sporer for unusual schnapps and liqueurs – from gentian to rowanberry.
Zotter
Another foodie pick is Zotter, found at Herbert-von-Karajan-Platz 4, whose organic, fair-trade chocolate includes seasonal varieties like asparagus and elderflower.
Musikhaus Katholnigg
Also in the Altstadt, Musikhaus Katholnigg stocks top-notch quality recordings of the Salzburg Festival, alongside a great collection of classical, folk and jazz.
Grünmarkt
Fixings for a family picnic abound at the Grünmarkt on Universitätsplatz from Monday to Saturday. For creamy Alpine cheeses, squeeze your way into closet-sized Kaslöchl, and find wood-fired sourdough bread to go with it at the Stiftsbäckerei St Peter, a 700-year-old bakery still powered by a watermill.
The Salzburg Card
Salzburg is a cultured city, jam-packed with galleries and museums, so it's worth investing in the money-saving Salzburg Card, giving entry to all major sights, a river cruise, a return journey to the mountain of Untersberg and use of public transport.
Fortress Hohensalzburg
Perched on Mönchsberg's cliffs and presenting 900 years of history, Salzburg's whopper of a fortress is unmissable. It's reached quickest by cable car, but for arresting views over the city's domes and spires, hike from Benedictine Nonnberg Abbey (of Sound of Music fame) along Festungsgasse.
Museum der Moderne
From the fortress, you could continue your walk along wooded trails to the Museum der Moderne, showcasing rotating exhibitions of 20th- and 21st-century art.
Mozart's birthplace and residence
Back at ground level, Mozart fans gravitate towards Salzburg's twinset of museums: the composer's birthplace and the residence where he lived with his family.
Salzburg Marionette Theatre and Schloss Mirabell
Entertainment in Salzburg swings from puppetry at the enchanting Salzburg Marionette Theatre, to chamber music concerts in Schloss Mirabell's baroque Marble Hall.
Events to look out for:
Mozart Week (January)
Christkindlmarkt (December)
Eat and drink on board

You can buy a variety of snacks, sandwiches, other light meals and beverages during your flight. Make sure you check our in-flight menu when you get on board.

New aircraft - low emissions

The average age of our aircraft is only 3.6 years old, which means less emissions and makes our fleet one of the youngest in the world.

Seat reservation

Starting from 10 Euros you can get the window seat, be seated in the front to save time or near the exits to have more legroom. Already booked? Add seat reservation now.
Video on Demand

On flights longer than 3,5 hours, you can watch movies and tv series from your smartphone, tablet and laptop for 7 Euros. Remember your headset!

Central airport

Salzburg Airport is centrally located, with quick and easy transport connections to the city centre and beyond. Less hassle, more time to enjoy yourself.

Earn CashPoints

Sign up for Norwegian Reward, and earn CashPoints every time you fly with us.