Why go?
The Czech capital has fairytale looks, budget-friendly restaurants and attractions, and sublime beer. What more could you ask?
Local hotspot
Karlin, Prague 8, has been transformed since the devastating floods of 2002, with new riverside developments, trendy cafés and quality eateries.
You probably didn't know
Prague's is the largest historic castle in the world.
Suggested reading
The Last Bohemians (Kit Kimberly, 2003).
---
Things to do in Prague
La Dégustation Bohême Bourgeoise
Restaurant La Dégustation Bohême Bourgeoise combines regional, seasonal cooking with the culinary philosophy of a cookbook written in 1880 by Marie B Svobodová. Each of the seven courses on the tasting menu is matched with a glass of wine or juice, marrying the creations of executive chef Oldrich Sahajdák with suggestions from head sommelier Roman Novotny.
Ada
Very much a gastronomic destination in its own right, Ada in the Hotel Hoffmeister is leading the charge for light, imaginative, contemporary cuisine in Prague. Here it's the seasonal gourmet menu you're after, recently featuring dishes such as smoked beef tongue, pea purée and veal fricassee with spring vegetables – as well as a catch of the day.
U Zlatého tygra
There are Prague pubs and then there are Prague pubs. U Zlatého tygra ("At the Golden Tiger") is unique in that it offers one beer, and one beer only – Pilsner Urquell – and the seen-it-all waiter keeps it coming until you put your beermat over your glass. Impossibly unfashionable old regulars, who would have supped with writer Bohumil Hrabal here, and maybe even Bill Clinton, provide authentic atmosphere.
Café Slavia
The landmark riverside Café Slavia was opened around the same time as the nearby National Theatre in the 1880s – and reopened just over a century later. In between, it attracted the city's writers, intellectuals and dissidents, including Václav Havel, who was Czech president when it closed for five years due to a legal dispute in 1992. Today locals and tourists form its clientele, happy to pay reasonable prices for a decent lunch in classic surroundings.
The Roxy
Prague's most revered nightspot, the Roxy has been partying until the trams start running since 1992. Equally happy to programme live bands and DJs of international and certainly national renown, the Roxy is best loved for its devil-may-care attitude adopted by its generations of regulars.
Radost FX
Hip hop, house, R&B and soul are the stock in trade of slick Radost FX, the downstairs nightspot that has hosted some of the world's most renowned DJs on its decks. If it's all a bit too crowded, there are chilled-out sounds in the lounge bar four nights a week.
Lucerna Music Bar
Celebrating its 20th anniversary in the summer of 2015, the Lucerna Music Bar is one of Prague's most discerning live venues, where carefully chosen jazz and blues acts perform at a lived-in spot close to Wenceslas Square.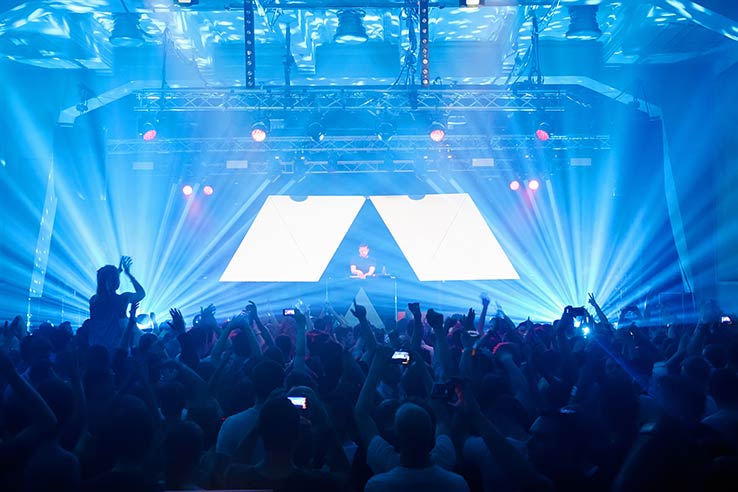 Art Deco Shop
Original furniture from the 1920s, clocks, vases, ornaments and portraits, all in the art deco style, fill the tasteful interior of the Art Deco Shop. (Yes, it's in the name.) A favourite stop for set designers working for the many film crews in town, this shop also has its own expert restoration workshop.
ARTEL
New Yorker Karen Feldman set up the luxury crystal glassware company ARTEL soon after moving here in the 1990s, hiring Czech master craftsmen to apply age-old production techniques. Also stocked at Dior in Paris and Harrods in London, ARTEL now has three stores around downtown Prague.
Bata
A symbol of Czech national pride, the flagship store of the historic family-owned Bata shoe brand stands right on Wenceslas Square, shoulder to shoulder with outlets for US and European multinationals. Bags and other accessories complement Bata's affordable, casual footwear for men, women and children.
The DOX Centre for Contemporary Art
The DOX Centre for Contemporary Art is a prize-winning private initiative, set up in a former factory by Leos Válka at the turn of the millennium. Its arrival helped revitalise the surrounding district of Holesovice, while offering top-notch, international exhibitions of art, photography and architecture. Excellent terrace café, too.
Sutka Aquapark
Particularly suitable for children under ten, Sutka Aquapark is a multi-level complex of slides, flumes and pools. More of a relaxing day out than a wild ride, Sutka features a panoramic viewing platform from its upper pool, should Mum or Dad get a chance to use it.
Events to look out for
St Matthew's Fair (February–March)
Witches' Night (April)
Czech Beer Festival (May)
Prague Spring Festival (May–June)
Respect (June)
Dance Prague (June)
Letní Letná (August)
Strings of Autumn (October–November)
Anniversary of the Velvet Revolution (November)
St Nicholas's Eve (December)
Eat and drink on board

You can buy a variety of snacks, sandwiches, other light meals and beverages during your flight. Make sure you check our in-flight menu when you get on board.

New aircraft - low emissions

The average age of our aircraft is only 3.6 years old, which means less emissions and makes our fleet one of the youngest in the world.

Seat reservation

Starting from 10 Euros you can get the window seat, be seated in the front to save time or near the exits to have more legroom. Already booked? Add seat reservation now.
Video on Demand

On flights longer than 3,5 hours, you can watch movies and tv series from your smartphone, tablet and laptop for 7 Euros. Remember your headset!

Central airport

Václav Havel Airport Prague is centrally located, with quick and easy transport connections to the city centre and beyond. Less hassle, more time to enjoy yourself.

Earn CashPoints

Sign up for Norwegian Reward, and earn CashPoints every time you fly with us.