London at a glance
Why go?
It's overtaken Paris as Europe's most-visited city. Restaurants, shops and galleries are world class, yet retain that famous eccentricity.
Local hotspot
Once rather indistinct, Marylebone has opened up into a more characterful, accessible neighbourhood, mainly thanks to its new food offerings. We'd recommend the intimate Social Wine & Tapas on James Street, or dinner tickets for Carousel, a venue that hosts pop-ups and guest chefs from all over the world.
You probably didn't know
London does a nice line in man-made urban beaches come summer; get sand between your toes everywhere from the South Bank to the Olympic Park.
Suggested reading
Love him or loathe him, former Mayor Boris Johnson knows the city. He tells its history through its residents in Johnson's Life of London: The People Who Made the City That Made the World (2011)
Bare stats
Population: 8.6 million
Annual visitor numbers: 16.8 million million (2013)
January mean temperature: 7°C
August mean temperature: 19°C
---
Things to do in London
Canteen
London is a world leader in restaurant culture. For contemporary British cooking without celebrity chef prices, start with Canteen, a casual, modern restaurant on the South Bank.
Fish and chips at Masters Super Fish or Hook
For those famous British fish and chips, don't just order in the first pub you find. Either head to a well-reviewed independent chippie like Masters Super Fish near Waterloo, or try a more contemporary, quality joint such as Hook in Camden.
Tayyabs
It's often said that Britain's true national dish, in terms of popularity, is curry. Your options for quality Indian are many. The myriad curry houses of Brick Lane are world famous, but book in advance if you want to eat at the crazy-popular Punjabi restaurant, Tayyabs. Or for vegetarian Southern Indian, try anywhere on Drummond Street, near Euston Station.
Berners Tavern and Hoi Polloi
Among the most buzzed-about destination restaurants within hotels are Berners Tavern at The London EDITION hotel, from hot chef Jason Atherton; and Hoi Polloi, the relaxed bistro at the achingly cool Ace Hotel.
Yauatcha
Looking for something more unusual? For Michelin-starred Chinese food, sample the exquisite dim sum of Yauatcha, with locations in Soho and the City. A pricey treat.
Honest Burger, Five Guys and Top Dog
On the streets, gourmet junk food is "having a moment". Try micro-chain Honest Burger for an authentic take on the trend. American burger import Five Guys for a soda machines and Springsteen; or load toppings onto a gourmet hot-dog at new Soho joint Top Dog, a modest opening from the owners of Prince Harry's favourite nightclub, Boujis.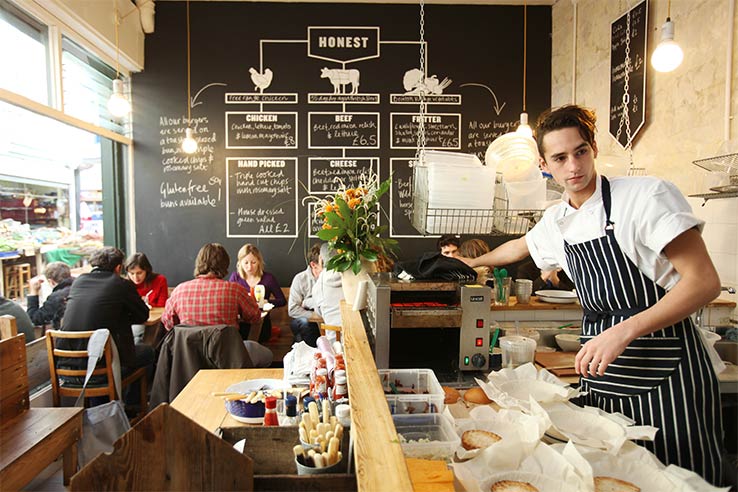 The Princess Louise and The Lamb
London has a winning blend of "old boozers" – atmospheric Victorian-era pubs with original fittings – and contemporary bars. In Holborn, The Princess Louise pub is ornately decorated. Pubs on nearby Lamb's Conduit Street are as charming; try The Lamb.
French House
For many years Soho was the absolute heart of London nightlife, until Shoreditch arguably equalled it in appeal. The dark, diminutive French House pub on Soho's Dean Street is legendary. An artsy-media hangout with a long history, it was once a gathering place for the French during World War II. The tiny first-floor restaurant serves good, simple modern European food.
Dalston Superstore
Still, you can't really say you've had a London night out until you've pounded the pavements in east London's nightlife districts of Shoreditch and Dalston. The choice of bars and clubs is endless, but after regular closing time, try the fun, offbeat Dalston Superstore on Kingsland High Street.
69 Colebrooke Row and Bar Termini
Book in advance for hip 69 Colebrooke Row in Islington, North London. One of several bars with a cocktail menu by leading mixologist Tony Conigliaro. The same people are behind cocktail and coffee bar, Bar Termini, a newcomer in Soho.
Ministry of Sound
London has had a reputation for nights that end early, with pubs calling time at 11.30pm or midnight, but depending on your music taste there are places to head. Ministry of Sound is among the most famous clubs internationally and, even the wrong side of its 1990s heyday, still packs a punch.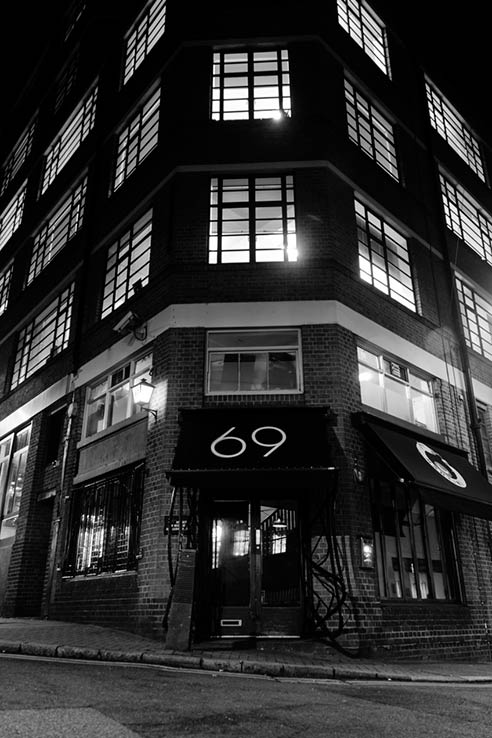 The central shopping arteries of Oxford Street and Regent Street, plus the more chi-chi Bond Street, never go out of style. They're also home to two of the world's best department stores:
Selfridges
Slick, fashionable Selfridges on Oxford Street is the ultimate shopping destination, for anything from designer fashion to kitchen gadgets and an overwhelming beauty hall.
Liberty
The characterful, wood-panelled Liberty on Regent Street is even more expensive but a must-browse.
Markets in Camden, Portobello and Columbia Road
For a vintage leather jacket, lamp or vinyl, head to the markets of Camden in the north and Portobello in the west. In the east, Columbia Road's flower market has limited purchase appeal if you're a non-resident, but the street is home to small independents for womenswear, jewellery and homeware that you won't see anywhere else.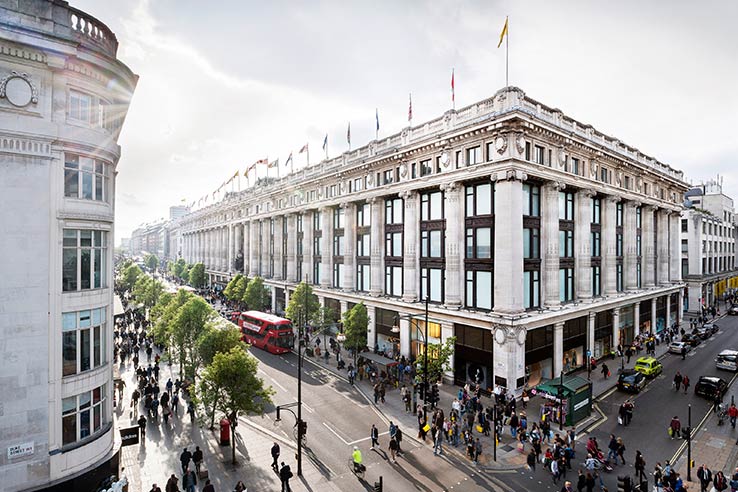 Tate Modern
The world's most visited contemporary art gallery is Tate Modern, which opened on the South Bank in 2000. And no wonder – the quality and scale of its exhibitions, and its permanent collection, make Tate Modern unmissable. The biggest show here to date has been the "Matisse Cut-Outs" blockbuster of 2013.
The British Museum
The British Museum is another grand dame in the South Ken museum quarter, on most visitors' lists. This is, controversially, home to the Elgin Marbles, the stunning Ancient Greek sculptures that some argue should be repatriated.
The British Film Institute
For the best in world cinema past and present, the BFI (British Film Institute) is the place to be. It's on the South Bank, a short walk from Embankment or Waterloo tubes.
Curzon Bloomsbury
A reliable supporter of new independent films is the Curzon cinema chain, whose recently rebuilt Curzon Bloomsbury includes a dedicated documentary room. Its striking Modernist interior is the work of architect Takero Shimazak, and makes it hands-down the most beautiful, well-designed cinema in London.
The Natural History Museum, Science Museum and V&A
Head West for the famous museum quarter in South Kensington, to find dinosaur-HQ the Natural History Museum (go early morning for a shorter queue). Here you'll also find the innovative, kid-friendly Science Museum; and the art and design-focused V&A, where exhibition subjects might range from David Bowie to ancient Chinese paintings.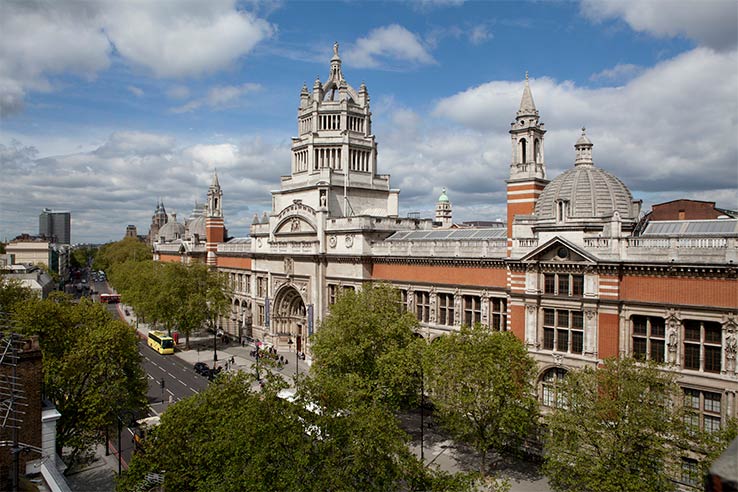 Events to look out for:
Clerkenwell Design Week (May)
Field Day music festival (June)
Wimbledon Tennis Championships (June)
Frieze Art Fair (October)
BFI London Film Festival (October)
Lord Mayor's Show and fireworks (November)
Eat and drink on board

You can buy a variety of snacks, sandwiches, other light meals and beverages during your flight. Make sure you check our in-flight menu when you get on board.

New aircraft - low emissions

The average age of our aircraft is only 3.6 years old, which means less emissions and makes our fleet one of the youngest in the world.

Seat reservation

Starting from 10 Euros you can get the window seat, be seated in the front to save time or near the exits to have more legroom. Already booked? Add seat reservation now.
Video on Demand

On flights longer than 3,5 hours, you can watch movies and tv series from your smartphone, tablet and laptop for 7 Euros. Remember your headset!

Central airport

London Gatwick Airport is centrally located, with quick and easy transport connections to the city centre and beyond. Less hassle, more time to enjoy yourself.

Earn CashPoints

Sign up for Norwegian Reward, and earn CashPoints every time you fly with us.
Looking for similar destinations?