Why go?
With its mix of architecture and monuments from Venetian and Ottoman rule, Crete's second largest city is one of the most beautiful places in the Mediterranean.
Local hotspot
Chania's historic Venetian Harbour is absolutely jam-packed with cafes, restaurants, tavernas, bars, pastry stores and, for those needing a souvenir or two, art shops.
You probably didn't know
Chania has a real cutting edge thanks to a proud tradition in knife-making. Check out the design and carving of daggers and knives in the Maheradika (knife district).
Suggested reading
Zorba the Greek (1946) and Freedom and Death (1953), both by celebrated Cretan writer Nikos Kazantzakis.
---
Things to do in Chania
Chrisostomos
Cretan cuisine is world renowned for its aromatic herbs, fresh edible weeds, virgin olive oil, vegetables, fresh fish, meat, honey and fennel. The restaurants in Chania reflect these qualities. There are dozens of eateries on the Old Port promenade, including Chrisostomos, which has a well-earned reputation for serving traditional Cretan dishes baked in a wood oven. Try the lamb with stamnagathi (wild Cretan chicory) or sheep in cooking paper.
Mesogiako
Mesogiako, across the road from the impressive minaret of the church of Agios Nikolaos, is known for serving meat dishes with Mediterranean flavours, as well as a big selection of fresh fish. Locals seldom leave without tucking into the homemade panna cotta for dessert.
Tamam
For Cretan ingredients with a Middle Eastern twist, meander your way to the heart of the old quarter and pop into Tamam. Giving a whole new meaning to steamed food, it's located in a former Turkish hamam. Pick one of a selection of 72 dishes, some cooked with recipes from the Ottoman era.
Pallas
With its large roof terrace that has stunning views of the Venetian harbour, Pallas is the perfect spot for early evening cocktails (the Mediterranean mojito is particularly tasty) or a couple of glasses picked from an impressive wine list. The Pallas restaurant (housed in a historic 1830s building) serves delicious fresh fish and local meats.
Sinagogi
With its huge selection of drinks, regular summer barbecues and a closing time of 3am, the buzzing Sinagogi open-air bar is a favourite among the night owls of Chania.
Mylos
For proper clubbing, Mylos in Platanias is about 10 minutes' drive from Chania. It offers a massive dance floor, international DJs and spectacular laser shows. If it all gets too busy, slip out to the nearby beach bar.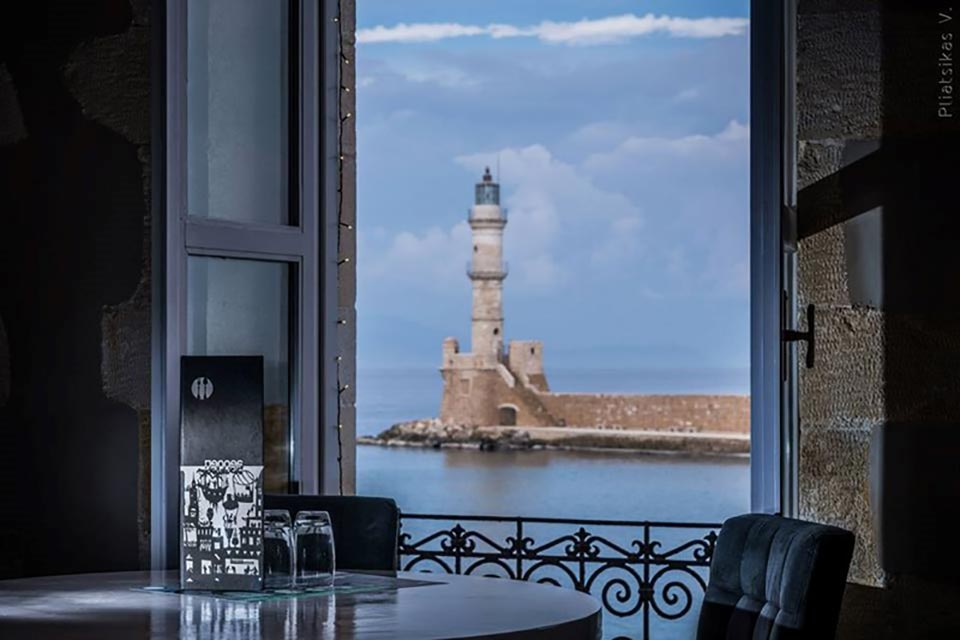 Municipal Market
Known locally as "the temple of gastronomy", the Municipal Market of Chania has been a protected monument since 1980. It remains one of the best modern examples of what an ancient Greek marketplace would have been like. Built between 1908 and 1913, it's spread over 4,000 square metres and is packed with meat, fish, fruit and vegetable stalls.
Old Town
The narrow lanes of Chania's Old Town have many irresistible shops selling souvenirs, handmade gold and silver jewellery, crochet bags, beadwork, local rugs and kilims, as well as authentic Greek bath sponges.
Skridlof Street
Don't leave town without visiting Skridlof Street, a traditional leatherworkers' lane where you can buy handmade bags, purses, shoes and sandals. Sifaka Street has several small shops selling metal work.
Beaches
Several beaches near Chania have been lauded as the best in the world. These include Elafonissi, with its crystal-clear water, and Balos Beach, which can be reached by boat from the nearby Gramvousa harbour.
Limnoupolis Water Park
The Limnoupolis Water Park, which is around 8km from Chania, is the ideal place for children to burn off some energy on waterslides or splashing around in pools. Parents can enjoy the Jacuzzi and pool bar while they watch the kids perfect their dives.
Firkas Fort
Firkas Fort was built by the Venetians to protect the harbour entrance. The imposing structure at the Fort entrance used to be the headquarters of the Venetian naval guards but now houses the Maritime Museum of Crete with a large collection of maritime objects.
Archaeological Museum
Even if you're starting to suffer museum fatigue, the building that hosts the Archaeological Museum of Chania is worth a visit. It used to be the main church of the Venetian Monastery of St. Francis, built in the 16th century, and has artefacts dating back to the Neolithic age. It's also home to a collection of mosaics from the Roman period.
Centre of Mediterranean Architecture
The Great Arsenal used to house the town hall of Chania, but is today home to the Centre of Mediterranean Architecture. Also keep a lookout for the old Venetian dockyards, which are adjacent to the Arsenal.
Events to look out for
Sheep Festival (April)
Chania Summer Festival (July to September)
Chania Rock Festival (July)
Chania Film Festival (October)
Eat and drink on board

You can buy a variety of snacks, sandwiches, other light meals and beverages during your flight. Make sure you check our in-flight menu when you get on board.

New aircraft - low emissions

The average age of our aircraft is only 3.6 years old, which means less emissions and makes our fleet one of the youngest in the world.

Seat reservation

Starting from 10 Euros you can get the window seat, be seated in the front to save time or near the exits to have more legroom. Already booked? Add seat reservation now.
Video on Demand

On flights longer than 3,5 hours, you can watch movies and tv series from your smartphone, tablet and laptop for 7 Euros. Remember your headset!

Central airport

Chania International Airport is centrally located, with quick and easy transport connections to the city centre and beyond. Less hassle, more time to enjoy yourself.

Earn CashPoints

Sign up for Norwegian Reward, and earn CashPoints every time you fly with us.