Why go?
Drop-dead gorgeous with bells on, Budapest is a kicking city all year round.
Local hotspot
The former Jewish Quarter of District VI is alive with bars, clubs and funky shops.
You probably didn't know
The first underground line in continental Europe was opened in Budapest in 1896.
Suggested reading
Budapest: A Novel (Chico Buarque, 2003).
---
Things to do in Budapest
Mazel Tov
Most of the happening bars in Districts VI and VII have good kitchens. Mazel Tov puts quality Eastern Mediterranean street food to the fore in a ruin-bar atmosphere.
Borkonyha
There's a new trend in town for upscale gastronomy in bar-restaurants run by Hungary's most renowned young wine producers. One such is Borkonyha, where Ákos Sárközi's Magyar/Mediterranean inventions were awarded with a Michelin star in 2014.
Spinoza
Classic Budapest cuisine has Jewish roots, as celebrated at Spinoza. It's part restaurant, part café-chantant, where roast goose-leg and steamed red cabbage comes with cabaret tunes played on a vintage piano.
Magyar QTR
Set on the Danube embankment, Magyar QTR complements its riverside view with lighter, contemporary versions of traditional Hungarian favourites, such as lamb goulash "palócz" and veal cheeks.
Szimpla kert
Budapest is the home of the "ruin bar" ("romkocsma"), a nightspot set up in dilapidated courtyard of a residential building, typically in District VII. Granddaddy of the genre is the Szimpla kert, whose artfully contrived rough-and-ready surroundings set the tone for dozens of similar venues in Pest. DJ nights and film screenings provide the entertainment in the Szimpla kert's dark warren of bars.
Fogasház
Although a lot of the underground vibe of the ruin bar phenomenon has gone – you can even buy "romkocsma" mugs in souvenir shops – there are still venues with a real alternative feel. One is the Fogasház, which retains the false-teeth sign from its previous existence as a shop for dental repairs. Its later use as an artists' space still provides much of its funky ambiance.
Lärm
Upstairs from the Fogasház, Lärm attracts some of Budapest's best underground DJs to spin in a minimalist, dark space.
Instant
Party central in the city's theatre district, Instant keeps the groove going until way after the trams start running the next morning. Its quirky decor is best illustrated by the upside-down room with furnishings on the ceiling.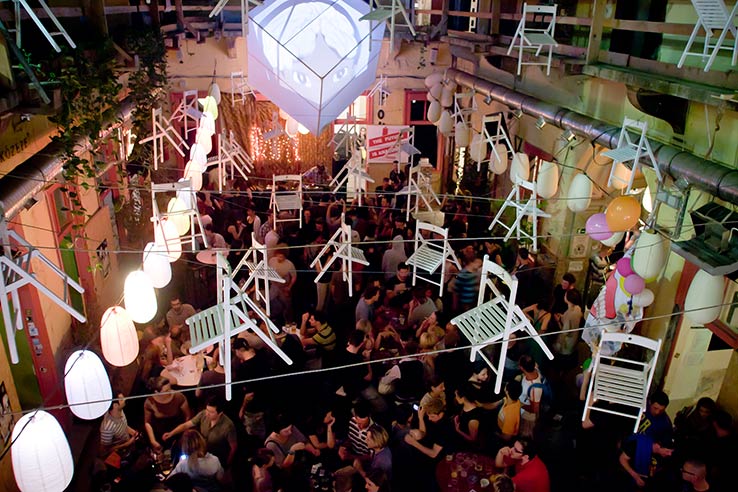 Printa
Part of the new wave of Budapest's design boutiques, Printa comprises a shop selling urban fashions, a gallery, a café and, behind these, a workshop. Highlights include thigh-length T-shirts showing customised maps of surrounding District VII and screen prints of Budapest city scenes.
Ecseri piac
The mother of all flea markets, Ecseri piac covers a large space of south Pest with the collected junk of Eastern Europe. Open every day but busiest and best at weekends, Ecseri is loosely divided into areas for secondhand furniture, paintings and ornaments. But its main attraction is the random tat from Hungary and the former Soviet bloc: Soviet army hats, East German cameras, and so on.
AIAIÉ
Fashion designer Zsanett Hegedüs was a smash at Vancouver Fashion Week 2014 with her Shadowgraph collection, inspired by the great pre-war Hungarian photographers such as André Kertész. Zsanett runs her own by-appointment atelier in south Buda, AIAIÉ, creating men's- and womenswear for special occasions.
Balaton ízlelö
Balaton ízlelö brings the flavours of Lake Balaton to Budapest's downtown university quarter. Wines, honeys, herbs and hams, among many other things, are sourced from small-batch producers around Central Europe's biggest lake.
Széchenyi Baths
The Széchenyi Baths is a real family day out. This most ornate and tourist-friendly of Budapest's many spas has two main pools: one with a whirlpool, and a lane-lined swimming bath spread over the lido-like main area, with an adjoining terrace bar-restaurant. Inside awaits a complex of wet and dry saunas, and thermal pools at varying temperatures.
Escape games
A concept created in Budapest, escape games involve shutting a group of people in a themed room and providing them with clues so they can break free within 60 minutes. The games are based in flats and houses around the city. Some designed for families, all displayed in English and Hungarian.
Events to look out for:
Mangalica Fesztivál (February)
May 1 (May)
Hungarian Grand Prix (July)
Sziget Festival (August)
August 20 (August)
Nemzeti Vágta (September)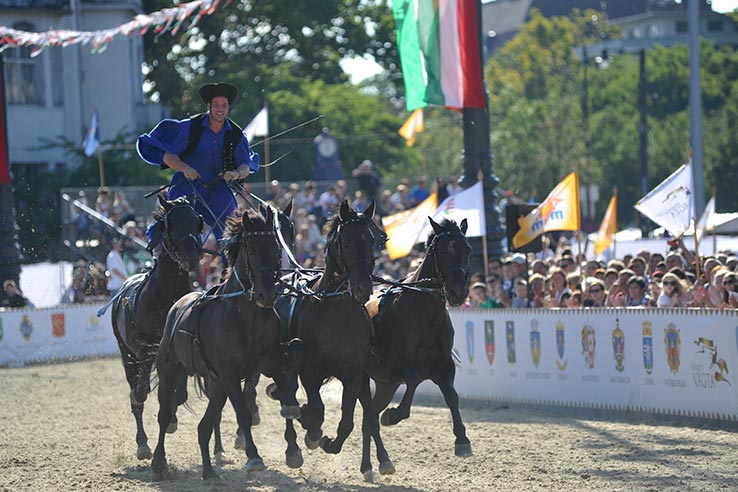 Eat and drink on board

You can buy a variety of snacks, sandwiches, other light meals and beverages during your flight. Make sure you check our in-flight menu when you get on board.

New aircraft - low emissions

The average age of our aircraft is only 3.6 years old, which means less emissions and makes our fleet one of the youngest in the world.

Seat reservation

Starting from 10 Euros you can get the window seat, be seated in the front to save time or near the exits to have more legroom. Already booked? Add seat reservation now.
Video on Demand

On flights longer than 3,5 hours, you can watch movies and tv series from your smartphone, tablet and laptop for 7 Euros. Remember your headset!

Central airport

Budapest Ferenc Liszt International Airport is centrally located, with quick and easy transport connections to the city centre and beyond. Less hassle, more time to enjoy yourself.

Earn CashPoints

Sign up for Norwegian Reward, and earn CashPoints every time you fly with us.