Why visit Barcelona?
Buildings by the celebrated architect Antoni Gaudí, food inspired by super-chef Ferran Adrià, and beaches by the Mediterranean.
Local hotspot
The Born barrio has the charm of the old town without the crowds, and with one of the city's most beautiful churches, Santa Maria del Mar. It's home to some of the best bars and boutiques in town.
You probably didn't know
Barcelona giftshops sell "caganers": small figurines, sometimes of celebrities, depicted squatting with their trousers round their ankles. They're hidden in nativity scenes to represent God's earthier side.
Suggested reading about Barcelona
The Shadow of The Wind (Carlos Ruiz Zafón, 2001)
---
Things to do in Barcelona
Tickets
At the exuberantly decorated bar and restaurant Tickets in the Poble Sec barrio in Barcelona it's all crazy paving floor and waiters dressed as ushers. The passionfruit-flavoured marshmallow worms are served on the leaves of a pot plant, peeling away with a satisfying slurping sound.
Bodega 1900
Just over the road lies the more classic vermouth bar of Barcelona Bodega 1900. The "olives" here are actually gelatine spheres of olive juice that explode wonderfully in the mouth. Both Tickets and Bodega 1900 come from the imagination of ex-El Bulli chefs, Ferran and Albert Adrià.
Caelum
In pastry and confectionary shop Caelum in Barcelona's Gothic Quarter the jam jars, cakes, biscuits and handmade candles give the place the air of a church fete. Downstairs there's a basement cafe, in what was once the city's Jewish baths. Here a more seductive, gothic ambience reigns among candle-lit tables and stone arches.
Pudding
With its red-and-white spotted toadstool lightshades and large choice of toys and books, the coffee shop Pudding in Eixample might seem like it's aimed at children. In fact its philosophy is that if children are happy, then the adults, snacking on rich carrot cake or cheese muffins will be, too.
Torre de Alta Mar
250-feet above sea-level, clinging to the top of a cable tower as part of the funicular railway that climbs up Montjuïc, restaurant Torre de Alta Mar has the best panoramic views of Barcelona. On one side is the Gothic Quarter and the other the sea. Equally appealing is their luxurious herring caviar served with grape vinaigrette.
Dry Martini
Like an English gentleman's club, Dry Martini in Eixample is all oak and leather furnishings. Surroundings that naturally lend themselves to that lip-stiffeningly dry drink. Suprisingly, owner Javier de las Muelas is also a big fan of Sangria. He argues that, with the right ingredients, it can be more than just sticky holiday hooch.
Bharma
The wall outside Bharma in Poble Nou bears the glowing, octagonal logo of TV series "Lost". It's fitting, because this bar attracts "frikis", the Spanish term for "geeks". Inside they show screenings of classic sci-fi TV such as "Star Wars" episodes as well as more modern series like "Game of Thrones".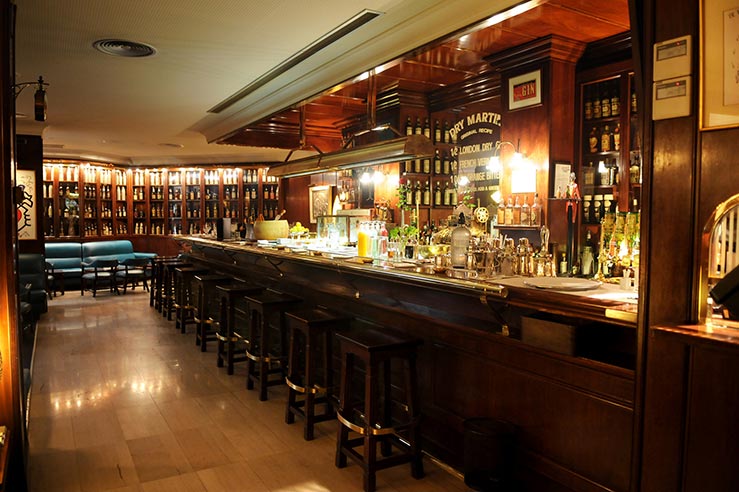 Casa Battlo
If you've seen the beautiful Sagrada Familia cathedral, Casa Battlo is the place to take in the architect Gaudí's swooping arches and curvaceous, brightly coloured windows on a more human scale. Designed for a real family to live in, it combines fantasy with a practical sense of what makes the perfect home.
Palau de la Música
If you want to visit the Palau de la Música, here's a tip. It can be cheaper to take in a concert at this grandiose, gold-leafed concert hall (from €10) than it is to pay for a tour of architect Lluís Domènech i Montaner's fabulous, modernist interior (guided tours €18).
Magic Fountain
When it was built in the 1920s, the Magic Fountain must have seemed amazing with its 2,600 litres of water a second jetting into the air, in time to the classical music. Even today, it's still an impressive spectacle.
Fundació Joan Miró
Take the funicular railway up to Montjuïc Park and Barcelona is laid out below you like an abstract painting. At the top sits the Fundació Joan Miró. The museum devoted to Barcelona second most famous 20th-century artist, Joan Miró, is a peaceful haven after the hugely popular Picasso Museum.
The Temple of Augustus
The Gothic Quarter of Barcelona doesn't have too many secrets. But slip inside the courtyard of this medieval-looking building and you'll find nine-metre-high Ancient Roman columns: what's left of the Temple of Augustus.
Events to look out for when you fly to Barcelona:
Reyes Magos (5 January) – the world's biggest three kings parade
Carnival (February)
Festa de Sant Medir – Sweet Festival (March)
St George's Day – gifts of flowers & books also mark Cervantes' and Shakespeare's deaths (April)
Fiest del Barrio (June–August)
Catalan National Day (11 September)
La Mercè – Barcelona's biggest fiesta (September)
New Year's Eve (December)
Eat and drink on board

You can buy a variety of snacks, sandwiches, other light meals and beverages during your flight. Make sure you check our in-flight menu when you get on board.

New aircraft - low emissions

The average age of our aircraft is only 3.6 years old, which means less emissions and makes our fleet one of the youngest in the world.

Seat reservation

Starting from 10 Euros you can get the window seat, be seated in the front to save time or near the exits to have more legroom. Already booked? Add seat reservation now.
Video on Demand

On flights longer than 3,5 hours, you can watch movies and tv series from your smartphone, tablet and laptop for 7 Euros. Remember your headset!

Central airport

Barcelona–El Prat Airport is centrally located, with quick and easy transport connections to the city centre and beyond. Less hassle, more time to enjoy yourself.

Earn CashPoints

Sign up for Norwegian Reward, and earn CashPoints every time you fly with us.