Flights to Alicante
Why visit Alicante?
Because it's not just a gateway to the Costa Blanca: Alicante is a beautiful ancient city with a vibrant modern soul.
Local hotspot
Calle de Explanada. Join locals on this seafront promenade for coffee and turrón (nougat).
You probably didn't know
Nearby rice fields produce a whopping 115,000 tonnes of rice each year, which is why most of the region's best dishes (arroz negro, paella) feature rice.
Suggested viewing about Alicante
Parts of Driving Aphrodite (2009), starring Nia Vardalos, and The Cold Light of Day (2012) with Bruce Willis were filmed in Alicante.
Alicante facts
Population: 335,000
Annual visitor numbers: 5.5 million (2014)
January mean temperature: 14°C
August mean temperature: 25°C
---
Things to do in Alicante
Nou Manolin
Chef Ferran Adrià says rustic Nou Manolin, a simple tavern in central Alicante that serves up superb tapas, is his favourite restaurant. During your staying in Alicante, pull up a stool at the bustling bar covered with plates of oysters and platters of iced gambas and pore over a menu featuring 50 different types of tapas.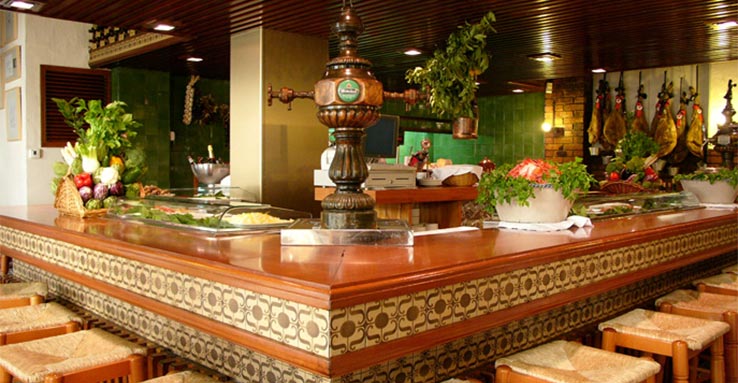 Café Opera
Cute, classical music-fixated Café Opera, with instruments mounted on the walls and menus styled like LP covers, names all its signature salad-based dishes (featuring prawns, chicken liver, carpaccio etc) after famous opera composers. It's a great place for breakfast coffee too; open from 10am, closed Monday.
Restaurant Nuevo
When you take your flight to Alicante, remeber to visit Benidrom. Just outside of Benidorm, Restaurant Nuevo is one of the area's most spectacular dining destinations. Inspired by Granada's UNESCO-listed Alhambra, the restaurant consists of four different dining spaces set around a Moorish patio, with tinkling fountains, beautiful gardens, lion statues and twinkling lights.
La Taberna del Gourmet
La Taberna del Gourmet is a casual eatery in the heart of the Old Town of Alicante that is seriously passionate about tapas, with hams hanging from the ceiling and eye-catching displays of seafood on ice. Tapas start at as little as €5 per dish, ideally washed down with a glass of Rioja.
Nic
When you fly to Alicante, try Nic, where the humble G&T is a work of art. Served in gigantic glasses with ice cubes almost as big as your fist, you can order your gin-tonic (as the locals say) with a fruity or refreshing twist.
La Mision
Don't even think about hitting La Mision, one of Alicante's premier nightclubs, until after midnight – unless you want to shuffle around the dancefloor on your own. Smack-bang in the Old Town of Alicante, here you can sip expertly mixed cocktails and dance until breakfast.
Tablao los Lunares
Fast-paced guitar flurries, clapping hands, swishing skirts and a whole lot of stamping – is there anything more passionate, heart-wrenching than flamenco? Tablao los Lunares is one of the few genuine flamenco bars in Alicante.
Mercado Central
Visiting Alicante, you can´t miss Mercado Central, the city-centre market, is held daily except Sunday. Inside a very grand modernist building you'll find a temple to food, with everything from fresh button-like olives and cheese in fifty shades of beige, to dainty pastries and gleaming slices of ham.
Torreblanca
One of the world's greatest pastry and dessert chefs, Paco Torreblanca, has a royal seal of approval. In 2004 he was commissioned to create a cake for the wedding between Prince Felipe and Princess Letizia in 2004. Non royals can sample his work at one of his sleek, minimalist Torreblanca shops (in Alicante, Elba and Valencia), where you can pick up a selection of chocolate bombons for as little as €4.
El Corte Ingles
Alicante's most discerning shoppers flash their cash at shiny modern El Corte Ingles, on the eastern end of bustling retail thoroughfare Avenida Masionnave. Pick up fashion from hard-to-find-at-home designers such as Tintoretto and Indi & Cold.
Terra Mitica
If you travel to Alicante with children, don´t forget to visit a family theme park Terra Mitica in Benidorm which is packed with nerve-shredding rides including SynKope, a gigantic wheel that takes you speeding along at 90km/h and to a height of 35 metres.
Castillo de Santa Barbara
For sensational, sweeping views of the city, head up to Castillo de Santa Barbara, the dominating 16th-century castle. It's a sweaty walk up in the summer, so save your energy and take the futuristic lift, accessed through the walkway opposite Playa del Postiguet. On a clear day you can see the high-rise hotels of Benidorm.
MACA
MACA, Alicante's superb contemporary art museum, is home to one of the greatest modern art collections in Spain. Inside this gorgeous baroque warehouse you'll find all the 20th-century greats including Dali, Miro, Picasso and more.
The Basilica of Santa Maria
The Basilica of Santa Maria is a truly splendid, 15th-century creation built on the foundations of an old mosque in Alicante. It's free to walk around or, even better, turn up to join a service.
Events to look out for:
Kings Day (January)
Alicante Carnival (February)
Burial of the sardine (February/March)
Semana Santa (Easter celebrations) (March/April)
Los Hogueras de San Juan Festival (June)
Jazz Festival (August)
Eat and drink on board

You can buy a variety of snacks, sandwiches, other light meals and beverages during your flight. Make sure you check our in-flight menu when you get on board.

New aircraft - low emissions

The average age of our aircraft is only 3.6 years old, which means less emissions and makes our fleet one of the youngest in the world.

Seat reservation

Starting from 10 Euros you can get the window seat, be seated in the front to save time or near the exits to have more legroom. Already booked? Add seat reservation now.
Video on Demand

On flights longer than 3,5 hours, you can watch movies and tv series from your smartphone, tablet and laptop for 7 Euros. Remember your headset!

Central airport

Alicante-Elche Airport is centrally located, with quick and easy transport connections to the city centre and beyond. Less hassle, more time to enjoy yourself.

Earn CashPoints

Sign up for Norwegian Reward, and earn CashPoints every time you fly with us.
Looking for similar destinations?