Fly to Malaga
Why visit Malaga?
Because the sun, sea and sand has been joined by museums (now over 30 of them), modern art galleries and a modish food scene.
Local hotspot
Soho around the docks, like its London namesake, used to be a distinctly gritty area but it's gone all arty with murals from acclaimed street artists such as Shepard Fairey, from the US.
You probably didn't know
At the marina there's a statue of Hans Christian Andersen with the inscription, "In none of the Spanish towns have I been so happy, so entirely at home, as here in Malaga."
Suggested reading about Malaga
South from Granada: A Sojourn in Southern Spain (Gerald Brenan, 1957)
Malaga facts
Population: 568,549
Visitor numbers: 1,037,567 (tourist stays in the city 2014)
January mean temperature: 12.1°C
August mean temperature: 26°C
---
Things to do in Malaga
Oleo
The clean, white walls and low, Japanese-style chairs of Oleo restaurant located in Malaga, fit perfectly with modern art gallery CAC (Centro de Arte Contemporáneo) next door. However, the food is very much substance over style, with the soft, slow-cooked rib in garlic particularly good.
Citron
Citron is on the corner of Plaza de la Merced, where Picasso was born. And he'd surely have approved of the bright colour scheme and modern artwork. The Asian influence in dishes such as sweet, sticky stir-fried pork might have confused him but these days there's more to Malaga than just tapas.
Casa Aranda
When you fly to Malaga, do not miss Casa Aranda boasts they've been serving breakfasts for 75 years – ahough passers-by might wonder how anybody ever found them, down an alley off Alhóndiga Street. Perhaps the noise helps, from the cheery, white-jacketed waiters shouting orders for more "chocolate con churros".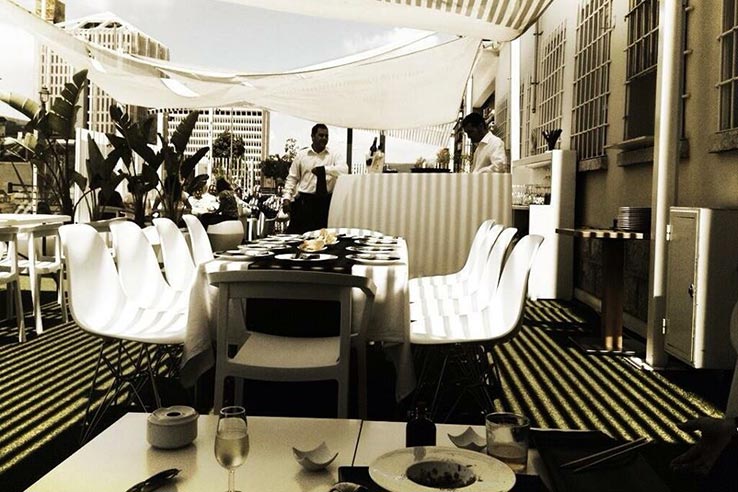 Bar Calle Bruselas
As if to prove that everything is exotic to somebody, Bar Calle Bruselas has been one of Malaga's coolest bars for the last 20 years. That's despite… or because of… the fact that the Belgian owner has decorated it as a Belgian street, complete with street-lamps. The Belgian beers might have more to do with it.
Terraza Larios
The décor at Terraza Larios, on the roof of the Larios Room Mate Hotel in Malaga, is all square white sofas and little round tables. Distinctly minimalist, perhaps so as not to distract from the perfect view of the illuminated Malga Cathedral, just opposite.
Atarazanas market
Being in Malaga, visit Atarazanas market which has stained-glass windows that make it look like an enormous, rowdy temple. And it really is a temple of sorts, for local Malaga foodies. All of the 260 stalls, selling fruit and veg, fish, meat and much more, are clearly sacred. And there are plenty of small bars to sit and watch the worshippers, too.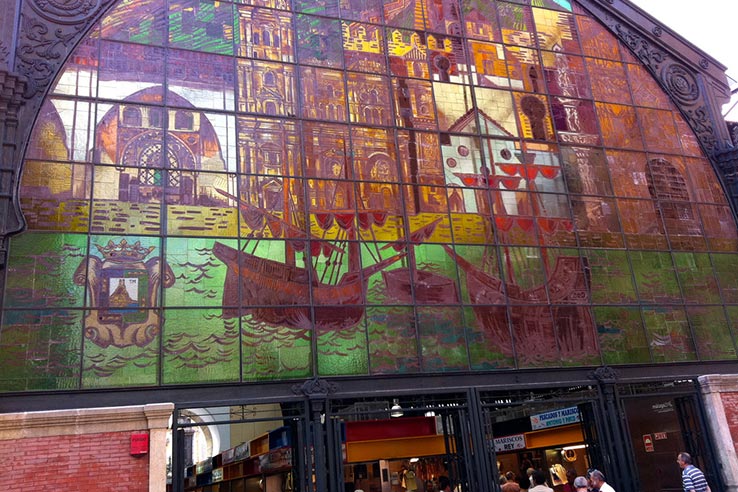 Gibralfaro
The 11th-century Gibralfaro is a proper, no-nonsense Malaga castle that still could repel a hoard of angry Goths if they looked at it funny. Walk along the exterior wall and you'll reach the elegant courtyards and flower gardens of the Alcazaba palace – another side of Moorish architecture.
Jardin de la Concepción
High in the mountains above Malaga, the Jardin de la Concepción is a garden laid out in the English style, but many of its subtropical plants would never survive in England. It's particularly impressive if you visit Malaga in spring when the wisteria turn large swathes of the garden purple.
Tivoli World
One of the best value of the Costa's numerous theme parks is Tivoli World in Benalmadena, about 30 minutes' drive west of Malaga. Here you'll find a range of attractions from water slides to flamenco shows. Admission is 6.95 euros; children under a metre-high go free.
Centre Pompidou
The centrepiece of Malaga's plan to become "the city of museums" is the appearance of a pop-up Pompidou. With its odd-angled white walls and what looks like a transparent Rubik's cube on the roof, it's a worthy offshoot of the Paris original. More than 100 works borrowed from France, by artists including Marc Chagall and Frida Kahlo, will be here for at least the next five years.
The Picasso Museum
Although Picasso's greatest paintings are easily found in Paris or Barcelona, the Picasso Museum here in the master's hometown Malaga, shows a different side to his work. Playful scrawls and dirty jokes are very much in evidence, as well as classics such as the warm painting of his son "Paulo con gorro blanco".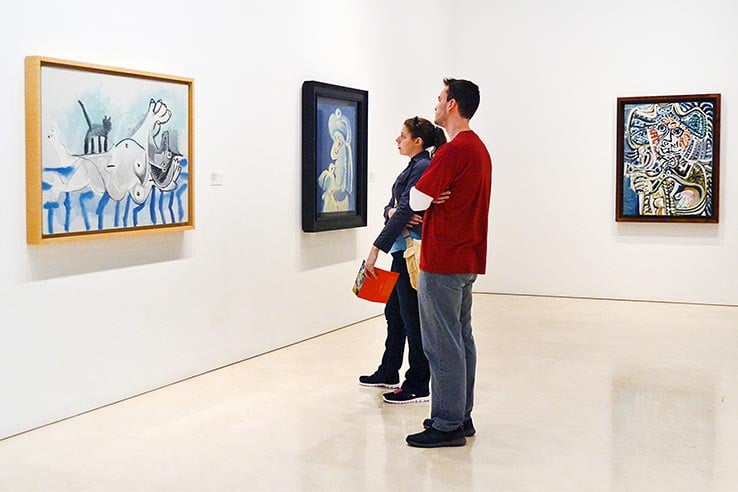 Events to look out for when you fly to Malaga:
Cabalgata de los Reyes – Three Kings Day festival (5 January)
Carnival parades (February)
Fried Fish Day on La Carihuela beach, Torremolinos (mid June)
Feast of St John – street parties and beach bonfires (24 June)
Malaga Fair – partying, open-air concerts and all night dancing (August)
New Year's Eve – parties and fireworks on the beach
Eat and drink on board

You can buy a variety of snacks, sandwiches, other light meals and beverages during your flight. Make sure you check our in-flight menu when you get on board.

New aircraft - low emissions

The average age of our aircraft is only 3.6 years old, which means less emissions and makes our fleet one of the youngest in the world.

Seat reservation

Starting from 10 Euros you can get the window seat, be seated in the front to save time or near the exits to have more legroom. Already booked? Add seat reservation now.
Video on Demand

On flights longer than 3,5 hours, you can watch movies and tv series from your smartphone, tablet and laptop for 7 Euros. Remember your headset!

Central airport

Málaga–Costa del Sol Airport is centrally located, with quick and easy transport connections to the city centre and beyond. Less hassle, more time to enjoy yourself.

Earn CashPoints

Sign up for Norwegian Reward, and earn CashPoints every time you fly with us.
Looking for similar destinations?