{{result.subTitle}} - View as map
{{filteredResult.length}} destinations

for a budget of
{{result.subTitle}} - View as map
0 destinations

for a budget of

}
{{result.subTitle}} - View as map {{filteredResult.length}} destinations

for a budget of
No destinations are currently available. Please try with different search options.
= Some flights in this period have transit stops
No destinations are currently available. Please try with different search options.
Why go?
Because the Tri-City area (made up of Gdansk, beach resort Sopot and modern port Gdynia) has a thousand years of maritime history, glorious Hanseatic architecture and a trendy Baltic vibe.
Local hotspot
Thriving Dluga Street, with shops, bars, restaurants and street performers, which extends from the Golden Gate down to the Town Hall.
You probably didn't know
The wooden pier at Sopot is the longest in Europe, stretching for 511m.
Suggested viewing
The Rainbow Thief (1990), starring Peter O'Toole and Omar Sharif, was filmed in Gdansk.
---
Things to do in Gdansk
Brovarnia
At Brovarnia, in the basement of buzzy 300-year-old Hotel Gdansk, tables are packed together tightly, but the squeeze is worth it for the beautifully prepared food: think veal carpaccio with truffle oil and quail with caramelised chicory.
Bar Mleczny Neptun
Bar Mleczny Neptun is one of the best preserved milk bars in Gdansk. Milk bars were popular during the Communist era, offering simple, nourishing food to the working class. This one still serves up traditional dishes alongside the 21st-century bonus of free Wi-Fi.
Friends
Unassuming Friends (named after the US sitcom) is on Gdansk's most popular foodie street, Ulica Piwna. Low key and welcoming, it's an ideal spot for a casual lunch or snack.
Restauracja Barylka
Its enviable spot by the Motlawa river and Gdansk's world-famous 14th-century wooden crane makes Restauracja Barylka one of the most popular Old Town dining options. The food is as pleasing as the location: the duck in honey mead and grilled pork loin served on a bed of pear risotto are both sublime.
Dream Club
You won't find anywhere in the Tri-City area with more wow factor than Dream Club. It has a gorgeous clientele (make an effort or you might not get in), top DJs, four bars and dancers in glass cages.
Café Ferber
Café Ferber is a casual, modern café during the day and chic cocktail bar after dark. The bartenders mix up an eclectic array of drinks while DJs spin house hits at the weekend.
Goldwasser
The people of Gdansk have been knocking back Goldwasser (quite literally, gold water) since 1598. A strong herbal liqueur, its unique selling point is hat it contains small flecks of real gold. Try some at Goldwasser's restaurant, near Gdansk's iconic wooden crane.
Madison Shopping Gallery
The large Madison Shopping Gallery, on the edge of Gdansk's Old Town, is one of the Tri-City's best, with more than a hundred shops (including big-name brands like Nike and Stradivarius), a gym, restaurants, cafés and even a playground for the kids.
E Wedel
E Wedel is Poland's oldest chocolatier (dating back to 1851) and beloved by generations of Poles. At the charming, glass-fronted café/shop in Sopot you can pick up pralines, biscuits, truffles, or sit in and order one of the 20-odd flavours of hot chocolate.
Amber shopping
Gdansk is the world capital of amber. Also known as Baltic Gold, the Pomeranians used it to trade for weapons and food. It would be churlish not to pick up something as a souvenir, so head straight to the Old Town where along photogenic Ulica Mariacka there are plenty of amber shops. Make sure you get an Amber Passport from the shop to ensure it's a genuine product.
Hel
Go to Hel! It's a pretty peninsula in one of the most northerly parts of Poland, stretching for 34 kilometres but just 200m wide in some spots. The sand is silky soft, while the water is as clear as the Caribbean Sea. Ferries run from Gdansk three times a day.
The Gdansk Shakespeare Theatre
Gdansk has an unexpectedly close relationship with playwright William Shakespeare, and in the 17th century it was the only European country outside of the UK to have a Shakespearian playhouse. Opened in September 2014, the new Gdansk Shakespeare Theatre has been raised on exactly the same spot as the original theatre. It has a retractable roof for summer performances.
The Museum of the Second World World War
Some of the first battles of World War II took place in Gdansk, and vast swathes of the city were destroyed during the conflict. These events are memorialised in the Museum of the Second World World War, which opened in 2014. There are three informative and poignant permanent areas – the Road to War; the Horrors of War and the War's Long Shadow – supplemented by temporary exhibitions.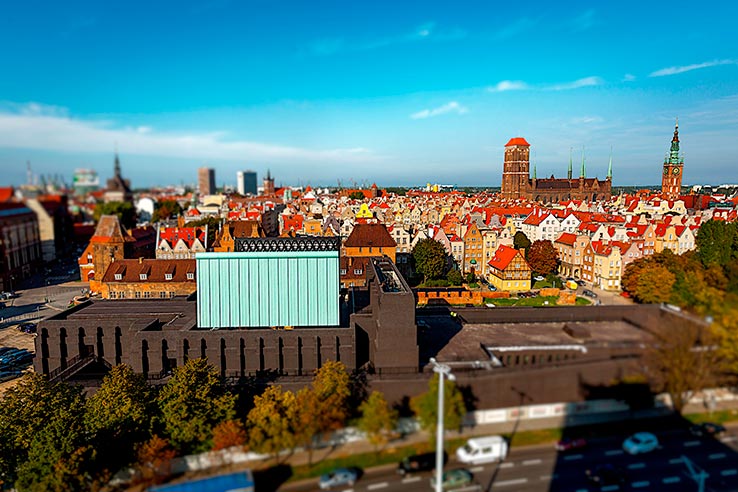 Events to look out for
Gdansk Dance Festival (January)
Annual Amber Fair (March)
Gdansk Spring Festival (April)
Open'r music festival (July)
Sail Gdansk Regatta (July)
Shakespeare Festival (August-September)
Flying with Norwegian
Flexible tickets
You can make changes to your ticket up until 30 minutes before take-off.
In-flight entertainment
Fly Norwegian, and you'll have entertainment at your fingertips. Video on Demand is available on most flights.
New aircraft - low emissions
Fly with one of the youngest fleets in the world, which means less emissions and a more comfortable flight.