Why go?
Because the entire pedestrian-only Old Town is a UNESCO World Heritage Site surrounded by a clear blue ocean and everything is bathed in beautiful sunshine 2,900 hours a year.
Local hotspot
Lokrum Island Resort for a picnic and day of swimming in the ocean.
You probably didn't know
The sign FKK on a beach means you can strip naked. It's from the German word 'Freikörperkultur,' meaning Free Body Culture.
Suggested reading and viewing
To read: Two Tickets to Dubrovnik (Angus Kennedy, 2012). To watch: Game of Thrones – at least seven prominent locations in Dubrovnik, including the Pile Gate, Bokar and Lovrijenac Fortresses, St. Dominika Street and the nearby Lokrum Island were used in the filming of the hit TV series.
---
Things to do in Dubrovnik
Lady Pi-Pi
Take a walking tour of Dubrovnik's ancient city walls and chances are you'll get a whiff of the charcoal grills of rustic open-air restaurant Lady Pi-Pi before you see it. Arrive early to avoid the long queues for the best in Croatian cuisine. Try the mixed platter, which can be best described as an Adriatic surf and turf, and enjoy it on the rooftop terrace with superb views.
Posat Restaurant
For more conventional dining, Posat Restaurant is a short stroll outside the Pile Gate serving international and Mediterranean cuisine, with crayfish a speciality.
Restaurant 360°
The Old Town harbour is another great spot for restaurants and cafes. The sight really comes into its own if you want to enjoy the sunset with a glass of Croatian wine. Restaurant 360° is set on the city wall on the water's edge.
Troubadour Hard Jazz Café
The pubs in the small squares around Assumption Cathedral (commonly known as Dubrovnik Cathedral) attract large crowds, which inevitably spill out into the squares themselves making for a lively atmosphere. Troubadour Hard Jazz Café has good live music and is open until 3am in summer.
Buza Bar and Bar Mala Buza
For a more chilled vibe with sea views to boot, try one of the watering holes found on the rocks on the southern side of the city walls, also known as "hole-in-the-wall" bars. Buza Bar is the most popular but for something special search out Bar Mala Buza, which is off the southernmost alley and where you have to quite literally slip through a narrow crack in the city wall to find it.
East-West
Most bars close around 1pm (Buza Bar at 2pm), which is the perfect time to relocate to an all-night club: East-West, a daytime beach club on Banje Beach about 10 minutes' walk east of the Old Town's Ploca Gate, morphs into a chic nightclub with scatter cushions and drapes for dancing and cocktails until 6am (summers only).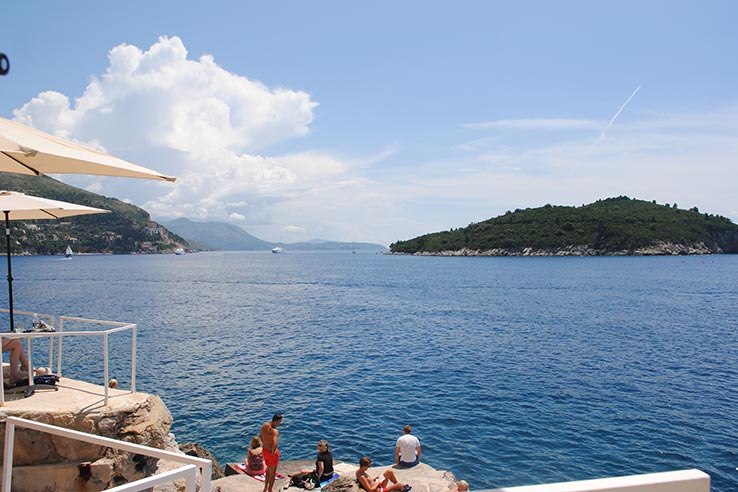 Gunduliceva Square
The morning market on Gunduliceva Square at the centre of the Old Town was traditionally a local produce market but it has now expanded to sell everything from dried fruit, candied orange peel and almonds, to fine embroidery and hand-made jewellery. It operates from 7am to 1pm daily except Sunday.
The Croatian Designers Room
The Croatian Designers Room is strictly for the fashion conscious, selling high-end gowns and cocktail dresses created by Croatian designers.
Ronchi
The hat shop Ronchi has been in business since 1858. Take your pick from a large selection of locally designed handcrafted hats, which beat any run-of-the-mill souvenirs in the gift shops.
As a UNESCO World Heritage Site, Dubrovnik's history is woven into the city's walls, churches, fortresses and historical buildings. This is both a "museum city" and a city with a large number of museums covering topics as diverse as prehistoric events to the recent Croatian War of Independence in the 1990s.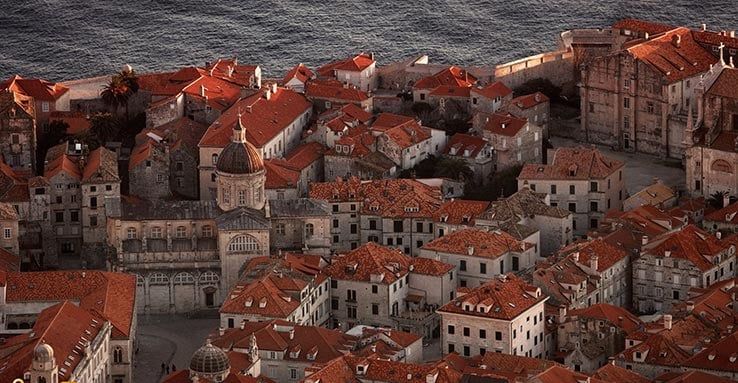 The Museum of the Croatian War of Independence
The Museum of the Croatian War of Independence offers an important perspective on the recent civil war.
The Museum of Modern Art
The impressive Museum of Modern Art, which was opened in 1945, has a valuable collection of more than 2,500 works including paintings by Vlaho Bukovac.
Dubrovnik Summer Festivals
Summer is popular for open-air exhibitions, musical concerts and dance performances. An extension to the popular Dubrovnik Summer Festival is the arrival of the Dubrovnik Late Summer Music Festival – an event launched by the Dubrovnik Symphony Orchestra to keep music on the streets and squares up to the second last week of September.
Sea kayaking
Exploring the Dubrovnik coastline in a sea kayak is one of the greatest family experiences you can have in the area.
Events to look out for:
Night of the Museums (January)
Festival of St Blaise (February)
Aklapela Festival of Singing (April)
Dubrovnik Summer Festival (July/August)
Dubrovnik Late Summer Festival (August/September)
Croatian Festival of Jam and Marmalade (September)
Good Food Festival (October)
Eat and drink on board

You can buy a variety of snacks, sandwiches, other light meals and beverages during your flight. Make sure you check our in-flight menu when you get on board.

New aircraft - low emissions

The average age of our aircraft is only 3.6 years old, which means less emissions and makes our fleet one of the youngest in the world.

Seat reservation

Starting from 10 Euros you can get the window seat, be seated in the front to save time or near the exits to have more legroom. Already booked? Add seat reservation now.
Video on Demand

On flights longer than 3,5 hours, you can watch movies and tv series from your smartphone, tablet and laptop for 7 Euros. Remember your headset!

Central airport

Dubrovnik Airport is centrally located, with quick and easy transport connections to the city centre and beyond. Less hassle, more time to enjoy yourself.

Earn CashPoints

Sign up for Norwegian Reward, and earn CashPoints every time you fly with us.