Why go?
For friendly locals, raucous nightlife, rich history, and "the craic" (obviously).
Local hotspot
The wide thoroughfare that is O'Connell Street and its many intersecting streets (including Henry Street) boast good shops, cafes, and restaurants. Nearby Parnell Square is more of a boffin hotspot, full of museums.
You probably didn't know
Dublin has the youngest population in Europe. Half its residents are aged 25 or under.
Suggested reading
To recommend anything but James Joyce's Ulysses would be remiss.
---
Things to do in Dublin
Restaurant Patrick Guilbaud
Restaurant Patrick Guilbaud is widely considered to be Dublin's best eatery, which is probably why the good people of Michelin slapped two stars next to its name. The affordable lunch menu is a great way to sample the food without breaking the bank.
The GreenHouse
The GreenHouse is an interesting place to eat: French-trained Finnish chef Mickael Viljanen serves Scandi-style dishes from Irish ingredients. His cooking is full of imagination and energy, yet understated. Highly recommended.
Fade Street Social
Fade Street Social houses a laidback tapas bar as well as a more formal restaurant, which serves excellent contemporary fare from locally sourced ingredients. There's also a pretty rooftop garden.
Trocadero
For a taste of Dublin history head to Trocadero, which has been feeding theatregoers for 50 years. This atmospheric, gilt-edged restaurant offers a popular pre-show menu and a €50 menu. Both feature traditional European dishes.
The Old Storehouse
Dublin's nightlife is legendary. And for good reason – Dubliners love to party, so there's no end of places to drink and dance the night away. Temple Bar is the most famous area for a pub crawl, although some locals turn their noses up, saying it's an expensive tourist trap. However, the street is still a lot of fun, especially if there's an international rugby game being played at the Aviva Stadium. If you happen to find yourself in this neck of the woods, check out The Old Storehouse on Crown Alley.
The Palace Bar and Bowes
Fleet Street is another good destination for liquid refreshment. Here, you'll find The Palace Bar, perfect for a daytime drink and to watch sport whenever there's a big game on. Bowes, meanwhile, is considered by some to serve the best Guinness in the city – even better than that served at Gravity Bar at Guinness Storehouse.
Mulligan's
Over on Poolbeg Street, you'll find characterful drinking den Mulligan's. When it opened back in the late 1700s, the pub proved a favourite with Dublin's ne'er-do-wells. Now it's packed with journalists and Trinity College students, so not a great deal has changed.
Bagots Hutton
For a more refined night out, head to fashionable William Street South, home to a number of nice establishments including basement bar Bagots Hutton.
Article Dublin
Pubs and restaurants may hog the limelight in Dublin, but the Irish capital can still hold its own when it comes to shopping. Article Dublin is a fine example of the city's cutting-edge style. The contemporary homewares make great gifts.
Project 51
Project 51 is the store-front for a collective of young Dublin designers. Their products include anything from teacups to jewellery to vintage-style clothing. Perfect for urban scenesters.
Avoca
For quality Irish crafts, head to Avoca for throws, blankets, women's fashion and accessories. Avoca even has its own chain of cafes.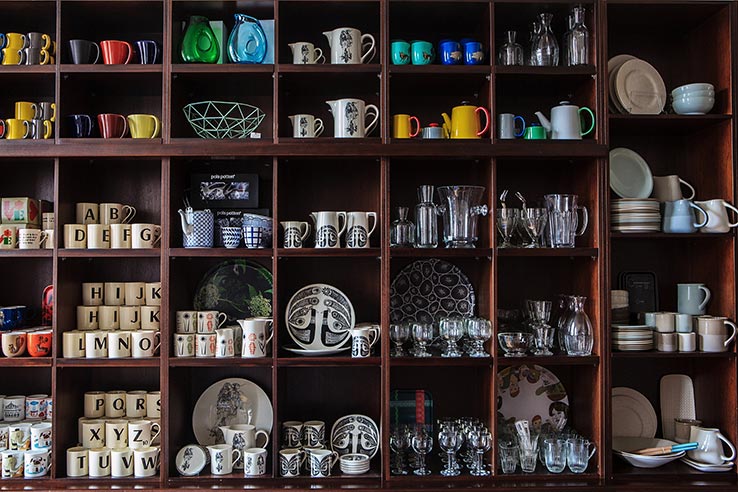 The Guinness Storehouse
The Guinness Storehouse is perhaps Dublin's most famous tourist attraction, and for good reason: the stout is Ireland's most famous export and its history is interwoven with that of the city's.
Kilmainham Gaol
For an in-depth understanding of Dublin and Ireland's complex past, head to prison-turned-museum Kilmainham Gaol. Visitors are taken on a guided tour around the huge building, and talked through the long, arduous journey Ireland took to independence.
The National Gallery of Ireland
The National Gallery of Ireland stands bang in the centre of the city and features the best collection of famous Irish paintings you'll find anywhere, as well as works by Picasso, Van Gogh and Monet.
Events to look out for:
Dublin International Film Festival (February)
St Patrick's Day (March)
Bloomsday Festival (June)
Dublin Fringe (September)
All-Ireland Hurling & Football Final (September)
Eat and drink on board

You can buy a variety of snacks, sandwiches, other light meals and beverages during your flight. Make sure you check our in-flight menu when you get on board.

New aircraft - low emissions

The average age of our aircraft is only 3.6 years old, which means less emissions and makes our fleet one of the youngest in the world.

Seat reservation

Starting from 10 Euros you can get the window seat, be seated in the front to save time or near the exits to have more legroom. Already booked? Add seat reservation now.
Video on Demand

On flights longer than 3,5 hours, you can watch movies and tv series from your smartphone, tablet and laptop for 7 Euros. Remember your headset!

Central airport

Dublin Airport is centrally located, with quick and easy transport connections to the city centre and beyond. Less hassle, more time to enjoy yourself.

Earn CashPoints

Sign up for Norwegian Reward, and earn CashPoints every time you fly with us.