{{result.subTitle}} - View as map
{{filteredResult.length}} destinations

for a budget of
{{result.subTitle}} - View as map
0 destinations

for a budget of

}
{{result.subTitle}} - View as map {{filteredResult.length}} destinations

for a budget of
No destinations are currently available. Please try with different search options.
= Some flights in this period have transit stops
No destinations are currently available. Please try with different search options.
Bergen at a glance
Why go?
Although it's Norway's second largest city, Bergen's natural setting and compact centre gives it a small-town vibe. It also makes for an outstanding base to explore the entire Fjord Norway region.
Local hotspot
Bergen's meeting place is Bryggen, the UNESCO-listed wooden wharves home to restaurants, cafes and boutiques.
You probably didn't know
A Norwegian phrasebook probably won't get you very far in Bergen. The locals speak with the strong "Bergensk" accent. But relax, you'll get by just fine with English.
Suggested reading
1222 by Anne Holt Norway's queen of crime (2007; English trans. 2010). A thrilling locked-room mystery set in a historic mountain hotel after a train crashes in a blizzard.
Bare stats
Population: 278,000
January mean temperature: 3.4°C
August mean temperature: 15.5°C
---
Things to do in Bergen
7 Fjell
Although locals prefer to indulge in fishcakes, nothing beats fresh shrimps from the fish market washed down with a beer from the 7 Fjell (Seven Mountains) microbrewery.
1877
For a more formal dining experience, head to 1877 in the old market hall. Dishes are small but the focus is on flavour and local ingredients such as rhubarb and seafood. Their popular set menu – featuring shellfish, fish, meat, cheese and desserts – changes seasonally. Book in advance, especially for weekends.
Zupperia
Value-hunters should head for one of the three downtown branches of Zupperia, known for their selection of hearty soups including Tom ka gai, clam chowder and reindeer.
Lysverket
Co-owned by Fredrik Saroea, lead singer of Norwegian electro act Datarock, Lysverket gradually transforms from restaurant to nightclub as the evening progresses and features live acts at weekends. One of the few Bergen nightspots open until 3am on weekends, it's hosted Nordic music legends Röyksopp and Robyn.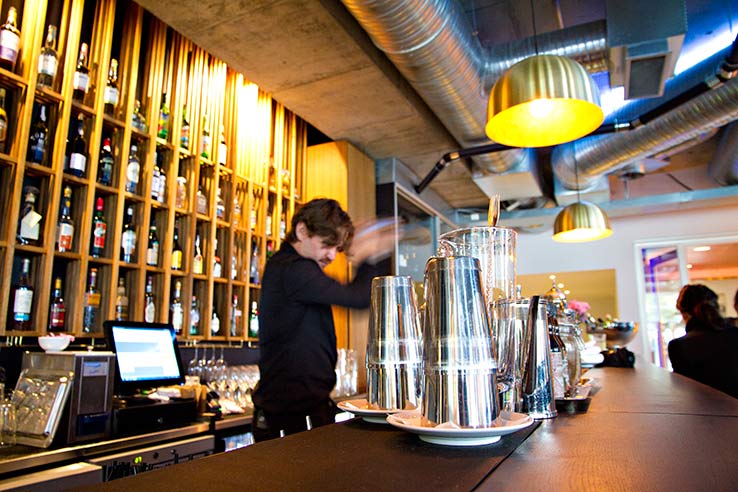 Bryggen
Home to Hanseatic traders as long ago as 1360, Bryggen is still an important centre for commerce today. The colourful wharves are the place to buy handcrafted souvenirs such as the Arctic-inspired Tundra collection at Juhls Silver Gallery. Bryggen Husflid offers Norway's largest selection of handmade sweaters, from big brands such as Dale of Norway to the exclusive Røros tweed.
Elg
Also on Bryggen, Elg is the store for fans of the iconic moose, while the all-year Christmas shop will keep the children occupied.
Lagunen Storsenter
For everything else, Lagunen Storsenter near the airport is the Bergen's biggest shopping centre.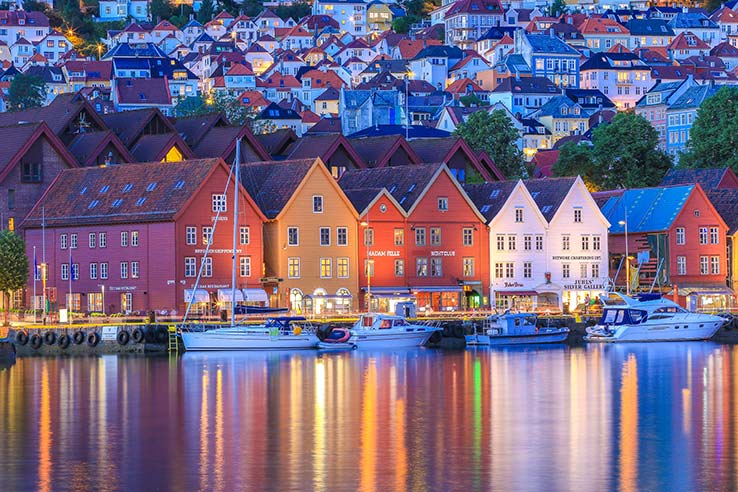 Mount Ulriken
Surrounded by seven mountains, Bergen's biggest draw is mother nature. The adventurous can take a cable car to Mount Ulriken for a day-long hike back to the city, while the rest of you can hop on a boat and take a tour of the surrounding fjords.
Kode Bergen Art Museum
On rainy days, check out Kode Bergen Art Museum, set across four buildings around the city lake. Little known outside the country, the work of Nikolai Astrup depicts the wild landscapes and rural lifestyles of western Norway.
Events to look out for:
Blastfest Metal Music Festival (February)
Borealis Contemporary Music Festival (March)
Bergen International Festival (May/June)
Natt Jazz Festival (May/June)
Bergen Gay Pride (June)
Bergenfest (June)
Raptus Comic Book Festival (September)
Bergen Food Festival (September)
International Film Festival (September)
Flying with Norwegian
Flexible tickets
You can make changes to your ticket up until 30 minutes before take-off.
In-flight entertainment
Fly Norwegian, and you'll have entertainment at your fingertips. Video on Demand is available on most flights.
New aircraft - low emissions
Fly with one of the youngest fleets in the world, which means less emissions and a more comfortable flight.